Table of Contents

[Hide]

[Show]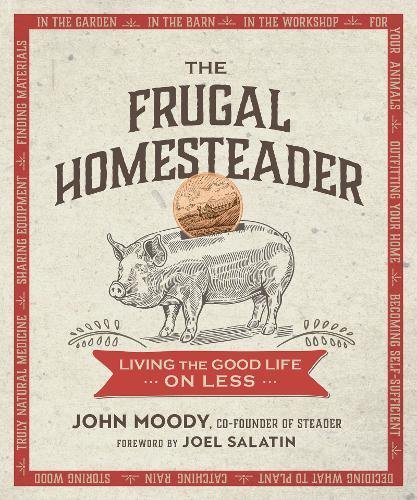 Many of you have come to love John Moody's articles on this site over the past two years. What many of you may not know is the exciting news that he recently published his first book, The Frugal Homesteader: Living the Good Life on Less (New Society Publishers).
This book is, at its essence, a heartfelt how-to for, as Joel Salatin of Polyface Farm puts it, "all of us who aspire to drop out of the high cash, fast cash, hedonistic rat race of hubris".
Frugality Can Be Leveraged
In a nutshell, homesteading is pursuing self sufficiency as a lifestyle. In The Frugal Homesteader, John gives you the big picture of what this way of life entails in no-holds-barred style.
If you've ever dreamed of becoming an urban or rural homesteader, this book is a must read. Your success could very well depend on it!
Beyond painting an outline of the homesteading lifestyle, John's book also gives you the big picture on how to leverage the frugality at its essence into a generational asset worthy of your children's time, attention, and eventual inheritance.
Trust fund babies got nothing on homesteading kiddos!
Homesteading vs Farming
Homesteaders are farmers, but farmers are not necessarily homesteaders.
This point becomes very clear reading through John's discussions of the various tasks and tools necessary for a successful homestead.
This quotation by Laura Ingalls Wilder takes shape and form in your mind as you read, ponder, and turn the pages:
We should try to get results with as little expenditure of time and acreage as possible.
Success early and often is at the heart of John's approach to a self sufficient lifestyle. No need to wait five or ten years to start seeing your efforts bearing fruit!
Homestead Hollers
The advice, how-to's and suggestions in The Frugal Homesteader are field tested and child friendly. Nothing is hypothetical or pie on the sky.
John and Jessica came upon this information with their own sweat equity over the past 10 years.
I particularly enjoyed the numerous "homestead hollers" sprinkled throughout the book. These sections highlight "aha moments" of creative and practical approaches to common homesteading challenges.
Why learn everything the hard way when you have a handbook of someone else's path to guide you?
As someone who has only put a toe in the homesteading waters so far with a large garden box and backyard chickens, John's book inspires me to do more!
Homesteading Resources
Where to find supplies to build and support your homestead without breaking the bank? This is arguably one of the most pressing challenges for the newly initiated.
The Frugal Homesteader devotes the final chapter to this obstacle. John presents an extensive listing of where to find inexpensive and even free homesteading "stuff" of all shapes and sizes.
Necessity is indeed the Mother of invention when it comes to discovering resources to support a self sustaining lifestyle within our modern throw-away culture.
Inspiration
Even more than the ideas and information, The Frugal Homesteader gave me a much needed dose of optimism and inspiration.
John writes that:
Homesteading is a journey you start that you never finish. You build, you plant, you improve, knowing and hoping that one day, someone else will come along and see the value of what you have done, what you have contributed, and pick up the shovel or the hammer where you left them, and continue making the land a more beautiful and enjoyable, sustainable place.
Thank you John. The Frugal Homesteader is a much needed message of positivity for this planet and its billions of citizens to heed.