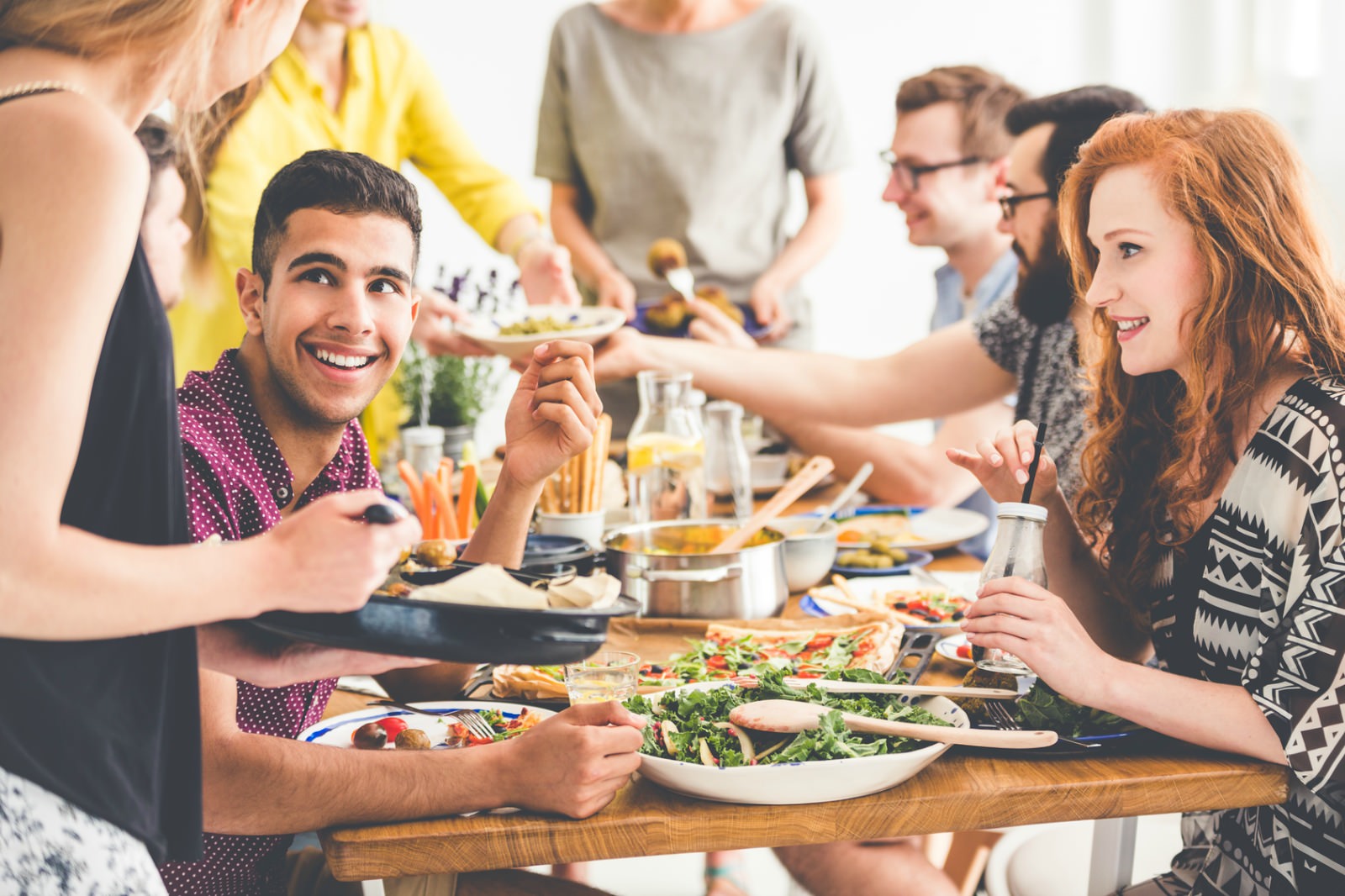 Joke: What does a chef make for dinner when she has the night off?
Answer: Reservations!
It's true. Most working chefs rarely cook at home. Perhaps that is because we have been told that it is not healthy to take our work home with us at the end of the day.
I am an exception. I am a retired NYC restaurant chef, cooking instructor, wife and mother and I prepare all of my family's meals at home. That's right, breakfast, lunch and dinner, seven days a week, at home. I prefer it that way. I know what we are eating and we always feel good after a meal.
The last time we went out to dinner it made me angry. I had to ask a million questions about the dishes in order to feel safe feeding them to my family. After dinner we did not feel good or well nourished. I didn't sleep well that night. The joy of dining out had been taken away from me.
American Dining Used to be a World Class Experience
It wasn't always that way, however. I used to really enjoy going out to restaurants and tasting what other chefs were doing. It was my fieldwork. Research that I undertook with gusto.
We would sometimes be out till 3am, a group of cooks after work, tasting and talking about ingredients, farming & recipes. Who was importing the best new ingredients? Who scored what at the greenmarket? And who was using the cheapest cuts of meat most cost effectively were our favorite topics of discussion. The possibilities were endless.
We were young, on fire with creativity and in awe of our raw materials. The energy was intense and The Food Was Real.
Flashback to 1988. I was just starting out at a local eatery in Tribeca, a vast funky frontier filled with never-ending construction, unfinished lofts and rats the size of cats.
People were scared to venture that far downtown after Wall Street hours at first but soon the lure of David Bouley's foie gras and ginger at Montrachet, the tasting menu at David & Karen Waltuck's Chanterelle, Mussel's perfumed with fines herb on the terrace at Two Eleven and ceviche and margaritas made with expensive boutique tequilas and real lime juice at El Teddy's was just too strong a pull to resist. In no time, restaurants were cropping up everywhere and people flocked downtown to see what was hot, hip, cool, new and delicious.
Real food, grown seasonally, prepared classically and traditionally but with a new, fresh twist that would take it to a higher level of enjoyment was what we were all about.
As a new cook, I was heavily involved in what we call prep work. My days were filled with butchering meats and fish, washing & spinning greens, roasting bones, making bone broth, soups and reductions.
I cracked hundreds of lobster shells in order to meticulously pull out perfectly formed claw and tail meat for salads. I picked and chopped a lot of herbs, made way too much mayonnaise, vinaigrette and aioli. I peeled hundreds of onions, potatoes and garlic and made mashed potatoes in a food mill until my shoulder almost dislocated. In my spare time (HA!) I worked for farmers selling at the local greenmarket.
I loved my job and I slept well at night.
I became a cook and then a chef. In 1993 I opened my idea of the perfect restaurant: a constantly changing seasonal menu created & based on the availability of local product from NY and NJ. Everything I had in my refrigerators, freezers and pantry was available to purchase. When I came in from the greenmarkets 4 days a week I posted a chalkboard sign of what was available for sale. When I had berries leftover I made jam and sold that too. People came from all over and we did well.
We received glowing reviews. I had arrived!
But, like all restaurants, someday they close — this time for landlord and business partner complications. I continued to cook in many different real food restaurants in Manhattan until 2002 when I decided it was time to settle down and plan a family.
Real Food
Displaced With High Class Junk Food
When you have children the importance of Real Food and good nutrition becomes crystal clear. You look a lot closer. With the birth of my son, I started noticing a shift in the NYC restaurant world regarding the sourcing of ingredients, seasonal menu items and preparation methods. I also noticed that restaurants and cafes in my neighborhood were being replaced by popular new food franchises (starbucks, le pain quotidian, chipotle, pinkberry, etc) or what I refer to as high-class junk food. Dining out had become more difficult to navigate than ever in terms of "keeping it Real."
In my opinion there are 2 main reasons why these changes have occurred in NYC. The first is economic. No big surprise here considering we are experiencing the biggest economic downturn in 20 years. Commercial real estate is so high that most chefs are cutting back on ingredients in order to pay rent and staff. The smaller restaurants, 40 seats or less, can't make a dime. It's really a shame how hard people work just to break even (huge rent, real estate taxes, small business tax, payroll taxes, etc). I spoke with a friend who owns a successful restaurant and he asked why I haven't been in with my family. I replied frankly, " can you guarantee me that you aren't using genetically modified ingredients?" He shook his head and said "no. I can't afford that. I need to pay rent."
Ask any chef how much good butter and cream costs nowadays and they will tell you: Too Much!
Real ingredients cost money. When you sell cheap, dangerous food you sell your soul. Any way you look at it, owning and operating a restaurant will cost you.
The second reason for this dramatic change is fads and publicity. "Celebrity Chefs" who feel the need to "alter" ingredients in order to play God and feed their egos (when they should be properly feeding their customers) should not be hailed. They should be ignored. Some chefs even incorporate "non-food" ingredients and techniques to attract press!
For example, when celebrity chef Paul Liebrandt became the youngest chef (24 years old) ever to receive 3 stars at Atlas in 2000, he was openly using sugary breakfast cereal and MSG in his food. He was hailed an innovator and a genius following in the footsteps of Ferran Adria, "one of the world's greatest chefs" who built his career on making foam out of everything and denaturing whole foods by bringing forced chemistry into the professional kitchen and bastardizing real food. I find this inexcusable but they call it innovation and theater. I call it a product of the Cartoon Food Network where it is less about food and more about fashion. It also helps if you have a book to sell, you know "all the right people," and you appear on page six more than in your own restaurant's kitchen.
The Real Truth About Eating Out
After all these years, I know the bitter truth about what you are getting when you dine out.
Let me enlighten you.
Most cooking oil in professional kitchens is a mix (25/75) olive oil to GMO canola oil. Yet, if you ask, waiters will usually tell you it is simply "olive oil". Most frying oil is made from GMO soy and practically all corn products: tortilla chips, soft tacos, polenta, grits, etc. are GM as well.
Seafood is mostly farm raised. Eggs and poultry are rarely pastured unless noted on the menu and then the entree is at least $30. All bacon has nitrites/nitrates and dairy is unfortunately pasteurized (the occasional raw milk artisinal cheese will find its way onto the better menus). Pork is seeing a change since you can't throw a ham hock these days without hitting a menu that features a pork belly dish on it (thank you Momofuku).
Most produce is conventional which means that 85% of the mashed potatoes in restaurants today are toxic from pesticides living in the mineral depleted soil.
Grass fed beef, thank goodness, has become the new darling of the restaurant world and is finding it's way onto many cafe menus, NYC lunch trucks and even in new fast food burger joints (elevation burger).
When they bring tallow back to fry the chips, that's when I'll think about giving them my business. On a recent trip to The Strip House (I was taken by a friend for my birthday who knows I love steak), I ordered the special grass-fed Delmonico rib eye, crisp goose fat potatoes and black truffle creamed spinach. Sometimes you can hit it bang on the head. The steak alone was $42 but boy oh boy was it GOOD!
When you dine out, Real Food costs big money. Warning: You have to know how to order though even at a steak restaurant.
Is It Possible to Eat Out Safely?
My simple advice is to stick to the more expensive restaurants and the ones that offer better, Real Food choices on their menus.
If you can't afford them, stay home and cook!
Once upon a time restaurants were only for the rich and famous. I assure you that you are not missing much. I send my family off each day with food that I lovingly prepare. I do not believe in letting anyone else feed and nourish my family. That is my sacred right as a wife and mother, which is hilarious considering that I fed people for a living for many years, and I thank you all for trusting me. Someday, I sincerely hope to have the privilege to do it again. But not in NYC. My restaurant space that was once renting for $3,000 a month is now going for $14,000 and those numbers just don't add up.