How to follow the "cumulative time" method for making bone broth, a strategy that does not involve leaving a simmering pot on the stove overnight or unattended while you are out of the house.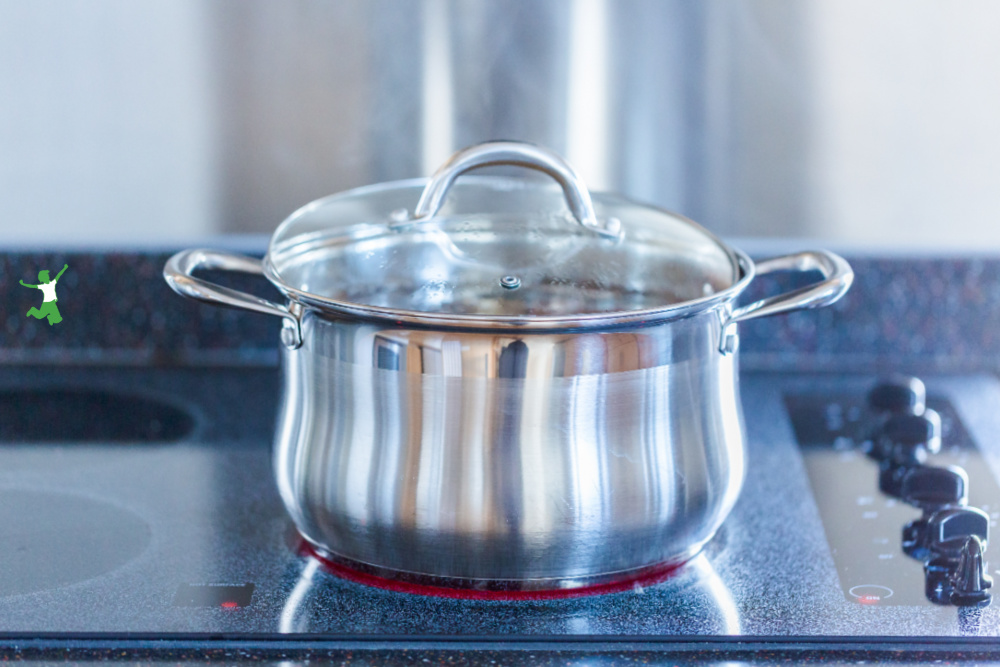 A big concern people have when they start learning how to make bone broth at home is about leaving a simmering stockpot on the stove for many hours.
Depending on when you start the process, this could entail leaving the pot simmering overnight or while you are out of the house temporarily.
This can be an unacceptable fire risk, so what to do in those situations?
While successfully producing a gelatinous pot of broth is critical, it should not involve a safety hazard to accomplish!
Fortunately, there are several options for avoiding this problem.
First of all, you can make meat stock or fish head broth. Both of these require only a couple of hours at the most to make.
If you are so time-crunched that you need something even quicker than that, I suggest bonito broth. This type of stock only requires the time necessary to boil a pot of filtered water.
Cumulative Time Bone Broth
At some point, however, you are going to need to make a proper pot of chicken or beef stock.
This type of long-simmering broth will require significantly longer than a couple of hours on the stove or in a slow cooker like a Vita-Clay.
In that situation, the cumulative time method is recommended. This is the approach suggested by Monica Corrado, CNC CGP of Simply Being Well.
She introduced me to this concept at a traditional health conference in Baltimore.
Monica really knows ancestral cooking like few others I've ever met. In addition to being a chef, she's also a GAPS Practitioner. She has significantly helped my husband with his GAPS Diet journey…which requires a lot of properly made bone broth.
According to Monica, the cumulative time approach for making bone broth simply means that the required simmering time for a particular type of stock can either be continuous or broken up into sections that equal the total required duration when added together.
The catch is that each time you start to heat the broth again, you must bring it to a boil, skim the foam, and then lower the heat back down to a simmer.
Avoid the temptation of simply bringing the pot back to a quick simmer.
You must bring it to a boil first, skim and then reduce the heat to a simmer with the lid on. In other words, just repeat what you did at the beginning of the process.
What to Do When the Heat is Turned Off
There is no need to move the stockpot in and out of the refrigerator between simmering sessions on the stove.
This is because the pot stays very hot for hours after the heat is turned off.
For pathogens to start to grow, the stockpot would need to be at room temperature for 4+ hours.
Anyone who is experienced in making stock knows that a stockpot with the lid on will stay hot for many hours. It won't get to room temperature for 4+ hours for at least half a day!
In my experience, the pot also will not get to room temperature if you turn off the heat and leave it on the stove overnight.
If the length of time to make bone broth had you concerned in the past, try the cumulative time approach!
An easy way to keep track is to keep a little notebook in the kitchen. Then, you can log the total amount of time the stock has simmered. This will ensure quality, gelatin-rich broth when you are finished.
Making stock safely couldn't be easier when using the cumulative time method!