A new round of tests continues to bring into question the authenticity of the tuna used in Subway sandwiches and what is the true protein source.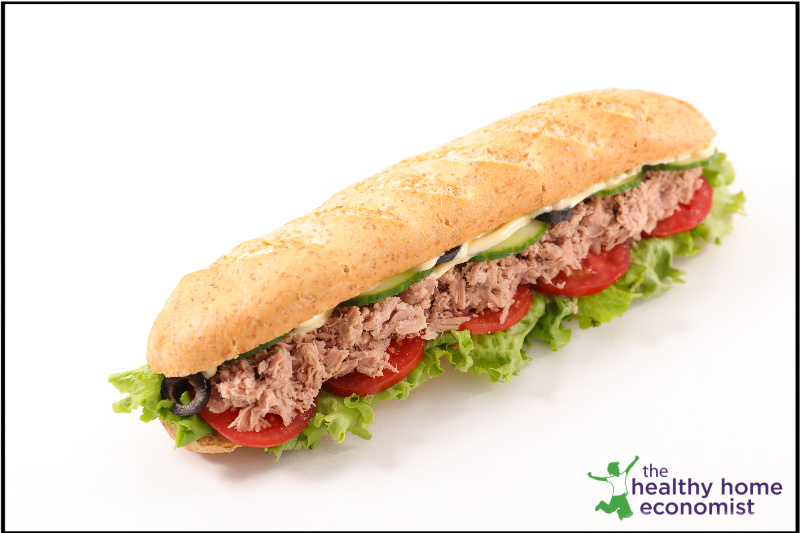 This article serves as your regular reminder that if you rely on a major corporation to be honest with you about the ingredients and processing of the food they mass produce, you might as well be whistling in the wind.
First, the chicken was fake, now it's the tuna…
I've written before about how test results revealed that Subway chicken sandwiches and strips contain only 50% or less of actual chicken meat.
Now, a lawsuit brought by plaintiffs in California is alleging that multiple tests of Subway's tuna subs show that there is actually ZERO tuna or any detectable fish DNA whatsoever in the sandwich. (1)
The complaint alleges that the main part of the sandwich is actually "a mixture of various concoctions that do not constitute tuna."
The original complaint was modified in early June 2021 to use less damning language, but follow-up testing published last week by the New York Times confirmed no detectable tuna in the popular sub. (2, 3)
Times staff bought Subway tuna sandwiches from three different locations in Los Angeles, and then sent frozen samples to an unidentified commercial food testing lab.
Their tests found the same results as two California women, who discovered that Subway tuna ordered at locations near their home and repeatedly tested by an independent lab contained anything but tuna. (4)
These citizens then filed a class-action lawsuit against Subway alleging the tuna sandwiches are fake.
The follow-up testing by the Times confirmed the results stating, "No amplifiable tuna DNA was present in the sample and so we obtained no amplification products from the DNA. Therefore, we cannot identify the species."
The lab declined to be identified for fear of retribution from Subway.
A spokesperson for Subway had this to say in response:
DNA testing is simply not a reliable way to identify denatured proteins, like Subway's tuna, which was cooked before it was tested. (4)
The lab that the Times used responded that there are two possible conclusions from the results.
The tuna in the Subway subs is so heavily processed and the proteins so denatured that tests could not identify it.
There is no tuna in the Subway subs.
While the lab tests conducted by the New York Times could not find any tuna in Subway sandwiches, Inside Edition ordered its own test in February 2021 that confirmed that there is, in fact, tuna in the subs. Whether it was all tuna or partially tuna was not disclosed. (5)
At this point, what's a consumer to believe? Given Subway's established track record with serving partially fake chicken, I would be leaning toward the "there isn't much if any tuna" argument.
Want a healthy tuna sandwich? Buy a good quality, sustainable brand of tuna and make it yourself my friends.
It's naive and even foolish to expect a multi-national corporation to be upstanding about its food sourcing. Your health is not even on their radar no matter how slick and convincing their marketing spots might be.
References
(1) Subway Lawsuit Claims Tuna Sandwich Doesn't Actually Contain Tuna
(2) The Big Tuna Sandwich Mystery
(3) Lawyers Amend Complaint of "No Tuna" in Subway's Tuna Sandwiches
(4) Lab Tests Find No Tuna DNA in Subway Sandwich – Again
(5) Inside Edition investigates Tuna in Subway Sandwiches