The important reasons why homemade kefir only lives up to its title as the world's most powerful and therapeutic fermented food when cultured with live grains versus powdered starter packets or store kefir.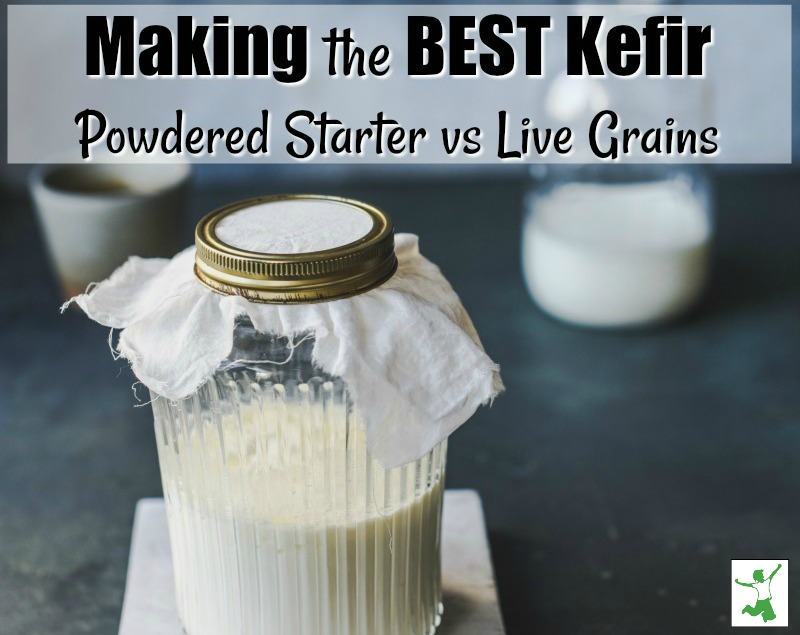 Properly made, 24-hour kefir is arguably the world's more powerful and therapeutic fermented food. It's important to know, however, that there is definitely an optimal way to culture it if you wish to gain the maximum health benefits from the process.
Three Ways to Make Kefir
There are three ways to make kefir, and over the years, I've tried them all. Let me share with you the important lessons I've learned along the way…
Using Store Kefir
The cheapest way to make kefir at home is to take some plain, whole milk kefir from the health food store and use a few tablespoons as the starter using fresh milk or low-temp pasteurized, "cream top" milk.
Using Powdered Kefir Starter
The second way to make kefir is by using a packet of powdered kefir starter culture.
This type of starter is meant for single-use. But you can actually use some of the kefir you make with the powdered culture as the starter for a few additional batches until the culture weakens and no longer ferments properly. Another convenience is that the powdered kefir starter can ferment dairy milk, coconut milk, coconut water, and fruit juice.
Using Live Grains
The third way to make kefir is by using live milk kefir grains.
They look different from live water kefir grains (see the link for a picture that shows the difference between water kefir and milk kefir grains), so be sure you have the right ones before proceeding!
The drawback to using live grains is that you have to take care of kefir grains when you are out of town or not fermenting a new batch. Otherwise, like any living thing, they will die and you will have to get more.
Live grains can be tricky to fish out of the mason jar when the culturing process is complete even when using a proper strainer. This is another reason some people don't like using them. It can be messy until you get the hang of it!
Reasons Why Live Kefir Grains is Best
Most kefir fans do not realize that there is a huge downside to using powdered starter to make homemade kefir.
Envelopes of powdered kefir starter only contain about 7-9 strains of beneficial microbes!
This goes for store kefir as well. Check the package and/or bottle and see for yourself.
While this type of kefir is still better than yogurt, which only contains 3-5 strains, it is far less powerful than kefir fermented with live grains.
Live Grains Contain More Probiotics
Properly made, 24-hour kefir made with live grains contains 20+ beneficial microbial strains!
What's more, kefir made with real grains contains nearly 10 beneficial yeast strains to fight candida overgrowth.
Neither kefir from the store nor homemade kefir made with powdered starter contains these beneficial yeasts!
In short, kefir made with live grains will exert a much greater therapeutic effect on the gut than batches fermented with powdered starter.
Another plus…live grains can be used to make either dairy milk or coconut milk kefir.
More Cost-Effective
Ultimately, live grains are the most economical choice as well.
They are infinitely reusable if you take care of them.
In fact, they can last your entire lifetime and be passed on to your children and grandchildren.
Live Grains Grow
Live grains also grow slowly with each batch, so you can gift them to others if you wish. You can even eat them like live probiotic gummies.
Take Away
Ultimately, the choice to make kefir whichever way you choose is up to you.
The most important thing is to make this incredibly powerful, traditional food at home if at all possible.
If the thought of taking care of live kefir grains is too daunting, then simply use store kefir or powdered packets as your starter until you get into the swing of things. See the video below for how to make it with store kefir.
The traditional way to make this fermented food that is also the most nutritious and economical is using live kefir grains, however. This optimal method has the greatest therapeutic impact on your gut and overall health.
Transition to this method as soon as you possibly can or use it from the get-go if you are adventurous!