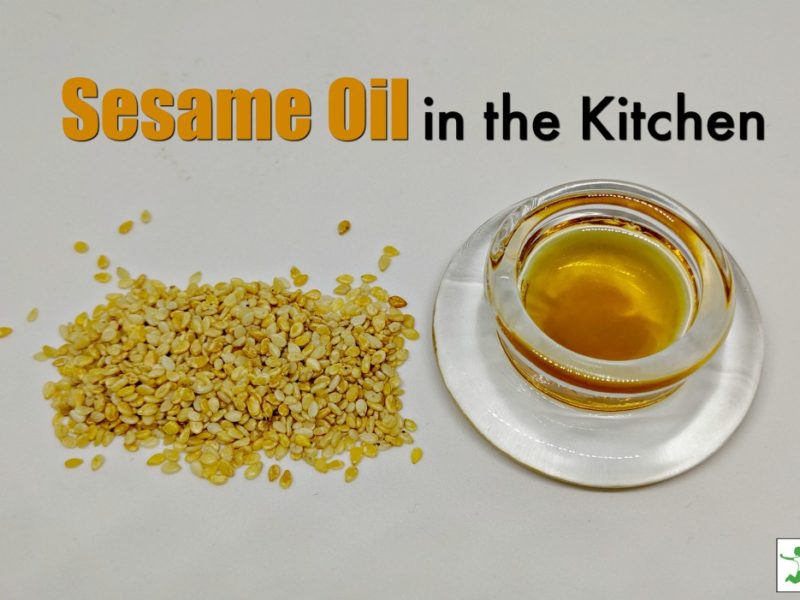 When it comes to the best fats to include in the diet, those that are high in polyunsaturated lipids are best avoided. This is because excessive consumption can contribute to inflammation and other woes. They are also very delicate and prone to rancidity. Sesame oil is a notable exception to this important rule of traditional diets.
The late Dr. Mary Enig approved of sesame oil in the kitchen! (1) She favored its use so much so that she used it liberally blended in equal thirds with coconut oil and olive oil. This mixture is affectionately known as "Mary's Blend".
Let's take a look at why sesame oil stands out as a polyunsaturate that definitely makes the cut for a variety of purposes in your kitchen.
Sesame Oil History
Sesame is one of the oldest known oil crops in the history of humanity. It has many different strains, most being wild.
Sesamum is the cultivated type, native to sub-Saharan Africa. However, the extraction of oil from sesame seeds seems to have originated in the Indus Valley of North India. It was one of the first plants in history grown as a source of edible oil.
Perhaps this is why sesame oil is the favored and original lipid used in ancient Ayurvedic oil pulling. (2)
From India, sesame oil was exported to Mesopotamia around 2500 BC. That geographic location served as the springboard for its adoption by other ancestral societies all over the known world.
Sesame seeds came to America on trading ships from Africa. It quickly became a staple food in the Southern diet. As a crop, it thrived in the North American climate, although the sesame plant itself is able to withstand drought-like conditions. Thus, it was favored for cultivation in drier climes where other plants would fail. (3)
Nutritional Benefits of Sesame Seed Oil
Sesame oil has numerous health benefits ranging from hair and skin to heart and brain. It's a wonder that it is not used more today and why it has, by and large, fallen out of favor in modern cooking.
Before the advent of salon treatments, people used black sesame oil to color their hair. Some research suggests that it may help reduce potential hair loss as well. (4)
Sesame oil contains high levels of zinc, an element crucial to skin health and avoiding colds. Consuming it regularly appears to encourage skin elasticity and smoothness. (4)
The scientific study of sesame oil suggests that when consumed as a cooking oil in hypertensive patients, both systolic and diastolic blood pressure returned to normal levels in a statistically significant portion of test subjects. (5)
Tyrosine is an amino acid found in high quantities in sesame oil. It has been found to relieve anxiety and stress because of its effect on serotonin in the brain. However, the evidence for this remains somewhat unclear. (6)
Smoke Point
The smoke point of sesame seed oil comes in at 350 °F/177 °C when unrefined.
It rises further to 410 °F/210 °C when refined.
Though this level matches a few other fats such as ghee and avocado oil, for a polyunsaturated oil, it is extremely high.
The impressive level of tyrosine is likely an important reason why sesame oil is so resistant to rancidity. This makes it acceptable for cooking, unlike other omega-6 oils.
Tyrosine performs a vital antioxidant function, protecting lipid molecules from oxidation. (7)
Fatty Acid Profile
How high is sesame oil in polyunsaturates? While not as high as grapeseed oil, it is the number one lipid nonetheless.
The fatty acid profile breaks down as follows: (8, 9)
Polyunsaturated (linoleic acid, omega-6) 42%
Monounsaturated (oleic acid, omega-9): 40%
Saturated (palmitic acid, stearic acid): 9%
Oil from pressed sesame seeds also contains a few traces of other fatty acids such as palmitoleic, linolenic (omega-3), and eicosenoic fatty acids.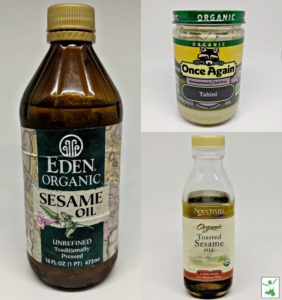 Toasted Sesame Oil
Toasted sesame oil is basically the exact same thing as sesame oil, which one minor difference.
Rather than using raw sesame seeds, the oil is removed from the seeds after they are toasted.
The popularity of the toasted variety is mostly for taste. The toasted oil is much richer, which adds flavorful interest to the cooked dishes that incorporate it.
Mixing it into salad dressing or sprinkling it over food are other ways to enjoy the unique taste. (10)
Refined vs Unrefined Sesame Oil
Unrefined, cold-pressed sesame oil is a healthier choice than refined.
The refining process involves high levels of heat, deodorizing and other techniques that destroy much of its antioxidant value.
If you don't have access to unrefined versions, try making some at home with the simple steps below!
DIY Unrefined Toasted Sesame Oil
You can easily extract oil from sesame seeds you purchase from the supermarket in the comfort of your own home! (11)
Here are the 9 simple steps to make it!
Toast the seeds in a pan that is about 1″ deep for 5 minutes in a preheated, 350 °F/177 °C oven.
Remove the pan and stir the seeds. This prevents inadvertent burning as sesame seeds are so small and delicate.
Toast the freshly mixed seeds for 10-20 minutes, again at 350 °F/177 °C.
For every ¼ cup of toasted sesame seeds in the pan, add 1 cup of sunflower seed oil (you may also use peanut oil).
Heat mixture, again at 350 °F/ 177 °C, for 5 minutes in the oven.
Pour the mixture into a blender and pulse until the seeds are broken into tiny pieces.
Strain off the oils into a clean glass bowl using a clean cheesecloth to catch the bits of seed.
If using peanut oil, the sesame oil will separate naturally and come to the top after about 45 minutes. If using sunflower seed oil, the oil will separate in about 2 hours.
Suck off your freshly toasted sesame seed oil off the top with a large turkey baster or spoon.
Alternatively, after toasting, you can skip the blending with other oils to separate and simply process the sesame seeds into tahini, also known as sesame seed butter.
Should You Be Using Sesame Seed Oil?
If you are eating a fully traditional diet with plenty of nourishing fats and low to no processed foods, the use of sesame or toasted sesame oil in your culinary creations is a delicious and healthful addition.
However, for those still reliant on processed foods that are generally loaded with rancid omega-6 fats, it would be best to take a hard pass. These individuals are already getting too many polyunsaturated oils in the diet. Adding sesame oil would likely not be helpful and would possibly hinder wellness by further contributing to dietary imbalances and/or inflammatory conditions.
References
(1) Know Your Fats by Dr. Mary Enig
(2) Oil Pulling Review
(3) Sesame Seed History
(4) Benefits
(5) Effect on Modulation of Blood Pressure
(6) L-Tyrosine for Alleviating Stress?
(7) The Cytoprotective Antioxidant Function of Tyrosine
(8) Nutrients
(9) Analysis
(10) Toasted vs Untoasted
(11) How to Make at Home