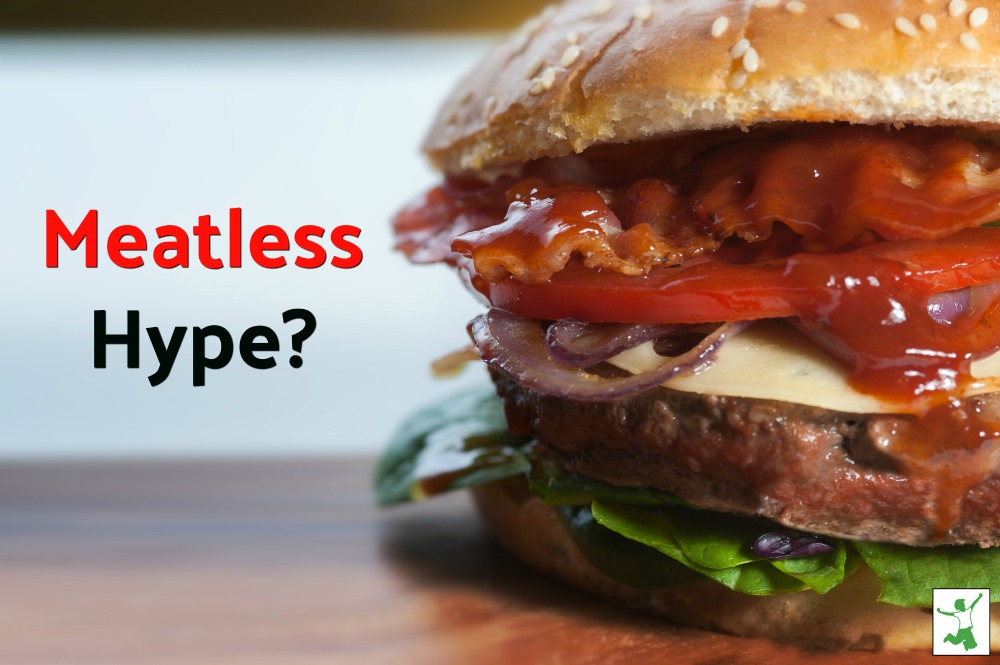 The marketing roll-out for plant-based meats like the Impossible Burger has been nearly flawless, wouldn't you agree? Media reports are gushing about how meatless meat is going to save the planet.
Burger King quickly jumped on the bandwagon with the Impossible Whopper. Then came Subway's Beyond Meatball and McDonald's PLT (Plant, Lettuce, and Tomato). These offerings greatly extend the appeal of meat substitutes beyond health food store shelves to the fast-food eating masses.
All in all, the whole scheme is a textbook study of how to convince the public into believing a mediocre product is actually better for them than the real thing.
The playbook is a well-worn one in the decades since World War II and the so-called "Green Revolution".
Think skim milk, canola oil, Egg Beaters, soy…the list goes on.
I recently stood in line at our local Earth Fare watching in disbelief as a well-meaning parent, toddler in tow, stood proudly (I'm not kidding) with seven boxes of Beyond Meat in her grocery cart.
People are actually feeding this stuff to their children?
What kind of meathead would do such a thing?
If you are under the impression that lab meat like the Impossible Burger or Beyond Meat is actually good for you, here are three reasons to chew on as to why you're terribly mistaken.
The truth is that your health and the planet are better off buying a package of locally produced grass-fed beef instead.
Impossible Burger is a Vote for Monsanto
Soy leghemoglobin or legume hemoglobin is a crucial ingredient in the Impossible Burger. This "plant heme" is what gives lab meat its meaty qualities. (1)
The word "heme" comes from the Greek word haima meaning "blood".
Unfortunately, this ingredient that gives meatless meat a bloody quality comes from genetically modified soy crops.
Planting of GMO soy is one of the primary reasons the South American forests are being razed at such an alarming rate.
According to The Guardian,
Since 1996, when the government authorised the introduction of genetically modified soya bean, Argentina has cleared nearly a quarter of its native forests. Much of that newly cleared land has been turned over to the soya bean crop that has been critical to Argentina's cyclically ravaged economy. "Argentina is in a forest emergency," says Natalia Machain, director of Greenpeace Argentina. (2)
Bayer/Monsanto, one of the most environmentally destructive corporations in business today, owns the patents on GMO soy seeds. There are literally thousands of pending lawsuits against Bayer and its flagship product Roundup for causing cancer.
Some tests suggest that the Impossible Burger may contain Roundup residue, although the company insists the levels are within safety limits.
Ultimately, if you think that eating an Impossible Burger is a better choice for the planet than herds of grazing animals helping to restore soil and reclaim deserts into grasslands, I would recommend doing more reading on the subject. (3)
Beyond Meat is an Ultra Processed Food
Even nonGMO options like the new soy-free Beyond Meat made with pea, mung, and rice protein are to be avoided.
Consider that scientists created this stuff in a LAB, my friends.
Think sterile rooms, white coats, and Petri dishes.
Plant-based meat is the epitome of ultra-processed food. It's these choices that health experts warn people to avoid as their consumption increases the odds of chronic disease taking hold.
Consider that all meat substitutes require the separation of plant proteins from the whole food source.
According to the Heart and Stroke Foundation, this identifies an ultra-processed food "significantly changed from its original state".
Such products require heavy processing such as extrusion, molding, milling, etc with a high degree of manipulation and numerous additives. (4)
Peer-reviewed published research says that consuming these heavily processed food causes overeating and weight gain. (5)
The researchers go on to say that minimally processed choices, like, ahem, actual meat, are far healthier.
Wrapping an ultra-processed food in a politically correct message doesn't change the unhealthy bottom line.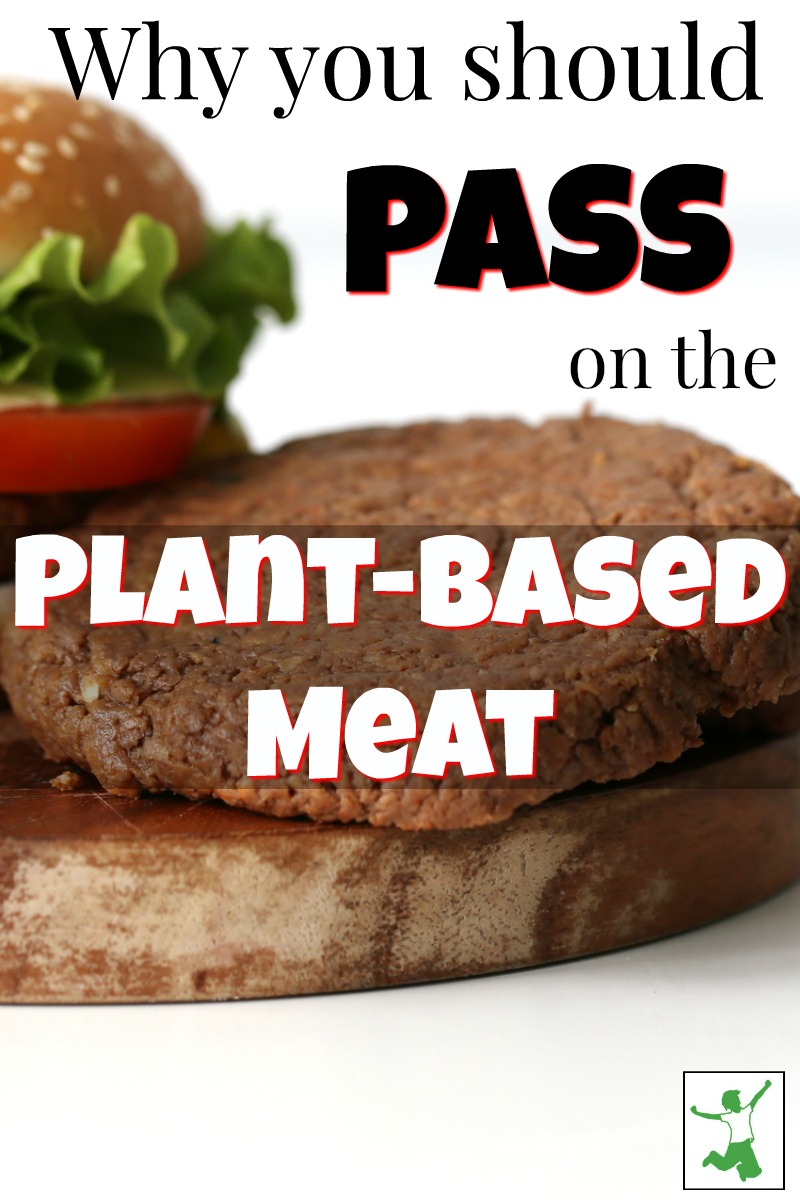 Smart Vegans Won't Eat Plant-Based Meats
Even long-time vegans aren't into the hype surrounding plant-based meat.
John Mackey, the founder of CEO and Whole Foods, is one veggie who isn't buying it.
In an interview with CNBC, he had this to say:
If you look at the ingredients, they [meat substitutes] are super highly processed foods. I don't think eating highly processed foods is healthy. I think people thrive on eating whole foods. (7)
His idea of healthy plant-based meat is a black bean burger with flax seeds and sweet potatoes.
But, he conceded that most people would not enjoy that type of burger. As a solution, Mackey suggested that people retrain their palates over time as he did by consistently eating whole fruits and vegetables.
Opting Out of Meat Substitutes is Best
There are literally zero health benefits to eating plant-based meats like the Impossible Burger or Beyond Meat.
"They are not necessarily healthier than beef burgers," says Alissa Rumsey, a registered dietitian. (8)
The most recent study exonerating red meat as an unhealthy food takes aim at the plant-based meat craze as well. (9)
Just take a look at the ingredients in the most popular plant-based meat brands. Note that both contain the "natural flavors" catch-all that food manufacturers frequently use to hide undesirable additives from the prying eyes of the public. Ask what's in there, and you typically get the "it's proprietary" response.
Beyond Meat: Water, Pea Protein Isolate*, Expeller-Pressed Canola Oil, Refined Coconut Oil, Rice Protein, Natural Flavors, Cocoa Butter, Mung Bean Protein, Methylcellulose, Potato Starch, Apple Extract, Salt, Potassium Chloride, Vinegar, Lemon Juice Concentrate, Sunflower Lecithin, Pomegranate Fruit Powder, Beet Juice Extract (for color). (10)
Impossible Burger: Water, Soy Protein Concentrate, Coconut Oil, Sunflower Oil, Natural Flavors, 2% or less of: Potato Protein, Methylcellulose, Yeast Extract, Cultured Dextrose, Food Starch Modified, Soy Leghemoglobin, Salt, Soy Protein Isolate, Mixed Tocopherols (Vitamin E), Zinc Gluconate, Thiamine Hydrochloride (Vitamin B1), Sodium Ascorbate (Vitamin C), Niacin, Pyridoxine Hydrochloride (Vitamin B6), Riboflavin (Vitamin B2), Vitamin B12. (11)
I wonder if the creators of these products use them in their own homes. The inventor of Lunchables won't let his kids eat them!
The only possible reason to eat this stuff is if you believe the environmental hype that Americans switching from retail beef patties to plant-based alternatives would be equivalent to taking 12 million cars off the road for an entire year. (12)
Given that Beyond Meat funded that study, I, for one, am more than a little skeptical!