The steps required to properly care for live kefir grains whether you will be fermenting milk, juice or nondairy milk so that they stay strong and healthy for a lifetime!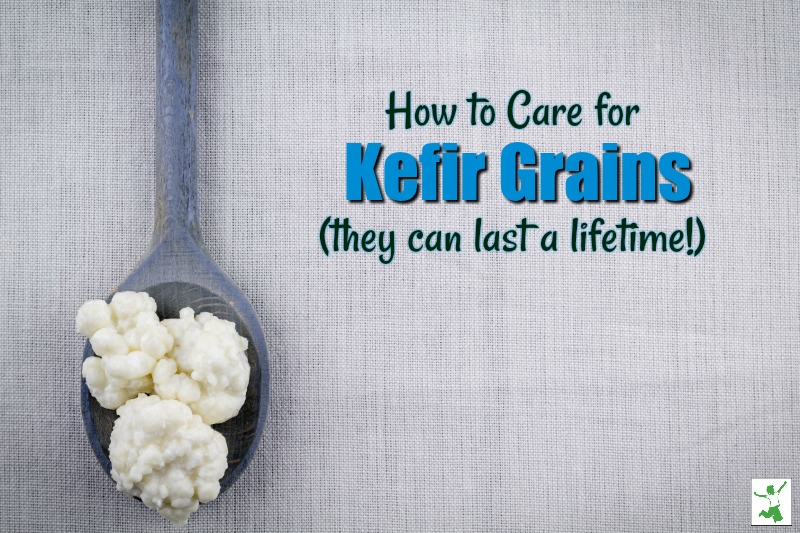 The recent article on the best type of kefir starter generated a lot of questions about how to activate and otherwise care for live kefir grains. It is clear that many of you now understand the huge probiotic advantage of homemade kefir cultured this way compared to powdered starter.
If you don't have a great track record with indoor houseplants, don't garden or otherwise consider yourself a prime candidate for black thumb status, no worries!
The care and feeding of kefir grains is so simple that literally anyone can do it.
Reactivating Kefir Grains
When you first buy kefir grains from a reputable source, they have been out of milk during the period of time it took to ship to your door.
This weakens them slightly.
Thus, you can't use them immediately out of the package to ferment kefir. They must be reactivated first, which takes on average about 36-72 hours to accomplish. The eight steps below describe the straightforward process:
Place the grains in a wide mouth mason jar.
Pour in one cup of fresh whole milk, secure the lid, and leave on the kitchen counter at room temperature for 12-24 hours.
After the required 12-24 hours, pour in another cup of whole milk and resecure the lid.
Let the jar sit on the counter for another 12-24 hours. You should now notice that the milk has become slightly bubbly.
Remove the grains from the milk with a non-metal strainer (contact with metal weakens them over time) and place them without rinsing them off in a clean mason jar. You may use the partially fermented milk from the earlier steps in smoothies.
Repeat steps 2 and 3.
Hopefully, after this second time around, the milk will be completely coagulated into kefir, which is the consistency of drinkable style yogurt. If the grains are especially weak and full coagulation has not yet occurred, strain the grains out and repeat steps 2 and 3 again.
Once the grains are coagulating properly, they are ready to ferment a full quart of milk within 12-24 hours.
Should Milk be Heated?
A common question is whether the milk used for making kefir or reactivating the grains should be warmed.
You really don't need to do this.
I've always used milk right out of the refrigerator. The milk quickly comes to room temperature, which is the point at which the kefir grains will become active.
Kefir grains work at any temperature between 40 and 80 degrees Fahrenheit. Thus, you should be able to reactivate kefir grains and/or make kefir during any season of the year at whatever temperature you find most comfortable in your home.
Should Kefir Grains Be Rinsed?
There is some disagreement about whether kefir grains should ever be rinsed between batches.
I am of the school of thought that it is best to never rinse them.
I've tried rinsing kefir grains on occasion over the years, and without fail, it seems to weaken them to the point where it takes several batches of kefir for them to re-strengthen back to their old selves.
Since my experience rinsing kefir grains has never been a good one, I would recommend that you avoid the practice. After straining kefir grains, place them straight into a clean glass jar for the next batch without rinsing. If they are glugged up with cream, that is fine. In fact, kefir grains seem to prefer it this way!
What to Do with Extras
As you continue to ferment kefir one batch after another, you will notice that your kefir grains start to grow.
Since you only need a small clump of grains about the size of a ping pong ball to ferment a quart of kefir, any extra can be given away to friends and family.
Another option is to simply eat them for their probiotic benefits. They don't have much taste and the texture is like a gummy.
Freezing or Dehydrating
One thing you definitely do not want to do with excess kefir grains is freeze or dehydrate them.  This will kill them and no amount of reactivating will bring them back to life.
So, if you have extras, your options are simply to eat them, give them away, or compost for your garden.
How to Store Kefir Grains Between Batches
Kefir grains will last for weeks in the refrigerator if you need to take a break between batches for whatever reason.
Simply place them…unrinsed…in a clean mason jar and pour in 2 cups of milk. Secure the lid and refrigerate.
They will be just fine for about a month this way.
Once you are ready to ferment kefir again, you may need to reactivate them based on the 8 steps above. If you've only taken a break for a week or less, you probably can go straight into fermenting again.
If it's been longer, the grains might be a bit weak and need refreshing.
Non-Dairy Use of Kefir Grains
Note that kefir grains can culture almost any beverage or fruit that contains some type of sugar. It generally takes a bit longer to ferment these types of beverages, however. For example, fermenting a quart of fresh juice usually takes 24-48 hours instead of the usual 12-24 hours for dairy milk.
Despite this ability, kefir grains prefer to be in dairy milk. So if you are using them primarily for non-dairy purposes, be sure to ferment a batch of whole milk dairy kefir every so often to keep them strong and growing. I recommend no more than three consecutive batches of non-dairy kefir followed by a restorative batch of dairy kefir to keep them healthy.
If you don't consume any dairy, it is best to use water kefir grains instead that are specifically grown in sugar and water and won't require periodic refreshing in dairy milk. The downside is that water kefir grains do not add as many probiotic strains as milk kefir grains do.
By taking care of your kefir grains, there is no reason why they shouldn't last you a lifetime!