Table of Contents

[Hide]

[Show]
How to eliminate tiny sugar ants from your kitchen without toxic chemicals or calling a pest control company.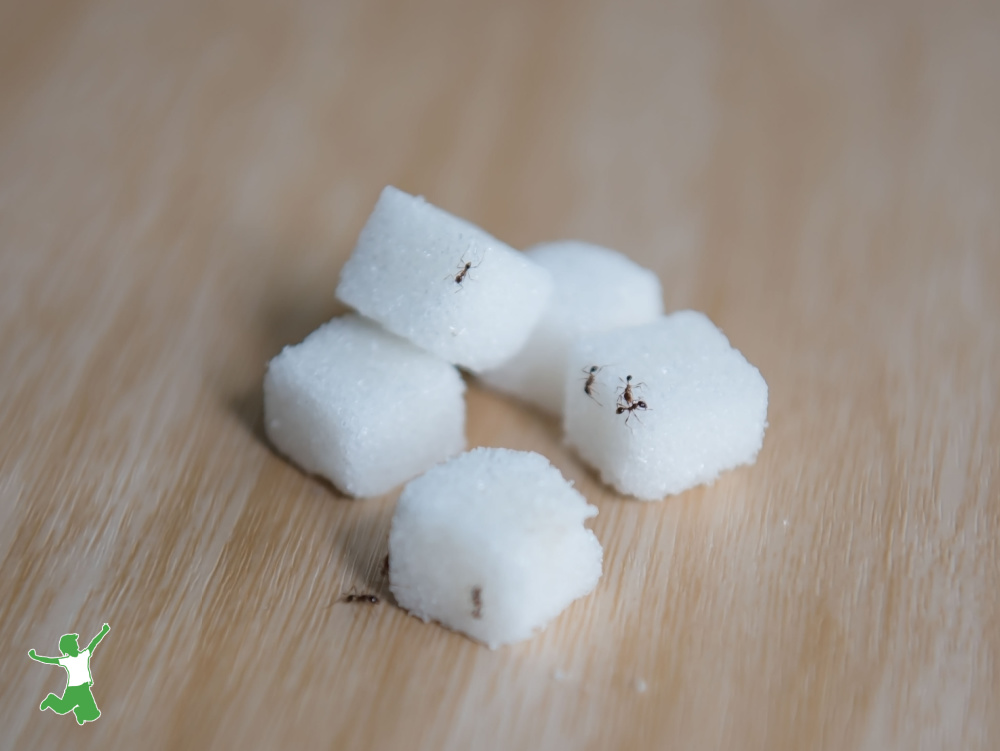 Living in hot, humid Florida, I've learned over the years how to effectively deal with many different types of bug infestations without using pesticides or calling the pest control company.
When it comes to ants, I've written several DIY articles specifically dealing with:
What about sugar ants?
These critters are unique from other ants in that they are non-biting and extremely tiny.
They typically appear on kitchen counters in large numbers…seemingly out of nowhere.
In my neck of the woods, this can happen after very heavy rains that drive them indoors. Leaving food or dirty dishes on the counter overnight can bring them into the kitchen in a hurry too.
Recently, one of my children at college texted to say that he had a sugar ant infestation in his room. He and his friends rent a house, so calling the landlord to spray toxic chemicals around the inside of the house was not the ideal solution!
As I've gotten rid of sugar ants a number of times in our older home, I was able to offer the advice below as something to try that I've found very effective over the years.
Boric Acid vs Borax as a Safe Insecticide
While ant traps made with borax work very well, this powder is getting harder to find in some areas. In some countries, it is banned entirely despite being quite safe to use around the home.
I've often mused if the banning of borax is because you can make a solution to detox fluoride safely from the body with it. Keeping people in perpetual health bondage by removing access to safe holistic remedies that can help them heal seems to be a common tactic by the "powers that be" if you haven't noticed!
If this is your situation, I suggest making a sugar ant trap using boric acid instead.
Boric acid is a similar, yet more concentrated substance to borax.
It is easily found at hardware stores and, like borax, is very inexpensive.
This is the brand I have in my utility closet.
One bottle lasts for decades, so it's a good idea to have one on hand. Keep it within a climate controlled area, though, as humidity in the garage or storage shed will cause it to form one big hard chunk that is difficult to re-powderize.
Like borax, boric acid is safe to use when handled properly.
For example, country doctors who used to make house calls (my Dad was one!) commonly recommended that his patients use boric acid soaks for athlete's foot and other fungal infections of the feet.
DIY Sugar Ant Traps
Using boric acid to make ant traps is quite simple and very inexpensive. It's also safe for the family to be around, although you certainly don't want pets or children touching them.
Try these 8 steps and watch your sugar ant infestation quickly disappear!
Completely dissolve 8 teaspoons of white sugar in one cup of water. Warming the water slightly makes this easier.
Stir in one teaspoon of boric acid powder into the water/sugar mixture.
Dampen cotton balls with the boric acid solution and place one or two on a clean jar lid using as many lids as necessary. Alternatively, you can fold paper towels into small squares and use similarly.
Create bait stations with these traps in areas where the sugar ants are trailing. Place in areas out of reach of children and pets.
Within 24-48 hours, you should see significantly fewer ants, and within 72 hours, they should be all gone!
If by chance you keep seeing a few ants here and there after 72 hours, refresh the bait stations and continue the process.
Remove bait stations and discard once all the ants are gone.
Repeat as often as necessary to keep sugar ants at bay.
I can't remember the last time I made these sugar ant traps … they are so effective at getting rid of these little critters that you really don't need to use them that often!
Hopefully, my son will have the same success using them in his college rental house!