Healthy recipe for honey cinnamon butter that is a perfect topping for toast, rolls, or a bowl of oatmeal. Only 3 ingredients and 5 minutes to make!
The honey cinnamon butter that some restaurants serve with their bread is very popular with patrons.
While certainly delicious, the ingredients are no doubt quite shocking. For example, I couldn't even find a list of ingredients for Texas Roadhouse's cinnamon butter anywhere online. 😲
First of all, these whipped spreads almost certainly aren't butter at all. They consist of at least some (if not mostly) vegetable seed oil margarine.
Secondly, the sweeteners are either GMO high fructose corn syrup or GMO white sugar.
Third, there are undoubtedly numerous additives and fillers mixed in to ensure shelf stability and consistency of texture and taste.
One, two, three strikes you're out!
If you enjoy the taste of processed honey cinnamon butter concoctions, you can make a healthy version for your family in only 5 minutes with 3 whole food ingredients!
I recommend storing your honey cinnamon butter on the counter in a traditional French-style butter crock. It will last and stay naturally soft and spreadable for weeks!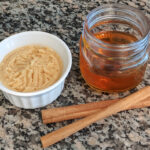 Honey Cinnamon Butter
Healthy recipe for honey cinnamon butter that is a perfect topping for toast, rolls or a bowl of oatmeal.
Instructions
Place butter in a medium to large bowl and allow to soften to room temperature.

Drizzle in honey and sprinkle in the ground cinnamon.

Use a hand mixer and blend the butter, honey and cinnamon on low speed until well mixed.

Transfer honey cinnamon butter to a butter crock or a similarly small container.

Honey cinnamon butter is good to use for several days when covered on the counter. It will last for several weeks in a traditional butter crock.
Nutrition Facts
Honey Cinnamon Butter
Amount Per Serving (1 tsp)
Calories 45
Calories from Fat 32
% Daily Value*
Fat 3.6g6%
Cholesterol 10mg3%
Potassium 3mg0%
Carbohydrates 3g1%
Vitamin A 150IU3%
* Percent Daily Values are based on a 2000 calorie diet.