Creative ways to enjoy the antioxidant goodness of matcha green tea in the home kitchen during every season of the year.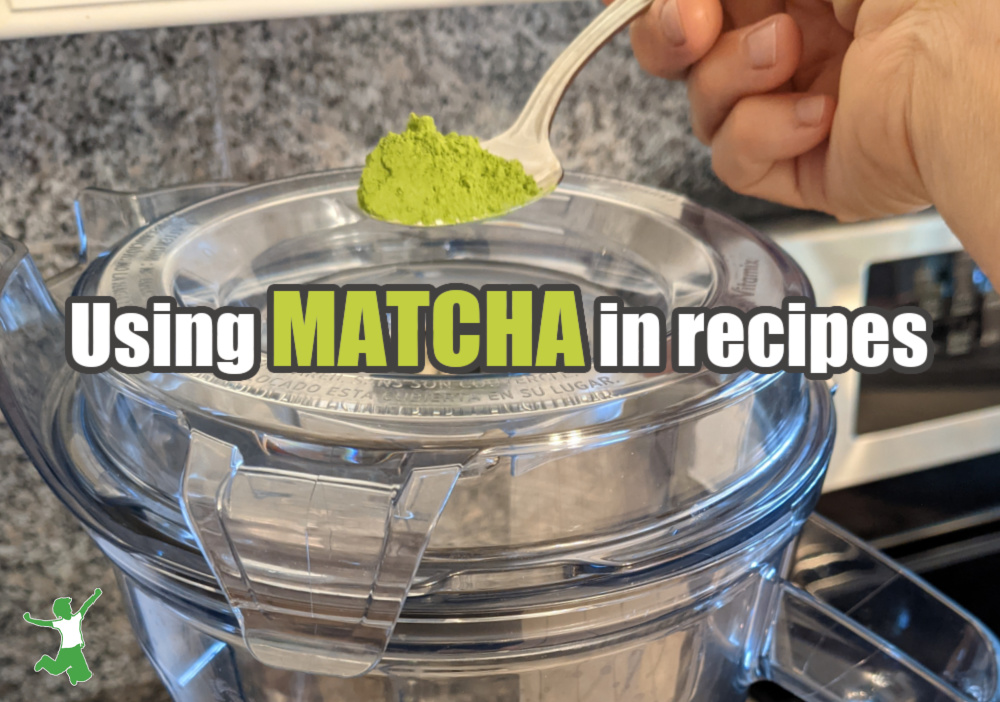 Authentic matcha tea powder that is cultivated and produced in line with ancient Japanese custom can be an excellent addition to the diet.
I first came across this traditional green superfood while staying at a Buddhist monastery in Kyoto Japan in 1988. You can read more about the health lessons I learned on my Japanese adventure at the link.
I didn't know what the slightly bitter, intensely uplifting dark green beverage that the monks enjoyed every morning actually was at the time.
I later discovered that they carefully cultivated, harvested, and prepared matcha powder in line with practices preserved over thousands of years!
When matcha finally made its debut in the West, I was thrilled to be able to add it to my traditional diet as an occasional remedy and energy boost that helps clear away mental cobwebs without any jitters.
This is due to the presence of L-theanine, a therapeutic amino acid that boosts mood and calms the nerves.
Its presence in tea slows the absorption of the caffeine in the matcha to a trickle. This allows you to enjoy the medicinal benefits without any downside even if you are caffeine sensitive like me.
Authentic Brands to Consider
Because matcha is technically a green powder, you have to be very careful to buy as fresh as possible.
For this reason, I prefer to buy matcha that is farm direct, meaning it does not go through the industrial food system.
However, consumers beware! There is a lot of fake matcha on the market! It is also worth the extra money to spring for organic matcha. Nonorganic has the very real potential of being quite high in fluoride.
Here are four brands to consider that I've vetted and used over the years.
Using Matcha in Your Kitchen
Once you have chosen a good brand of matcha and are ready to get started, here are the top ways to use it at home that I've found beneficial and tasty!
Tea
The most traditional way to use matcha is to simply place a teaspoon in a mug and blend with a cup of hot water. It is best to use water that is no hotter than 170 F/ 70 C.
Sifting the matcha powder first goes a long way toward preventing clumps.
Matcha Shot
If you enjoy the antioxidant bitterness of matcha, you can try it as a shot rather than a cup of tea for sipping.
Blend only a quarter cup of hot water per teaspoon of matcha.
Like with the tea method above, it's important to keep the water lower than 170 F/ 70 C. This is especially important if you intend to chug the shot in one gulp!
These proportions dramatically increase the strong taste, which some people really enjoy.
Detox Latte
I adore sipping a fruit-sweetened matcha latte after a good breakfast on cold mornings.
Try maple syrup instead of the fruit if you prefer. Your choice of a healthy milk substitute is fine instead of dairy as well.
Iced Matcha
During hotter months, I enjoy a decaf matcha frappe in the afternoon as a cool and refreshing beverage.
You can also blend a hot matcha shot as described above with an additional cup of cold filtered water. Then pour over ice.
Smoothie
If you want the benefits of matcha but aren't crazy about the flavor, then add a half teaspoon to your favorite smoothie.
Here are the healthy smoothie recipes I regularly use in my home if you need some ideas!
Baking
Did you know that you can add matcha powder to baked goods?
This is another way to enjoy the antioxidant benefits if you don't particularly enjoy the bitter flavor.
The general rule of thumb is to add 1-3 teaspoons of matcha per cup of flour.
Frozen Desserts
Similar to baking, matcha is a superfood addition to frozen treats like iced cream.
I recommend only one teaspoon of matcha per cup of milk or cream so as not to compromise the intended flavor.
This raw vanilla ice cream recipe or this dairy-free peanut butter ice cream created by a friend of mine are healthy ones to consider if you haven't made it yourself before.
Do you use matcha? What is your favorite way to enjoy its bitter, antioxidant goodness?