Peer-reviewed study reports that daily consumption of the age-old remedy cod liver oil for 24 weeks is statistically significant at reducing Rheumatoid Arthritis pain and the use of NSAID drugs like ibuprofen to manage symptoms.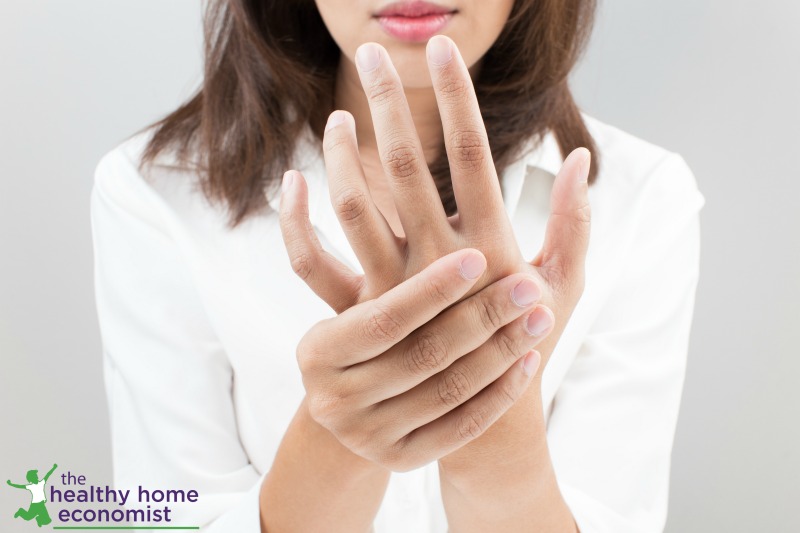 Rheumatoid Arthritis can be an extremely painful as well as disabling illness. As a result, those suffering from this autoimmune disease frequently find themselves relying on non-steroidal anti-inflammatory drugs (NSAIDs). Examples include Voltaren (diclofenac sodium) and ibuprofen that provide relief in order to function on a daily basis.
The problem is that NSAIDs are associated with an increased risk of serious cardiovascular events, myocardial infarction, and stroke. This risk further escalates with a longer duration of use and at larger dosages.
In addition, those who already have cardiovascular disease or risk factors are likely at greater risk for a potentially fatal cardiovascular event.
Consequently, limiting NSAID use and minimizing dosage are very important goals in the management of Rheumatoid Arthritis (RA).
The good news is that the results of a peer-reviewed study suggest that it is indeed possible to reduce dependence on NSAIDs for Rheumatoid Arthritis with the help of the old fashioned cod liver oil.
The pilot study, reported in the Journal of Clinical and Diagnostic Research, involved 30 Rheumatoid Arthritis patients aged 19 to 60 years. (1)
Cod Liver Oil Reduces RA Symptoms
Each patient received 1.5 grams of cod liver oil twice each day given as five, 300 mg capsules. The cod liver oil regimen continued for a period of 24 weeks.
Note that while helpful, the benefits of krill oil do not outweigh those of cod liver oil. Hence, this supplement is not an adequate substitute.
The omega-3 fatty acid content of each capsule was Eicosapentaenoic acid (EPA) 20 mg and Docosahexaenoic acid (DHA) 30 mg. The fat-soluble vitamin content of each capsule was Vitamin A-284 IU and Vitamin D-28.4 IU.
Hence, the total dosage each day from the 10 capsules (5 taken twice daily) was EPA-200 mg, DHA-300 mg, Vitamin A-2840 IU, and Vitamin D-284 IU.
Cod Liver Oil Chosen Over Fish Oil
It is important to note that the study authors chose cod liver oil over plain fish oil. The reason is that unprocessed cod liver oil contains natural Vitamins A and D. Plain fish oil is highly processed and does not contain these critical fat-soluble nutrients.
Vitamin A protects against liver damage from Methotrexate therapy, a mainstay in the treatment of Rheumatoid Arthritis. Cod liver oil is also protective against Vitamin D deficiency which is highly prevalent in the disease. (2)
In addition to the cod liver oil, the patients took 50 mg of Diclofenac Sodium in a single daily dose with the maximum allowed NSAID dose of 200 mg/day.
How Long Until Improvement?
The average daily NSAID requirement for each patient was recorded and compared throughout the 24 week period. In addition, the pain score of the patients was evaluated using the Visual Analogue Scale (VAS) at different weeks. In addition, researchers assessed patient "Subjective Response" to Rheumatoid Arthritis pain.
Administration of the cod liver oil over the 24 week period resulted in a statistically significant decrease in the mean VAS pain score from 80.38 ± 6.4 at the beginning of the study to 67.30 ± 5.3 at its conclusion.
Even more encouraging, the percentage of patients who experienced a subjective response assessment of "Better" increased dramatically from 15.38% at week 4 to 61.53% at week 24.
Conclusions
The authors of the study concluded the following:
This study revealed that the concurrent use of cod liver oil which contained n-3 Essential Fatty Acid in Rheumatoid Arthritis patients reduced the mean daily dose of Diclofenac Sodium consumed and probably the incidence of the side effects which were associated with it.
Given that cod liver oil is a safe remedy used for centuries even as far back as Viking and Roman times. Thus, it would seem reasonable to try it for 5-6 months as the patients did in this study. Dosage for this length of time may result in a significant improvement in symptoms and reduction in NSAID dependence.
These brands of cod liver oil are completely unprocessed for maximum results. I personally prefer to use cod liver oil sourced from Iceland at the present time because of the purity of the ocean in that part of the world.
Below is a short video where I explain the study and results for those of you that prefer a visual medium.
References
(1) J Clin Diagn Res. 2013 July; 7(7): 1347—1351
(2) Beta Carotene Mitigages Methotrexate–Induced Oxidative Liver Damage
More Information
Cod Liver Oil Helps Resolve Night Blindness
Tylenol the Cause of Autoimmune Symptoms in Children?