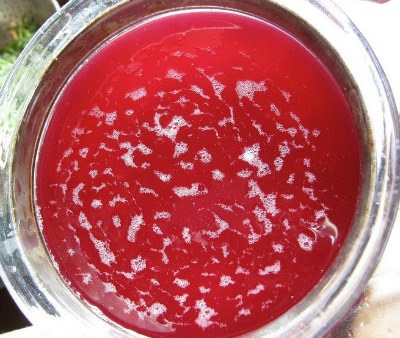 Today's video shows you how to make beet kvass.   Beets are chock full of nutrients and fermenting them as shown in the video is extremely beneficial to those with any sort of digestive complaints.   Beets are highly cleansing to the liver, so those with liver issues benefit from consuming beet kvass on a regular basis.
As a tonic, beet kvass is recommended first thing in the morning and after your evening meal.   Just 4 ounces or so is all you need to sip.   This highly nutritious superfood is far better than taking a multivitamin!
I'm sipping a morning glass of beet kvass as I type this!    What a great way to start the day and rev up your digestion each morning!
Video: How to Make Beet Kvass
Beet Kvass Recipe
Adapted from Nourishing Traditions Cookbook
1 large or 2 medium organic beets, tops removed
filtered water
1/8 cup liquid whey
1/2 TBL sea salt
Wash and peel beets and slice into chunks no smaller than about 1/2 inch across.
Put beet chunks into a clean, 1 quart mason jar.   Add whey, sea salt, and enough filtered water to fill all but 1 inch from the top of the jar.   Stir and mix well.   Close the lid and leave on the kitchen counter for 1-2 days. Try to keep it away from the fruit bowl to discourage the growth of mold.
Drink as desired and refrigerate once the fermentation period is complete.
When all but an inch or so of beet kvass liquid is left in the jar, refill with more filtered water, stir, and close the lid again and leave on the counter for 2 days more.  Refrigerate fresh batch of beet kvass and drink as desired.
When all the liquid is used up from the second batch, discard the beets and start the process again.
More Information on Fermented Drinks
How to Make Fermented Lemonade
How to Make Orangina (Fermented Orange Juice)
Sarah, The Healthy Home Economist
Subscribe for Updates
Subscribe today and gain access to my exclusive & FREE weekly newsletter packed with the latest health news, Real Food recipes, video how-to's, special discounts and much more!