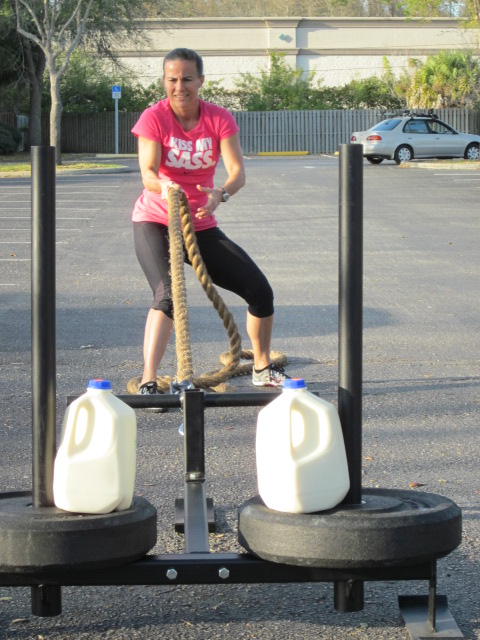 One week down and only 3 days to go!   I can't believe we will be finished with The (raw) Milk Cure in just a few days.
Are you going to continue past the 10 day point?  What are your thoughts and plans?
Are you dropping any weight or holding steady?  Any improvement in symptoms if you are fasting for that reason?
Please share with us in the comments section.
Paula:  Slept tremendously last night.  Good energy throughout the morning.  Workout okay – not a whole lot of energy during that for whatever reason nor the rest of the afternoon.  Very tired, energy not as good as it was at the beginning of the fast.  Very irritable and short on patience.  Had a busy afternoon and didn't drink as much milk. Very hungry when I got home and for the first time during the fast I wanted to eat – badly!
Eyed my nice raw hot pepper jack cheese in the refrigerator.   The only reason I did not eat it last night was because of the commitment I made to you all and to myself.  I sucked it up, drank 2 1/2 cups of milk, and was fine from a hunger standpoint.  I think I am experiencing subtle signs of detoxing after all – I just didn't realize it with how hectic the past week has been.  Must be sluggish detoxification pathways?   My skin looked slightly clearer this morning.  Consumed 13.5 cups and weighed in at 116.4.
Richard:  Didn't sleep well as was up several times with one of the kids who was restless.  Still felt good at 5am when I got up to start the day.  Drank 5-6 cups of milk throughout the day as usual.  Didn't feel hungry and am doing fine.
I might be dropping some weight although I can't be sure.  My pants fit pretty much the same so it would seem not.
Sarah:  Today was milk pickup and I wondered how I would feel as this is always a very busy and physically strenuous day for me.   Was sneezing a lot again this morning but it passed after a few hours.
Drank some kombucha I made at home in addition to the milk as I didn't want to get dehydrated from working too hard for so many hours without a break.
Had good energy during pickup but after tying up all loose ends by 2 pm felt very tired.   Took a 2-hour nap after the kids got home from school. I really needed some rest.
Still tired even after napping.  Am really wanting to eat dinner as I prepare a meal for the kids.   Finished with the last of 14 cups of milk for the day around 7 pm.
Not hungry but feeling a bit weak.  Drank some herbal tea and went to bed at 10 pm.  Fell asleep easily despite a nap earlier in the day.