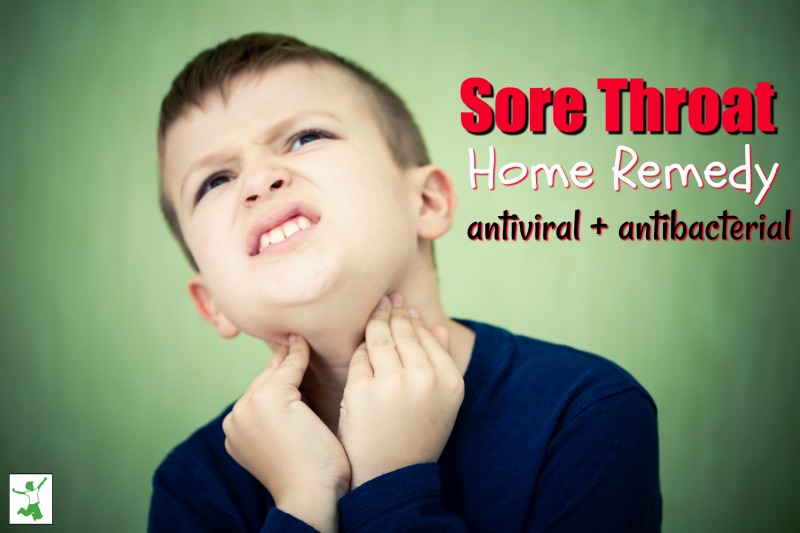 During cold and flu season, an effective sore throat remedy is crucial to have on hand to use when symptoms appear. Speed of treatment is of importance when it comes to this particular type of ailment so that symptoms don't worsen into laryngitis or something more serious. This is especially true when the condition presents as probable strep throat!
There are many natural remedies for sore throats that are promoted within the alternative health community. Depending on whether the sore throat is caused by a virus or bacterial infection, how to know which one(s) to try first?
First of all, it's important to understand which remedies alleviate symptoms only versus those that will destroy the virus or bacteria at the root of the problem.
For example, gargling with salt water is a much-touted sore throat remedy. While it will indeed make your throat feel better temporarily, it isn't going to provide ammo to your immune system to fight off the infection.
This is why gargling with salt water is a great remedy for post-oral surgery care to keep a wound clean for complication-free healing. It won't help so much when your sinuses are draining infected mucous onto your throat while you sleep or your throat has white spots on it, however!
When the sore throat is caused by a virus or bacteria, natural antibiotics are your best bet. And yes, some natural antibiotics are even effective against viruses too, unlike drug-based antibiotics which only work for bacterial infections.
Running to the doctor for drug-based antibiotics or anti-virals should be a last resort. Even using Tylenol for pain or fever is a bad idea due to the potential for long-term health effects.
Pharmaceuticals even if over the counter have side effects and a single round of antibiotics can negatively impact gut health for up to 4 years and maybe longer.
No worries though! In my experience, Mother Nature will come through for you with flying colors when it comes to sore throats.
Powerful Sore Throat Remedy using Natural Antibiotics and Antivirals

I keep the most effective natural antivirals/antibiotics available at all times in my medicine cabinet. Which to use when time is of the essence? For sore throats, three of these work extremely well synergistically:
Cayenne pepper
Garlic
Cayenne Pepper for Sore Throats
Cayenne pepper, also called red hot chili pepper or capsicum, is part of the nightshade family of plants. It has been part of the human diet since about 7500 BC.
Cayenne is dried, ground and then sifted to make the powdered spice we are so familiar with. In cooking, cayenne is used for spicy dishes or for making hot sauces from a variety of cuisines around the world.
Medicinally, cayenne has been noted through the centuries to be helpful to digestion, as it stimulates gastric juices. It increases heat in the tissues, helping improve blood flow and the pain of arthritis, muscle cramps, and even toothache.
As a sore throat remedy, cayenne pepper is helpful due to the high amounts of capsaicin, which has anti-inflammatory and analgesic (pain-relieving) effects when used topically (1). It triggers a burning sensation on contact, which is why only small amounts are needed in the remedy below.
Cayenne pepper's unique ability to increase blood flow has a twofold benefit when it comes to sore throats. First, it increases nutrient flow to the infected throat tissue. Second, it speeds the removal of toxins from the area as well. Finally, cayenne promotes the health of the mucous membranes which is why it is included in this sore throat remedy.
Garlic: Antibiotic Powerhouse
Garlic is unique among natural antibiotics because of its ability to destroy a wide variety of pathogens including viruses, bacteria, and fungus. All this is accomplished without harming beneficial gut flora (unlike colloidal silver). In fact, garlic promotes intestinal health by acting as a prebiotic for the beneficial flora present in the gut.
The sulfur compounds in garlic along with the phytochemical allicin have such powerful antibiotic properties that they even combat the superbug known as MRSA.
If garlic can fight superbugs, it will definitely help resolve a sore throat!
Raw Manuka Honey
While any raw honey is helpful as a sore throat remedy, Manuka honey is especially effective.
Of all the honey on the planet, Manuka honey is the most powerful when it comes to resolving infections that are skin based. Just be sure it is completely raw and unheated. Most brands of Manuka honey that I've examined have been heated so be very careful what you buy.
Honey loses all of its antibiotic properties and even becomes toxic when heated!
The FDA recognizes the antibiotic properties of Manuka honey when used on the skin. In 2007, Manuka honey-based wound dressings were approved by the FDA.
Now let's see how the benefits of these three natural antibiotics are used synergistically for an effective sore throat remedy that will heal and not just relieve symptoms.

Sore Throat Remedy Ingredients
Fresh garlic cloves, preferably organic
Ground cayenne pepper (preferably organic and do not substitute the essential oil as it would be too burning)
Raw Manuka honey (source)
Remedy Usage Instructions
Using a mortar & pestle, mash up 3 cloves of fresh garlic.
Mix in half a teaspoon of ground cayenne pepper (sources).
Mix in only raw Manuka honey to taste. If the Manuka honey is not raw, it will be worthless in this remedy!
Taste a tiny amount of the mixture to ensure that it isn't too hot but comfortably warm on the throat.
Consume 1/2 teaspoon of the mixture every 30 minutes to an hour.
Make more as needed. As rapid improvement is noted, you can back off to using the mixture every 2-3 hours. Continue using a few times a day until you are certain the condition is resolved.
*If you already are forward-thinking enough to have some of the powerful Master Tonic on hand, feel free to use that instead of this remedy.
If you don't see improvement quickly, reach out to your physician.
Want to Supercharge this Sore Throat Remedy?
If you would like to supercharge this remedy, gargle with raw apple cider vinegar diluted 50-50 with water three times a day.
If raw apple cider packed in glass bottles is not available in your area, you can make it easily with this ACV recipe.
I can attest to the effectiveness of using natural antibiotics for sore throats of all kinds. In our home, we have never resorted to drug-based meds for any sore throats in over 25 years. This includes the raising of 3 children!
Just Need a Mild Sore Throat Remedy?
What if you really don't need the big guns – cayenne pepper, manuka honey and garlic – as a natural way to cure your sore throat?
If you just need a mild sore throat soother, I use a cinnamon and raw honey paste.
I grate about a teaspoon of fresh cinnamon into a cup and mix with a similar amount of raw honey. Any raw honey will do, but the sweeter the better especially if you use fiery Saigon cinnamon. Note: using freshly ground cinnamon is very important. Don't use supermarket sticks either as they are years old in most cases! Another thing not to get hung up about is the argument about cassia versus Ceylon cinnamon. Both types are true cinnamon (just from different parts of the world) and both work great!
Mix the two together well and have your child lick it slowly off a small spoon. My kids typically ask for this when their throat is sore perhaps after a sporting event or other activity out in the winter air or when they are getting over a mild cold.
Prevention Strategy: Getting Sore Throats A LOT?
If your family is experiencing more than its fair share of sore throats, oral probiotics can really help. There are specific strains of beneficial microbes that thrive in the ear, nose, and throat (ENT). When they are missing or too few in number, a person is predisposed to infections like tonsillitis or pharyngitis.
I've examined several of the oral probiotics on the market, and this chewable tablet has the best ingredients (not perfect but the best I could find as of this writing). It contains two oral probiotic strains of Streptococcus salivarius (K12 and M18) scientifically shown to support ENT health when used regularly.
In one study published by the International Journal of Internal Medicine, the administration of Streptococcus salivarius K12 to children with a history of recurrent oral infections experienced reduced episodes of pharyngeal infections and/or tonsillitis as well as episodes of acute otitis media (middle ear infections) (2).