Easy recipe for taco salad dressing with a probiotic option that can be blended together in a matter of minutes. Only three ingredients that most pantries already have on hand plus sea salt and pepper.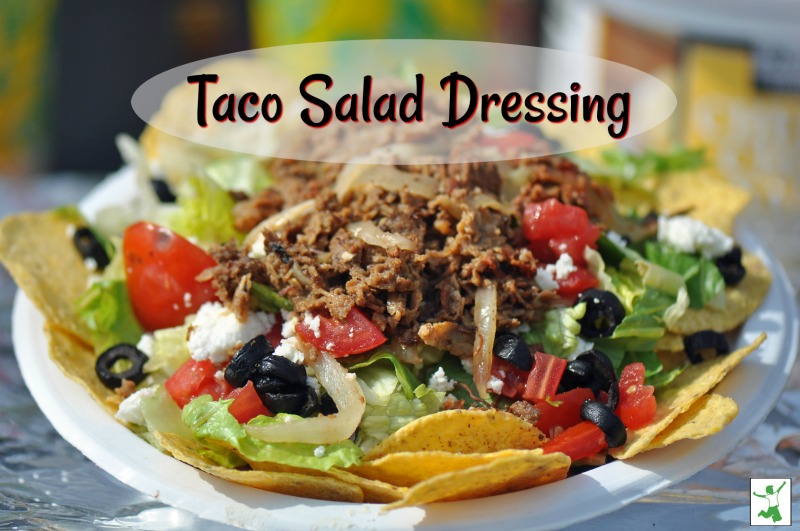 It seems like a lot of people are doing Taco Tuesday these days. When under a stay-at-home order due to a pandemic, however, any day of the week will do since they all run together anyway! ?
If your version of Taco Tuesday involves a salad instead of sourdough tortillas or taco shells, then try out this easy to make, fresh dressing with a Mexican flair.
You can add a healthy dose of probiotics to the mix if you substitute fermented cilantro for the freshly chopped.
Fermenting cilantro supercharges the nutrients, which researchers have found provides antibacterial benefits for those that consume it. In alternative circles, cilantro is considered to be a potent food-based chelation agent. According to a study published in Scientific World Journal, cilantro facilitates the removal of heavy metals such as mercury and lead via the excretory system. (1)
Latin American and Asian cuisines use cilantro extensively. However, it is a rare ingredient in traditional European dishes despite being native to the continent. Perhaps this is because, historically, only doctors and priests were permitted to use it. (2)
Preparing your own salad dressing not only ensures a safer, healthier result, but it also allows you to add ingredients such as cilantro that improve the taste of the dish while adding medicinal aspects as well!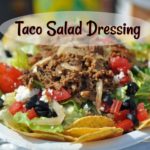 Taco Salad Dressing
Easy recipe for taco salad dressing that can be blended together in a matter of minutes. Only three ingredients plus salt and pepper that most pantries already have on hand.
Instructions
Chop cilantro as finely as possible. Alternatively, substitute fermented cilantro for a probiotic boost.

Mix all ingredients together and serve immediately.

Refrigerate leftovers. The olive oil will go semi-solid in the refrigerator. Let sit out on the counter for a few minutes to reliquefy.
Recipe Notes
Fresh or fermented cilantro is by far the best choice for this dressing. In a pinch, you may substitute 1-2 tsp dried cilantro. Be sure to choose organic brands, as conventional herbs and spices are typically irradiated.
Nutrition Facts
Taco Salad Dressing
Amount Per Serving (3 Tbl)
Calories 243
Calories from Fat 243
% Daily Value*
Fat 27g42%
Potassium 18mg1%
Carbohydrates 1g0%
Vitamin A 8IU0%
Vitamin C 4.5mg5%
* Percent Daily Values are based on a 2000 calorie diet.