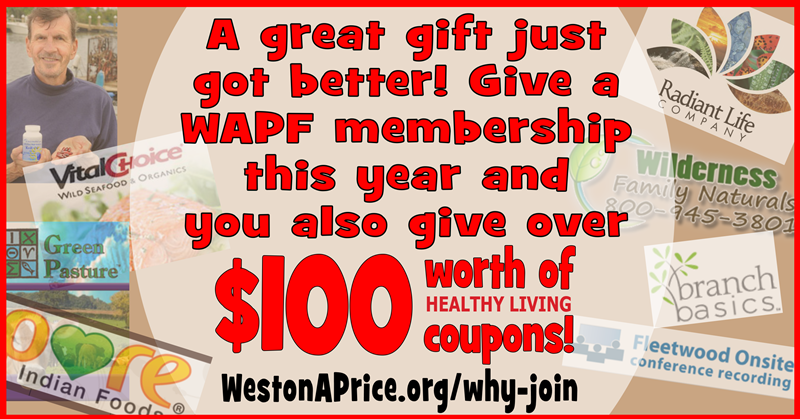 Do you eat butter and embrace healthy fats, ferment foods like sauerkraut or kombucha, avoid soy, take cod liver oil, make your own bone broth, consume grassfed raw dairy, traditionally prepare your grains, nuts and legumes, and/or seek out pastured meats?
If so, it's likely because of the huge, paradigm busting influence of the Weston A. Price Foundation around the globe over the past 16 years on the public's perception of what a healthy diet really looks like and how to source the foods of our ancestors locally within our communities.
Important work like this takes money, of course, and the lifeblood of the Weston A. Price Foundation is membership.
A wonderful way to show our gratitude to the Foundation for its research and activism is to become a member, which provides financial support to continue this critical mission.  Membership costs only $40 per year and includes the annual Shopping Guide and quarterly Wise Traditions Journal, a well respected publication that is guaranteed to provide life enhancing health information to you and your family with each and every issue.
This year's membership drive is especially exciting as the Weston A. Price Foundation is offering over $120 in discounts and coupons to all new members from highly recommended vendors of some of the best traditional food and farming products on the market today.
Here's a rundown of the exciting bonuses that those who gift a tax deductible membership to themselves or a loved one before December 31, 2014 can enjoy all throughout the New Year!
Radiant Life
$15.95 value – A free 14 oz. jar of palm oil.
Offering products that use ancient wisdom for modern health. With every order new WAPF members can receive an organic, wild crafted palm oil harvested sustainably and hand-pressed using traditional methods in small villages of Brazil. A fabulous source of carotenoids, vitamin E, and healthy fatty acids.
Pure Indian Foods
$5 off an order over $25 (before shipping).
Pure Indian Foods is your one-stop online source for often hard-to-find ghee and other organic Indian foods. Product highlights: grassfed organic ghee, organic turmeric powder (rich in curcumin), and organic jaggery.
Green Pasture Products
$20 off your first order.
Our business focus is to provide high-quality sacred-food oils just as they were made prior to the industrialized food and farming revolution. Product highlights: Blue Ice Royal Fermented Cod Liver Oil & High Vitamin Butter Oil, Blue Ice Infused Coconut Oil and Blue Ice Fermented Skate Liver Oil.
Vital Choice Wild Seafood & Organics
$10 off your order of $100 or more.
Vital Choice is a trusted source for fast home delivery of the world's finest wild seafood and organic fare, harvested from healthy, well-managed wild fisheries and farms. Product highlights: wild salmon, canned sardines, salmon caviar (ikura).
Dr. Ron's Ultra-Pure
10% discount on one order.
100% additive-free supplements are designed to provide optimal amounts of nutrients that traditional wisdom tells us are critical. Ultra-Pure shampoo, conditioners and skin care features herbs, nutrients, essential oils and other natural ingredients – and no chemicals. Take a look at Iodine Complex, Docs Best and MSM Shampoo.
Wilderness Family Naturals
$10 off your order of $50 or more.
Wilderness Family Naturals was created to help anyone who is looking for high quality, healthy food. Product highlights: organic virgin coconut oil, soaked and dehydrated organic nuts and nut butters, organic coconut flour with recipes!
Branch Basics
25% off any product.
Branch Basics is devoted to providing the world's purest and most effective cleaning solutions. Their soap concentrate can be diluted to replace virtually every cleaner in the home, ensuring an environment free of synthetic ingredients.
New Trends Publishing
$5 off your order.
New Trends Publishing is the home of Nourishing Traditions by Sally Fallon with Mary Enig, PhD. This best-selling nutritional cookbook is changing the way people eat! They also offer a range of books and DVDs that complement the information provided in Nourishing Traditions.
Weston A. Price Foundation
$23 value – half price materials.
New members can purchase these items during January 2015 for $5/each: Healthy 4 Life (regularly $10) and these issues which are regularly $12/each: Heart Disease issue, Summer 2013 (topics: GMOs, outdoor cooking, Crisco, natto and more) and Summer 2010 (allergies, acid reflux, root canals, pasteurization and more).
Fleetwood On-Site Conference Recording
$20 off WAPF Conference Recording Library
Watch and listen to the leading experts in the Weston A. Price philosophy of achieving optimal health through proper nutrition. This library contains a wealth of information collected from over 7 years of lectures from Wise Traditions conferences. Receive a discount on the annual subscription price of $149.
The Weston A. Price Foundation Needs YOU!
Won't you consider becoming a Weston A. Price Foundation member today?  Click here to join.
And, if you are already a member, please consider gifting a membership to a friend or family member who would truly benefit from the life changing health information gained.
The $120+ in coupons, discounts, and bonuses is icing on the cake to a decision that is one of the best I ever made myself   I've been a member since 2002 and much of what I blog about here on The Healthy Home Economist relates to knowledge, wisdom, and experience I've gained over the years implementing Traditional Diet as so brilliantly and practically taught by the Weston A. Price Foundation.
Sarah, The Healthy Home Economist