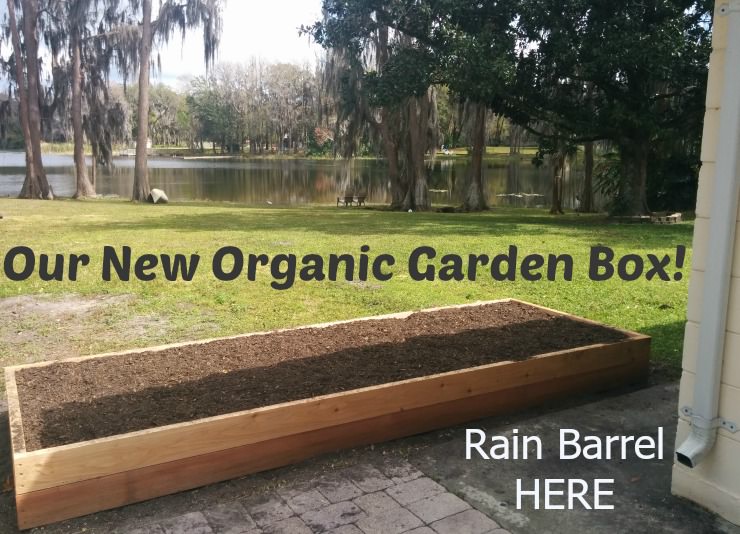 Need a little help with the Spring garden? Help has arrived!
My new friends at Florida Urban Organic Farm recently installed this gorgeous new garden box in the picture above in our backyard!  The rain barrel irrigation system will be installed this week.
The best part?  Owners Cody and Kimberly Haberman will be planting the heirloom seedlings of my choice in the coming days and maintaining the garden box for me throughout the growing season!
It's the same concept as a pool service, but way healthier and a lot less expensive!
If you love organic gardening but don't have the time or the expertise to maintain it yourself, this incredible new service whose time has come is something to check out!  I had my own organic garden until my second child was born in 2002, but since that time, it's only been potted herbs in the garden window and a few frustrating gardening attempts wrestling with the sandy, low nutrient Florida soil.
With this new garden box complete with rich organic soil and a capable, knowledgeable company to maintain it, all I have to do is step out my back door and pick fresh organic vegetables for my family to enjoy without the stress of handling the weeding, organic fertilizing and organic pest control myself.
Our new garden box and specialty gardening service from Florida Urban Organic Farm (click here for their FB page) is coming at a particularly good time for our family, as I have just about had it with the organic hydroponic produce at the healthfood store that rots quickly and is basically tasteless. In the past few years, it seems much of the organic produce available commercially is grown hydroponically which is very inferior to soil grown organic produce. If you've been buying organic produce for many years as I have, you've probably noticed the downhill slide in quality too.
I much prefer the taste and superior nutrition of organic produce grown in cultivated, healthy soil not to mention that it lasts a whole lot longer in the veggie bin.  Now I can have the organic produce I want at a price lower than the monthly cost I would pay to be a member of an organic veggie co-op or an organic community farm!
If you are considering a spring garden in 2015, below is a very helpful vegetable growing cheat sheet that will wade you through the decisions should you decide on a patio or plot garden.
And, if you live anywhere in the Central Florida area, be sure to call on Florida Urban Organic Farm for assistance either installing one or more garden boxes for your home or to maintain them for you should illness or scheduling interfere with doing it yourself.
More Information
Why I Don't Like Hydroponic Produce
Heirloom versus Hybrid Produce: Which is More Nutritious?
The 4 Steps Required to Keep Monsanto OUT of Your Garden

Used with the permission of Anglian Home