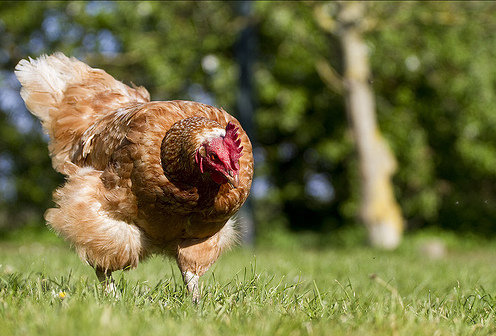 Marathoners for China's Olympic team set to compete this summer in London have gone to drastic measures to avoid banned steroids which could result in disqualification from the 2012 Summer Games.
They are raising their own chickens for food.
In addition to home raised poultry, they are eating yak meat from local herdsman in order to avoid eating restaurant and store bought meats which can contain the residue of banned chemicals such as clenbuterol, an anabolic steroid.
Clenbuterol is indeed a problem in the conventional meat industry where it is illegally used in animal feed to increase the leanness and protein content of meat.  People who consume meat from animals fed this steroid can experience headaches, dizziness, heart palpitations and gastic irritation.  Some people need to be hospitalized after exposure.
Clenbuterol has caused grief for top athletes before.  Alberto Contador blamed a steak dinner for his positive test during the 2010 Tour de France.   This case is currently under appeal.
Olympic gold medalist weightlifter Tong Wen cited her love affair with pork chops as the reason when she tested positive for the same agent and was banned from the sport for two years.  Clenbuterol is frequently added to steroid laced pig feed in China.
An official for the Chinese marathon team said:
"Since we don't have a canteen to provide safe food, we have to cook meals ourselves because it is risky to eat at a street restaurant."
Clenbuterol is not just a problem with meat raised in China.  Only last month, the United Kingdom Anti-Doping Association warned athletes to avoid liver which can increase the odds of an athlete testing positive via urine test for the steroid clenbuterol.
Of course, locally produced liver from grassfed animals poses no risk of clenbuterol contamination unlike conventional liver.  It appears that elite athletes such as the Chinese marathon team have realized that raising their own food or obtaining it from local grassbased producers, in this case, highland herdsman, is the optimal choice as high quality meat and animal fats are absolutely criticial for athletic training.
In Ancient Greece, Olympians ate a mostly meat based diet, and it wasn't lean meat either! Science has proven the wisdom of this traditional practice, as athletes that "carb load" prior to competition have significantly less endurance than athletes that "fat load" prior to athletic events (High Fat Diets Help Athletes Perform, Science News, 1996, 149:18:287).
With athletes starting to get the message about the importance of raising one's own food or obtaining from a known, local producer, it is only a matter of time before the general population concerned with health begins to follow this pattern as well with locally produced and home grown meats going mainstream in the coming years.
Sarah, The Healthy Home Economist
Source:  China's Olympic Runners Raise Their Own Chickens Amid Food Fears