Table of Contents

[Hide]

[Show]
The healthiest alternative to pastured raw milk when this traditional food is unavailable in your area and traveling to procure it is not an option.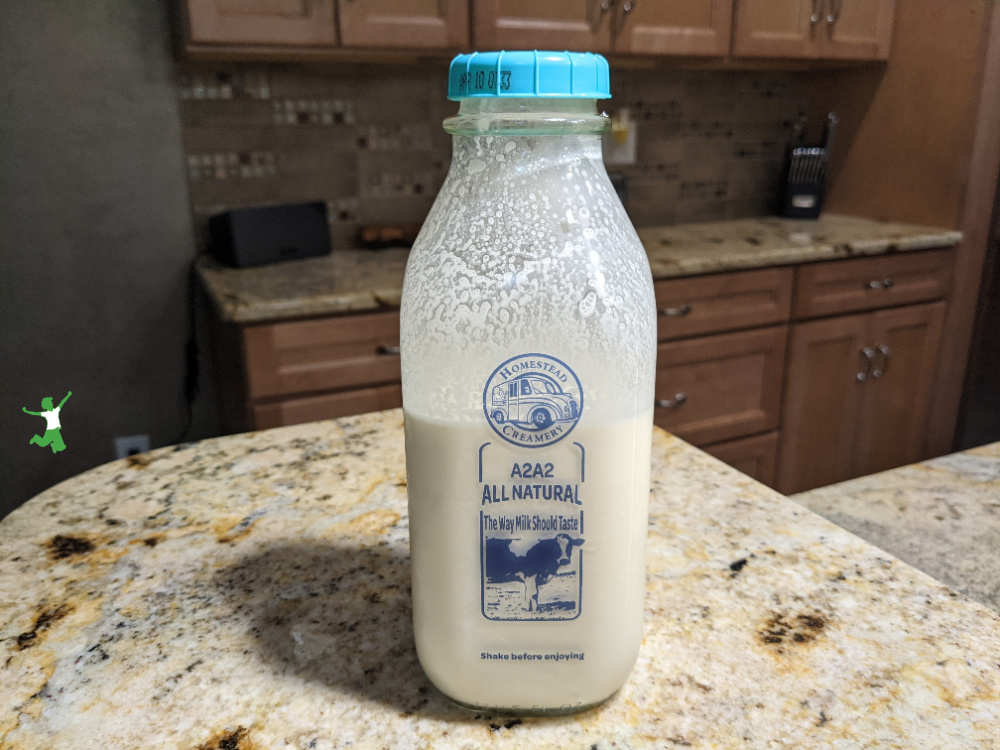 I recently traveled to a state with one of the toughest laws against raw milk sales.
The only way to obtain Nature's perfect food in this particular state was via herdshare. (1)
Obviously, I was not going to be able to contractually secure a herdshare agreement during a short stay of a week or two!
Thus, I needed to quickly figure out Plan B.
While it is possible to freeze raw milk when traveling by plane or car, this is cumbersome and not always feasible if you travel with a backpack alone like I typically do.
What is the best option in that scenario?
I thought I would share my method for what to look for if you are having difficulty procuring raw milk or traveling to an area where it isn't available.
Low Temperature Pasteurized Milk
It is a common belief that low temperature pasteurized milk, aka "vat pasteurized", is a good alternative to raw milk.
Unfortunately, microphotography analysis indicates that this is far from the case. (2)
The fragile whey proteins in milk are easily damaged by the low temperature pasteurization process.
Consumption of these denatured protein molecules can encourage the development of allergies. Buyer beware!
Unhomogenized, Vat Processed Milk
What if the low temperature pasteurized milk is also unhomogenized?
Unfortunately, the same problem applies.
Homogenization only affects the heat-resistant fat portion of the milk, not the fragile protein molecules.
Thus, any type of pasteurized milk even if it is unhomogenized, is a risk for allergies and disruption of the gut.
In short, if you have been buying unhomogenized "cream top" milk that is low temperature pasteurized, I would suggest reconsidering this product as a healthy option.
Pasteurized Cream
As mentioned above, the cream (fat) portion of milk is heat resistant to damage from pasteurization.
This means that heating to pasteurization temperature does not denature it like what happens to the milk proteins (whey). (3)
This is why pasteurized butter is still healthy but pasteurized milk is not.
However, heating cream to ultrapasteurization temperatures (212 °F/ 100 °C) goes beyond what milk fat lipids can endure.
Ultrapasteurization is very much denaturing even for heat-resistant fat molecules. (4)
Applying this on a practical level, vat or regular pasteurized cream would be an acceptable option to raw milk when this traditional food is unavailable. However, ultrapasteurized cream should be avoided.
The picture above is the low temperature pasteurized cream I purchased while out of town.
Bonus! It was from a local small farm that had a herd of old-fashioned A2 cows.
I used this cream to make scrambled eggs and other dishes for my elderly Mother as well as my morning raw milk rooibos latte.
You can even dilute pasteurized cream with a small amount of filtered water for a healthy raw milk stand-in. Years ago, I remember Sally Fallon Morell, President of the Weston Price Foundation, telling me that she used to do this very thing for her children when she was unable to procure raw milk.
Allergic to All Dairy?
Note that using low temp or regular pasteurized cream instead of raw milk is a better option than the milk substitutes you can buy at the health food store.
This is because cream contains a special type of anti-pathogenic fatty acid known as glycosphingolipids. These lipids confer protection against gastrointestinal disease and are tremendously helpful to the immune system in general.
Fortunately, even those who have difficulty with milk usually can handle the cream portion without issues.
However, if you find yourself still having problems digesting pasteurized cream, then a quick word to the wise…avoid all commercially processed milk substitutes (they are toxic!) and use homemade milk substitutes you make yourself instead!
(1) Real Milk Legal Map
(2) Microphotography of Raw and Processed Milk
(3, 4) FAQ Dairy