I love doing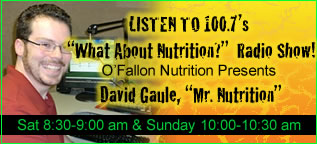 radio interviews.  They are fun and get the message of traditional eating out to many new folks who might otherwise never come across the information.
So when the publicist for the Weston A. Price Foundation, Kimberly Hartke, asked me to do the "What About Nutrition" show for 100.7FM in St. Louis, I was of course excited to participate.
"What About Nutrition"  is a weekly radio show hosted by "Mr. Nutrition" Dave Gaule who owns O'Fallon Nutrition, a popular healthfood store in the St. Louis area.
The 30 minute showed was taped yesterday and will air live on 100.7 FM in St. Louis tomorrow, May 12, 2012 from 8:30-9am CENTRAL time.
The show will re-air on Sunday, May 13, 2012 from 10-10:30am CENTRAL time.
For you readers who live in the St. Louis area, please spread the word to anyone you know who might be interested in hearing the health message of Dr. Weston A. Price by letting them know about this interview that will air twice over the weekend.
For those of you who do not live in the St. Louis area who want to listen in, you can stream the show live from the web by going to westplexradio.com at the time the interview airs and clicking on the "Listen Live" box on the left hand side of the homepage.
I hope those of you who are able to hear the interview enjoy listening as much as I enjoyed doing it!  I am excited to arrive in the St. Louis area next weekend for the first Wise Traditions Regional Conference as well.   I hope to meet many of you there for what promises to be a fun, educational, and delicious event.
* Remember, if you can only come for one of the two days, partial registrations are welcome!
Sarah, The Healthy Home Economist