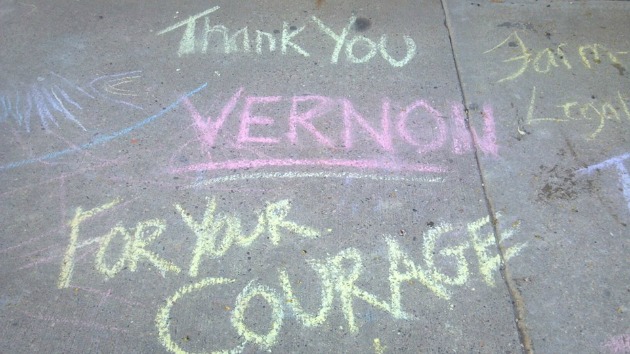 On this sobering day when people around the world unite to March Against Monsanto and the day after the US Senate voted by a wide margin (71-27) to reject an amendment by Sen. Bernie Sanders (I-Vt.) to allow states to require labels on food or beverages made with genetically modified ingredients, a courageous farmer gives us all reason to celebrate.
Vernon Hershberger of Baraboo, Wisconsin has been on trial this past week for the criminal charge of distributing unpasteurized milk from his Grazin' Acres dairy farm without obtaining a milk producer's license. He was also charged with operating a retail food establishment and dairy plant without a license. A fourth charge involved violation of a hold order placed on his dairy products after the state raided his farm.
The prosecution had previously offered Vernon a deal if he pled guilty to 2 of the 4 charges – he would pay a fine and be placed on probation. The final condition stipulated that he would agree to never sell or distribute raw milk products again without a license.
Free Weekly Newsletter + Report on Secrets of Strong Immunity
Vernon refused the deal and chose to go court.
In the highly anticipated verdict yesterday, Vernon Hershberger was found not guilty of 3 of the 4 charges against him by a jury of his peers:
Not guilty of operating a retail food establishment without a license.
Not guilty of operating a dairy farm as a milk producer without a license.
Not guilty of operating a dairy plant without a license.
Vernon was found guilty of the fourth charge, however, for violating the hold order placed on his dairy products after the state's raid on his farm. At sentencing, he faces up to one year in jail and/or a fine of up to $10,000.
According to David Gumpert, author of The Raw Milk Revolution and writer at The Complete Patient, the guilty verdict is ironic as Vernon was forced to violate the holding order in order to be charged criminally and thereby be eligible for the jury trial which ultimately acquitted him on the three licensing charges.
While the verdict is a big win for private buying clubs everywhere and affirmation from the court for the ongoing work of Grazin' Acres, the possibility of jail time or a hefty fine no doubt loom large for the Hershberger family.
So as we March Against Monsanto in our communities today, let's keep in mind that it isn't just large crowds of people worldwide that will stop the growing threat of corporate Food Fascism, but courageous small farmers like Vernon Hershberger who are paving the way for our food rights and standing firm for the sacred relationship between farmer and consumer by refusing to cut deals or shut down in the face of aggressive harassment by the State.
Sarah, The Healthy Home Economist
Source:  HERSHBERGER VERDICT: NOT GUILTY (X3) & GUILTY (X1)
Picture Credit