A study published in a peer-reviewed journal finds that the beneficial yeast in kefir is effective for eliminating cytokine storms or acute inflammatory bowel pathologies, such as Crohn's disease.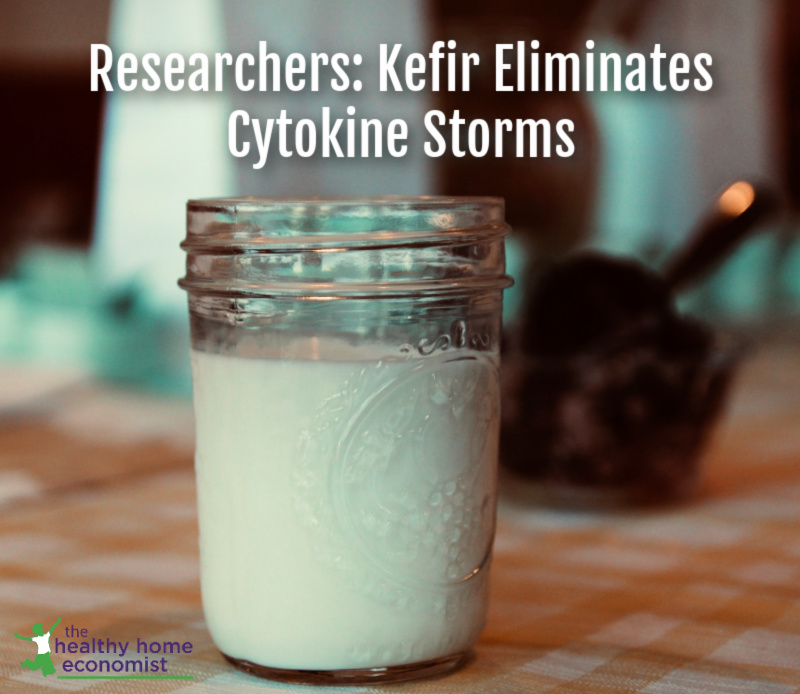 In late 2020, the European Journal of Allergy and Clinical Immunology published a study that found fermented foods effective in mitigating severe COVID-19 symptoms and mortality.
Now, additional research from Israeli researchers has honed in on kefir as particularly therapeutic in the elimination of cytokine storms. This extreme immune response is one of the main causes of death from coronavirus.
This ancestral fermented dairy food may prove helpful as well for people suffering from acute inflammatory bowel pathologies, such as Crohn's disease.
The leading peer-reviewed journal Microbiome published the research which was led by Orit Malka, a Ph.D. student of Professor Raz Jelinek at Ben-Gurion University. (1)
Professor Jelinek noted that the results are important because it is the "first demonstration that virulence of human pathogenic bacteria can be mitigated by molecules secreted in probiotic milk products, such as yogurt or kefir."
He goes on to say that:
Our research illuminates the mechanism by which milk fermented probiotics can protect against pathogenic infections and aid the immune system. Following promising results in animal models, we look forward to administering these drug candidates to patients who are experiencing a cytokine storm due to COVID-19 infection, or people suffering from acute inflammatory bowel pathologies, such as Crohn's disease. (2)
Interesting how the research immediately pivots to the administration of patented "drug candidates" which are certain to have side effects? Why not simply inform doctors to encourage their patients to consume kefir? This whole food has no side effects and is very simple and inexpensive to make.
Beneficial Yeasts in Kefir Produced Therapeutic Result
The most important takeaway from this research is that beneficial strains of yeast improve immunity and were responsible for the overall therapeutic result.
Specifically, researchers identified that the fungus Kluyveromyces marxianus was responsible for the secretion of tryptophol acetate. This metabolite inhibits pathogenic microbial virulence.
For example, the kefir-secreted molecules significantly inhibited the bacteria Vibrio cholerae that causes cholera. The anti-bacterial effect was based on disrupting communication among the bacterial cells.
Note that this helpful fungus is only present in dairy kefir fermented with live grains.
It is not present in yogurt (despite false media reports claiming this). Yogurt does not contain beneficial yeasts, only probiotic bacteria.
In addition, Kluyveromyces marxianus is missing in water kefir.
Neither is it present in kefir fermented with powder packets.
Thus, if you wish to apply this research at home, be sure to use dairy kefir. Culture it with live grains for a full 24-36 hours to ensure the presence of therapeutic levels of beneficial yeast.
Here is where to find live grains if you don't have a merchant in your area that carries them.
References
(1) Cross-kingdom inhibition of bacterial virulence and communication by probiotic yeast metabolites.
(2) Ben-Gurion University researchers developing probiotic-based drugs