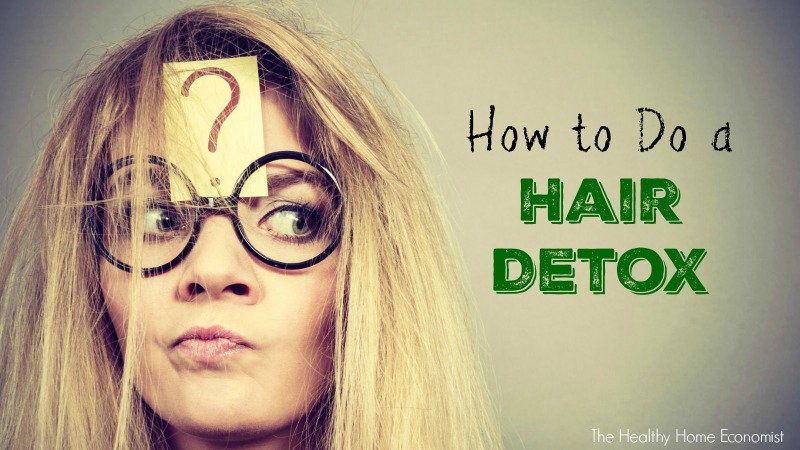 Modern women – both young and old – are beset with media messages conveying an unrealistic and unattainable ideal of beauty at almost every turn. Because of this, many women and girls are lured into altering their hair, their face and/or their bodies in attempts to conform to these false ideas.
Haircare is one area where women can obsess about having the latest and greatest hairstyle. It is easy to fall into the trap of altering one's locks by coloring it constantly, using products full of chemicals, or frequently changing up the style with the use of high heat.
If you're like most women, you are guilty of at least one of these. As a result, however, you are probably suffering from dry, damaged and weak hair.
After months or years of being on the haircare chemical/styling bandwagon, some ladies reach the end of their rope and finally refuse to spend another dime or expose themselves to further damaging treatments in an attempt to "fix" these problems.
At that point, a healthier path involves changing one's mentality away from what society is telling us and embracing inner, natural beauty. This includes using holistic ways to pamper and highlight your locks naturally with results that will surprise and delight you!
Several weeks ago, I remembered that "beauty is in the eye of the beholder." There is nothing wrong with being completely, or mostly, natural. Your natural self is more attractive than something chemically or artificially created.
When I realized this I decided to take action: to go green and to go natural with my hair.
After listening to friends and family members who shared their experiences with me, I developed a plan to help restore my natural color, strengthen, lengthen and repair my hair.
How long should this take? Depending on how much you have processed your hair in the past, it could take anywhere from three to six months to completely restore your hair's natural beauty.
How to Do a Hair Detox
In order to begin the process of healing your hair, you should start with what I call a "Hair Detox." Now, this is not a normal detox, it is a completely external detox for your hair.
Before you start, you will need to visit your hair stylist and have them cut/trim off all off your dead ends. You may dread this, but it is necessary.
Ideally, hair should be trimmed every four to six weeks. After your hair detox is complete, you need to commit to getting your hair cut as often as necessary to keep it healthy with no dead ends to threaten your new-found natural look. Regular trimming will also rid your hair of old color and chemical buildup.
After you have eliminated all dead ends, you will need several basic items to detox your hair. Most of the items used are products that you will have around the house or can be purchased very inexpensively from the store. You will need:
Baking soda
Apple cider vinegar (ACV)
With these four basic products, you will perform a simple hair cleansing and detox regime. Instead of using shampoos and conditioners full of chemicals, you will use the baking soda and ACV.
Hint: homemade ACV is best, but if you can't make it yourself, buy this brand of raw ACV packed in glass. ACV packaged in plastic has leached toxins in it!
Raw honey, preferably locally sourced, is used for deep conditioning.
Hair Care Procedure
Mix 1 tablespoon of baking soda with one cup of filtered water in a bowl.
Mix 1 tablespoon of apple cider vinegar with one cup of filtered water in a second bowl.
In the shower, work the baking soda mixture through your hair as a first step. Rinse with cool water.
Follow with the apple cider vinegar mixture and rinse with cool water.
For added condition and shine, use a generous amount of raw honey after the ACV rinse. While your hair is completely wet, massage the raw honey through your hair, let it sit for a few minutes and rinse.
Now, the more often you wash your hair with baking soda and ACV, the faster your hair will detox. If your main goal is to detox, you can wash your hair with these mixtures every day.
Bentonite Clay Hair Mask to Hasten Hair Detox
To quicken the process, you can also use a Bentonite clay hair mask. Food grade bentonite clay, essentially absorbent ash, draws the toxins and excess oils out of your hair and scalp.
Recently, it has become popular for both internal and external detoxing. Many use it externally for the skin, but the same process works on the hair.
The Bentonite clay hair mask is not a part of a daily cleansing regime but should be used at least once a week.
To prepare the mask, you will mix equal parts Bentonite clay and apple cider vinegar until it is the consistency of mustard.
After making the mask, cover your hair completely from roots to ends with the clay. Allow the mask to sit for about 30 minutes but take care to avoid letting it dry completely. You want your hair to still be pliable in order to easily wash it out.
Essential Oils and Such
During the hair detox, it is very important to avoid using any conventional products. If you're worried about having shiny or fresh smelling hair, there is hope!
Essential oils are helpful in replacing most conventional products. After conditioning your hair with the apple cider vinegar, you may notice the smell lingering in your wet hair.
Generally, the smell will dissipate in about a month as the detox process continues. Until then, you can use essential oils like lavender, jasmine, peppermint, or any of your favorite scents.
Here are two ways to apply essential oils.
Before you get in the shower, you can mix the essential oils directly into the apple cider vinegar mix and cleanse as directed.
When you get out of the shower, you can apply a few drops of your favorite essential oil throughout your hair. Use a wide tooth comb to distribute the oils evenly through your hair. I suggest using a wide tooth comb on wet hair to avoid snagging knots or causing ends to split.
To replace conditioning or moisturizing products after cleansing, there are a number of oils you can use. I've had good results 100% pure, organic argan oil to condition and heal the hair. Argan oil has been used for centuries and is made from the Argan tree in the deserts of Morocco.
Wheat germ oil or coconut oil can also be used for conditioning. The great thing about all three of these oils is that they condition the hair as well as protect against the ends from breaking off. As a result, the hair is strengthened which promotes hair growth.
After a Proper Hair Detox, You Won't Ever Go Back!
While detoxing your hair, it is important to avoid normal shampoos, conditioners, and other hair products. The chemicals from your products will hinder detox progress. After using baking soda and apple cider vinegar for a few weeks, you won't want to ever go back to conventional shampoos and conditioners! Your hair will look and feel great!
If you don't believe me, try switching back to conventional products after a month. It will be hard to ignore the difference.
Alternatives to Baking Soda for Hair Cleansing
Baking soda is inexpensive for detoxing your hair, but everyone's hair is different. If you find your hair is detoxing, but reacting badly, fear not! Instead of the baking soda mixture, harness the benefits of Castile Soap instead. This soap achieves the same detoxing effects and even works better for some people. It's all about finding what is best for you!
Begin by trying each shampoo substitute for a one week period to find what suits your needs best.
Hair Styling During the Hair Detox
As the days lengthen into weeks, the change in your hair will be very noticeable to you and others.
Through this long process, however, in addition to avoiding conventional hair care products, you will also need to avoid using any heat products on your hair. Blow drying, flat ironing or curling your hair causes the ends to become damaged and break. The only exception I make is for my unruly bangs. I will either blow them out or flat iron them. When doing this, make sure you use an ample amount of pure Argan Oil. It will help to protect your hair from the heat.
While going through this transition phase, it is important to find alternative ways to style your hair. Since using heat is out of the question, experiment with headbands, barrettes, or bandannas.
For some old-fashioned "dos", try some French braids or regular braids for fun. Braiding the hair before going to sleep, not only protects the ends from breaking off but gives your hair a nice wave when you take them out in the morning.
Letting your hair dry naturally may not always satisfy your desire for style. If you want to achieve natural, perfect curls without a curling iron, check out this video.
All you need is a stretchy headband! I love using this trick overnight; it creates those perfect, "springy curls." You can use a nontoxic hair gel made with flax seeds to assist the process.
If all else fails, there is always the conventional ponytail or bun. These can be used as a professional or casual style. Always remember, don't give in to using heat products! You will thank yourself in six months when your hair has achieved its natural beauty. Not to mention, your hair will be growing stronger by the day, promoting accelerated growth.
Natural, Nontoxic Hair Color
By detoxing your hair, you're ridding the strands of any old color. Most salons use developers and dyes full of chemicals; however, there are some exceptions. Chances are if you have color-treated your hair, you have used dyes full of chemicals.
With this in mind, you must not color your hair during the detox!
Coloring the hair deposits the chemicals and toxins directly back on to the strands. This is a time of reverting back to everything natural. Most women color their hair the appropriate "every four to six" weeks, or when their roots begin to show. During the detox, you must resist the urge to color and embrace your natural hair color.
As mentioned before, there are alternative hair color options that are non-toxic. Hemp is frequently used as an effective all-natural hair dye. Even still, it would be best to avoid using even natural hair color until at least two months of the hair detox is complete.
For the women that choose not to use any color, there are ways to naturally highlight or lighten your hair. As your old color grows out, it will be easier to enhance your hair's natural color. Most of you have heard about using lemon juice while out in the sun.
This method, while old-fashioned, works the best. To use this method, you must use lemon juice directly from a lemon. Pre-made juice from jars does not work as well.
Squeeze one lemon in about 1 cup of water and pour the mixture into a spray bottle. I would suggest spraying it directly onto damp hair and combing it through. After applying, you will need to get at least 30 minutes of sun exposure.
If lemon juice would be too harsh for your hair, you can also brew a pot of Chamomile tea and use the same method. When you are done with either the lemon juice or Chamomile tea, use the baking soda and apple cider vinegar to cleanse your hair. Repeat the process over several days to see the beautiful results.
Natural Hair Styling During a Hair Detox
It is extremely important to keep all chemicals off your hair while in the midst of a hair detoxification process. If you need to tame your locks during this time, try using a natural flaxseed gel for hair instead. This recipe is easy to make and works beautifully even for hard to control curly hair!
Nutrients to Support Healthy Hair During the Hair Detox
Focusing on your internal health is just as important to natural hair beauty as what is done externally. As a result, when trying to repair and strengthen your hair, you may wish to add a couple of supplemental aids to your regime.
The following is a list of supplements that can be used to help heal, strengthen and lengthen hair as necessary based on the needs and goals for your own personal hair detox.
Biotin is one of the most common supplements for aiding in hair health. Biotin is a naturally occurring B-vitamin, specifically Vitamin B7, which is produced in the intestines but can be found in leafy green vegetables. For the purposes of hair health, the supplement form will better help to renew the follicles and roots of the hair. The result is thicker, healthier, and fuller hair.
Silica comes in two forms: liquid and capsule. The capsule form is more commonly known as Horsetail. Silica in its liquid form is more potent and more effective. I recommend putting the drops in a glass of water with lemon juice and drinking first thing in the morning.
Coconut oil is not only good for external health, but for internal health as well. It aids with digestion and strengthens the immune system. You can consume coconut oil a variety of ways. Each morning and each night, I take a tablespoon of coconut oil and chase it with some iced lemon water; however, you can also put it in your tea or smoothies. Either way, try to take at least two tablespoons a day for hair health.
For some reason, if you do not see immediate success with the above supplements, there is a liquid "Hair, Skin and Nails" supplement that will make a huge difference (very fast results for me) but is rather expensive.

The three nutrients collagen, keratin, and elastin can help improve your health from the inside out as well. Find them in liquid form for the fastest absorption.
No Time for a Hair Detox? Try This Instead
If you don't have the time to do a full-blown hair detox, you can repair hair naturally and without chemicals using organic oils (this brand is excellent).
The organic oils and natural emollients do the work while you sleep. If you're in a hurry, just 30 minutes will also do the trick.
If you leave it overnight, use your normal (organic) shampoo and conditioner the next morning, then rinse and repeat as needed.
Use twice a week to maintain the softness and smoothness.
More Information on Healthy Ways to Detox
7 Ways to Avoid Detox Symptoms on a Cleanse
Detox Baths: Which are Best and for What Ailments
Coffee Enema: Unmatched Detoxification for Health and Recovery
Castor Oil Pack Detoxification
How to Gently Detox in Preparation for Pregnancy
Detoxification Using a Castor Oil Pack
Rebounding: A Great Way to Gently Detox
Juicing 101: Why Do It, Which Juicers are Best, Recipes to Try