Table of Contents

[Hide]

[Show]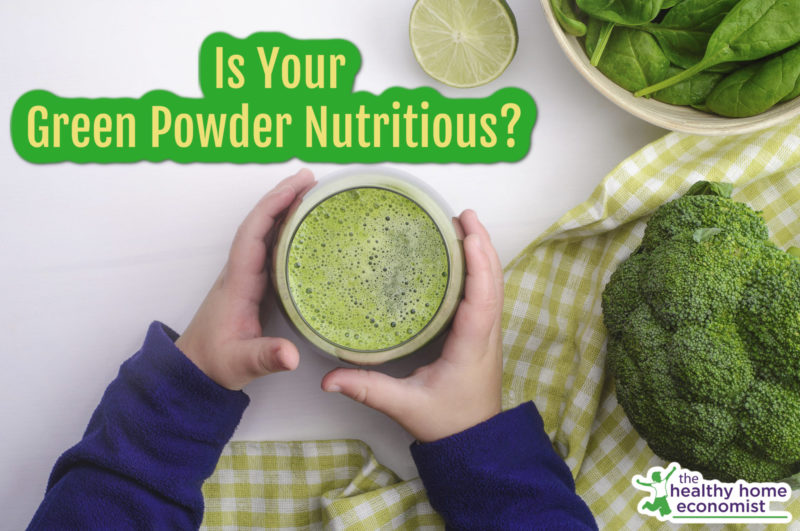 Three precautions when choosing green vegetable powders to boost nutrition in the diet plus how to make your own for optimal freshness and safety.
Green vegetable powders are very popular today, with many people adding them to smoothies for a boost of nutrition. Parents with children who won't eat their vegetables are also using green superfoods as an easy way to get more plants into the diet.
While the theory of green veggie powders seems solid at first glance, closer inspection of how they are processed reveals that these convenience foods should be used with caution.
Should you choose to use them, consider the precautions listed below as a way to ensure safety for your family!
Rancidity
Most people do not realize that processing greens into a powder cause them to go rancid very quickly. This is true for all brands even if organic, packaged in sealed capsules, or refrigerated. (1)
This is perhaps the biggest reason of all to be very careful with commercial powdered greens.
The one exception to this is kelp. This green food from the sea is naturally very salty, which acts as a natural preservative to prevent degradation in powdered form.
High in Anti-Nutrients
Most green powders contain at least some raw vegetables that are very high in antinutrients.
One of these substances is oxalic acid. It is very irritating to the mouth and intestinal tract, blocking iron and calcium absorption. In some people, it contributes to the formation of kidney stones. Examples of vegetables that are high in oxalates are spinach, chard, parsley, chives, purslane, and beet greens.
Other raw vegetables commonly used in powdered superfoods contain thyroid-suppressing substances known as goitrogens. These include arugula, broccoli, kale, collards, bok choy, and brussels sprouts.
That said, some green veggie powders manufacturers take care to ensure their products are low in antinutrients. Examples I've vetted include this brand and this brand.
However, note the tendency toward rancidity discussed above is still a potential problem. Freshness is very important so check dates!
Toxicity
Some vegetable powders contain aquatic greens such as blue-green algae, spirulina, or chlorella. When this is the case, purity is very important as contamination can occur.
The peer-reviewed journal Toxicology and Applied Pharmacology published a study that found cytotoxins, substances that are harmful to cells, in every single brand of spirulina tested. (2)
Another study involving dozens of spirulina brands produced similar results. (3)
Other contaminants include the presence of heavy metals such as lead, mercury, cadmium, and arsenic. (4)
Comprehensive purity testing results provided by the manufacturer (such as this brand) are extremely important if you decide to use powdered greens that contain any type of algae.
Blanched Green Vegetable Powder
If you have a garden or a good local source for green vegetables, making homemade greens powder low in oxalates is the best solution to rancid commercial brands. The linked recipe details the easy steps and ideal vegetable selection.
Add small amounts to potatoes, scrambled eggs, and smoothies as desired.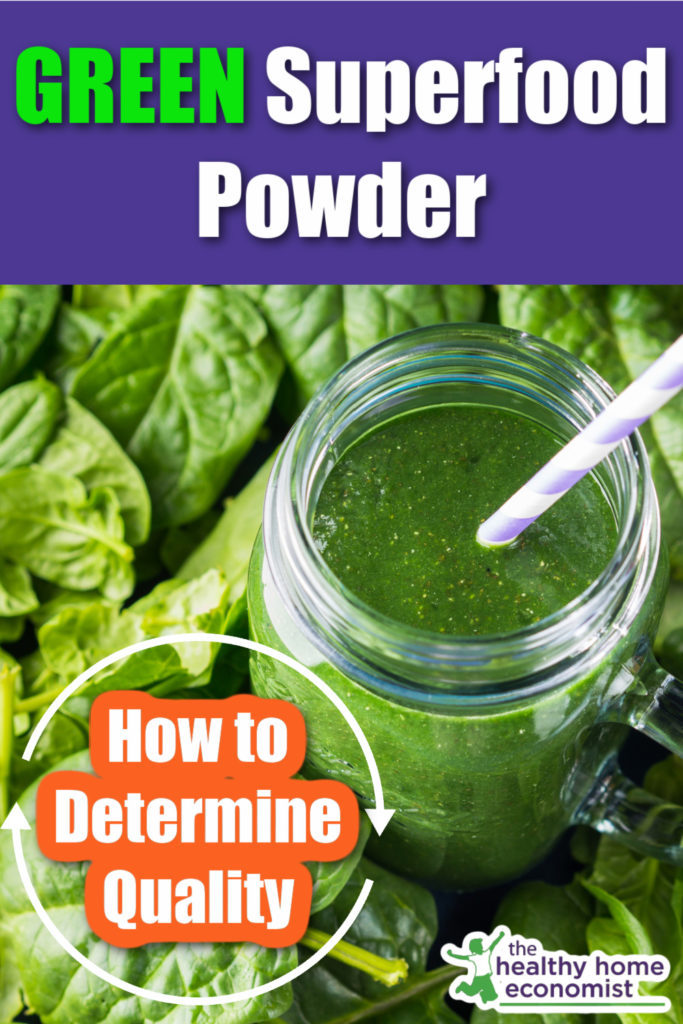 (1) Green Foods
(2) Toxin content and cytotoxicity of algal dietary supplements
(3) Is Spirulina Safe?
(4) Heavy metal analysis in commercial Spirulina products for human consumption