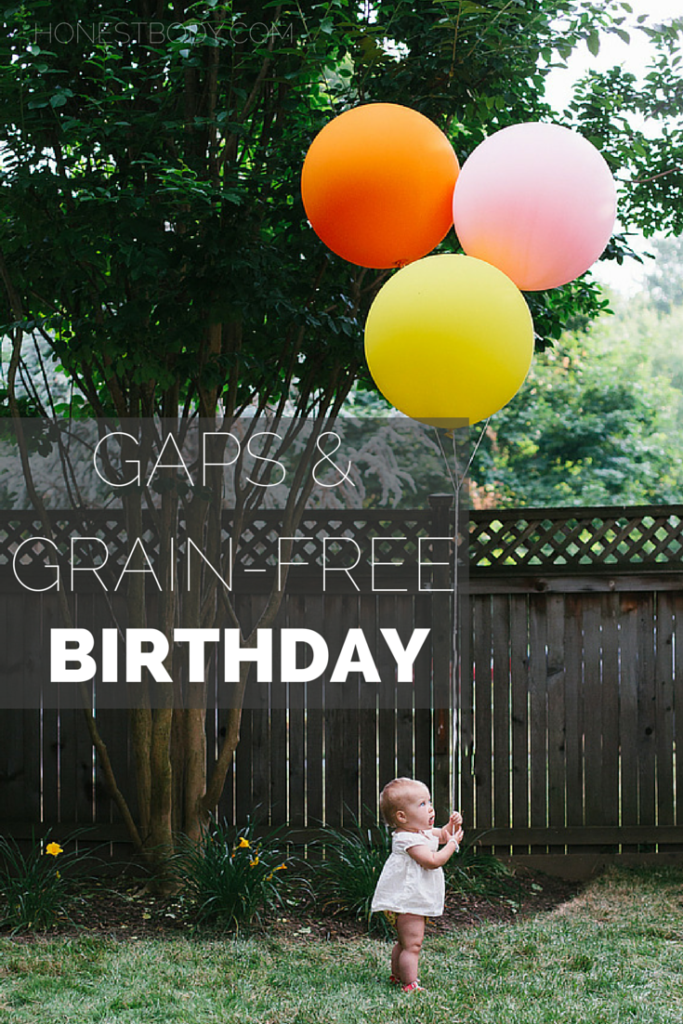 It's our Maggie's 10th birthday this week. Whew…her first decade! To give an indication of her personality, she holds the distinguished place of the "family fireworks".
This post is in honor of her. Much love to my dimple-cheeked, blonde-haired girl.
A GAPS Style, Grain-Free Birthday
When one or more family members are on an autoimmune healing protocol such as the GAPS Diet which requires grain-free eating, birthday parties can seem a bit daunting at first. However, as I wrote about in my GAPS Thanksgiving post, there is no limit to the scrumptious food you can celebrate with and serve, even on a healing diet!
If a little more sweetness is on the menu than is normal, be sure to fortify your family members with some nourishing broth and blood-sugar-balancing healthy fats. It's always good to fill up with hearty, nourishing foods before indulging, even when indulging in GAPS legal sweets.
I'm including a few different birthday variations. It is fun to make a meal of finger foods and hors d'oeuvres, which I will include ideas for. However we are feeding a small crowd of ice skating revelers, so I'm going with a big pot of my warming chili with our favorite toppings of sour cream, avocado, & cheddar cheese; along with an appetizer or two, a salad, and the main food event, cake!
I scoured the internet to find some of the best grain-free birthday party ideas I could find and summarized them in the categories below. These lists are meant to give you plenty of choices that both your family and your guests will thoroughly enjoy!
Hors d'oeuvres (a.k.a. fun finger foods)
The Perfect Cheese Platter by Honestly Yum (beautiful touch for the adults)
Sausage Balls by Deliciously Organic
Pigs In A Blanket by Comfy Belly
Happy Sticks by Organic Spark
Apricot Zingers by Deliciously Organic (use sugar-free bacon)
Bacon-Wrapped Stuffed Dates by The Kitchn
Paleo "Skittles" by Joyful Abode
Mini Bacon Guacamole Cups by 365DaysOfBacon
Beverages
Flavored Waters by Deliciously Organic
Raspberry Cream Soda by Nourishing Gourmet (use honey for sweetener)
Orange Lemonade by Nourishing Gourmet
Raspberry Lassie Smoothies by The Healthy Home Economist
Homemade Ginger Ale by The Healthy Home Economist (use honey)
Sides & Salads
Tequillaberry's Salad by Real Food RN (use honey as the sweetener)
Nectarine Salad by Honestly Yum (for those in warmer climes)
My main dish for a crowd
White Bean Chili by Honest Body
Cakes
Simple Yellow Cake by Comfy Belly (double recipe)
Watermelon & Fruit Kabob Birthday Cake by WellFed Homestead
Banana Mousse Cake by Strands Of My Life
Raw Chocolate & Raspberry Mousse Cake by Real Food Pledge
Raw No-Bake Cheesecake by The Healthy Home Economist
Indian Carrot Cake by My Heart Beets
Layered Chocolate Caramel Cake by Life Made Full (not technically GAPS with maple syrup & chocolate chips…could sub honey)
Cupcakes
Grain-Free Chocolate Cupcakes by Honest Body (The. Best. Ever. Chocolate Cupcakes)
Vanilla Cupcakes by Comfy Belly
Simple Yellow Cake Cupcakes by Comfy Belly (double recipe)
Strawberry Shortcake Cupcakes by Against All Grain
Black Forest Cupcakes by Against All Grain (for those okay with chocolate chips)
Frostings
Creamy Cashew Frosting by Detoxinista
Strawberry Buttercream Frosting by Honest Body
Simple Meringue Frosting by Health Home Happy
Chocolate Buttercream Frosting by Honest Body
Quick Lemon Frosting by Detoxinista