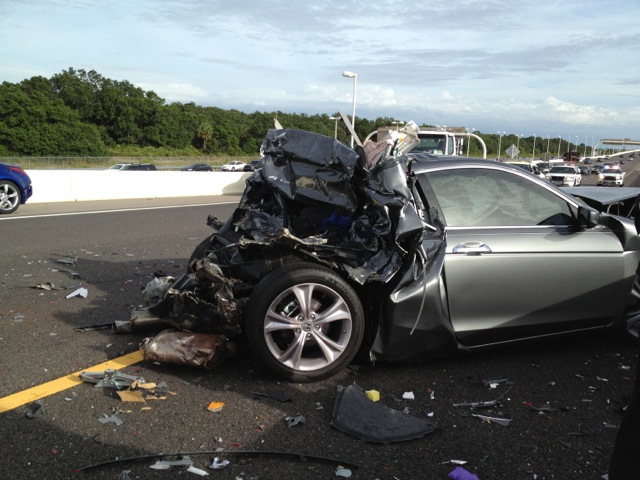 My friend Kim's husband Larry was in a horrendous car accident recently. The picture above is of his completely mangled car shortly after the wreck.
He was stopped in traffic on the Veteran's Expressway in Tampa in his 2012 Honda Accord when a white van slammed into the back of him going about 50-60 mph.
Larry managed to roll down the window to escape the wreckage and amazingly, he suffered only a broken wrist, a cut on his head and some internal bruising.
I think it's a miracle Larry survived let alone walked away! The driver of the van was loaded onto a stretcher and taken away by ambulance.
A few days ago, Larry visited a conventional orthopedic doctor in Tampa to get his wrist set in a cast and to be examined for possible skeletal injuries elsewhere.
Kim was with Larry at the appointment and when the doctor asked if they took any supplements, Kim said that she took fermented cod liver oil but that Larry did not.
Kim also told the doctor that despite not taking fermented cod liver oil, Larry eats really well – all the processed food eliminated with organic, local farm fresh meats, dairy and produce.
Orthopedic Doctor Prescribes Fermented Cod Liver Oil for Car Accident Recovery
The doctor then told Kim and Larry how he took cod liver oil every day growing up (he was in his 60's). He also commented that Larry's diet would make a big difference to his recovery, by healing more quickly and more completely. He was very supportive of cod liver oil in the diet and said that the Vitamin D would help Larry's healing.
"Do you really think that helps?", the doctor joked with them after hearing about their Traditionally based diet. His comment was obviously sarcastic and meant to be supportive of what they were doing.
The best part of the visit was when the doctor actually voice transcribed the results of the examination and his recommendations which included Motrin for pain and fermented cod liver oil for healing!
When Larry said that he won't take the fermented cod liver oil because it makes him burp, the doctor said, "you'll get used to it."
He also typed in these recommendations into the computer as his formal instructions to the patient.
Kim was very pleased that Larry needs to now start taking his fermented cod liver oil – doctor's orders!
Larry felt great because the doctor validated their dietary choices and confirmed that his recovery would be helped along by their careful sourcing of their food.
Kim's only regret is that their kids weren't present to hear the doctor tell Larry to take his cod liver oil!
What a great story! Even conventional doctors are starting to promote and validate the benefits of wise dietary and whole food supplement choices, particularly for car accident recovery and other serious, physically damaging events.
Car Accident Recovery? Where to Source the Best Cod Liver Oil
Click here for a list of vendors that supply only the best quality fermented cod liver oil in a variety of flavors or capsules.
Sarah, The Healthy Home Economist