Easy recipe for jello shots made with pure elderberry juice for tasty therapeutic benefits! Kids love them!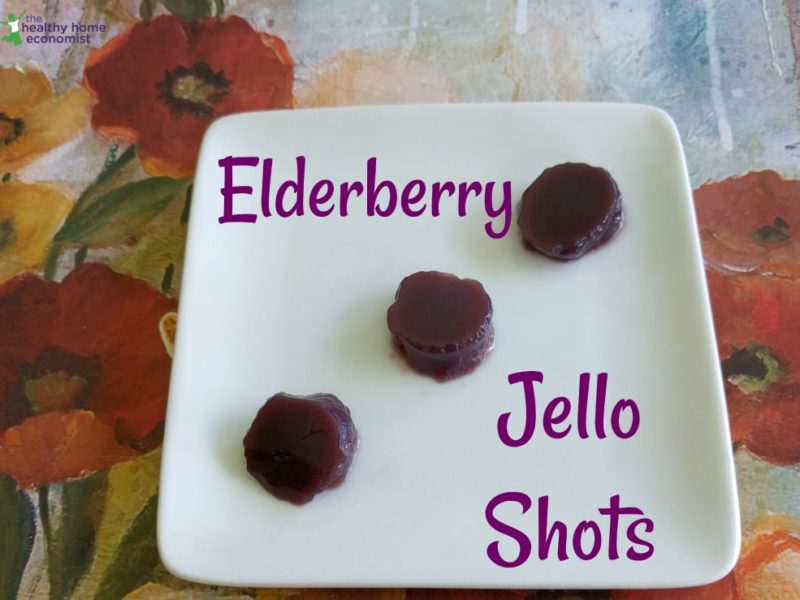 The immunity-boosting benefits of elderberry syrup for reducing symptoms of cold and flu make it one of the most important remedies in the holistic medicine cabinet. It is also an excellent remedy for illness prevention when small amounts are taken daily – ideally right before work or school.
While the syrup straight off the spoon is an enjoyable experience for most children, some need a bit more encouragement. If that's the case in your home, this recipe for elderberry jello bites can come in handy!
Note that this jello recipe does not contain raw honey, which is not safe for children less than one-year-old. If your children are older, I do not recommend using honey to make elderberry jello anyway. I've tried it before, and it makes the jello quite sticky and not at all smooth.
Since elderberry juice by itself is rather bitter, this dish is lightly sweetened with date syrup, which has beneficial properties similar to honey.
Another plus of this recipe is that each jello bite contains approximately 1 teaspoon of elderberry syrup. One bite after each meal or between meals as a treat is a fun way to help keep children well all winter long! You might even be able to use it as a way to entice a picky eater to finish all his/her vegetables!
For children that are ill, elderberry jello is a soothing remedy for sore throats and cool and comforting to young ones suffering from strep throat too.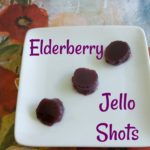 Elderberry Jello Bites
Simple recipe for transforming elderberry juice into a yummy jello dessert lightly sweetened with only fruit. Helpful for immune support as prevention or to reduce cold/flu symptoms.
Instructions
Pour elderberry juice into medium glass bowl. Mix in date syrup and blend well. If you are using fresh pressed elderberry juice, you MUST boil it on the stove for a few minutes to pasteurize it. Raw elderberry juice is a gastrointestinal risk.

Mix 4 Tbl boiling hot water with the gelatin powder. Stir until mixed and dissolved thoroughly and no lumps remain.

Pour gelatin water into the elderberry juice/date syrup mixture. Blend well.

Carefully fill the silicone candy molds 3/4 full with elderberry mixture. Each mold will hold about 1 tsp of the elderberry juice mixture.

*If you don't have candy molds, make the elderberry jello in one large bowl and then once set, scoop out jello shots one at a time with a melon baller.


Refrigerate for 4+ hours or overnight.


When set, pop the elderberry jello shots out of the molds one at a time as needed placing the mold back in the fridge after each use. Use 1-4 bites per day per child. 1 after each meal works very well.
Recipe Notes
I recommend California date syrup for this recipe as it is thinner and mixes better than date syrup from other parts of the world.
If you are using fresh pressed elderberry juice for this recipe, you must boil it for a few minutes first before making the jello. Raw elderberry juice is a gastrointestinal risk.
If using pasteurized commercial elderberry juice, the recipe works best when the juice is about room temperature when you blend in the date syrup and gelatin/water mixture. If the juice is cold right out of the refrigerator, sometimes little chucks of gelatin form in the jello, compromising the texture slightly.
Silicone candy molds are safe as they are not heated.
Do not use collagen hydrolysate (peptides) or hydrolyzed collagen as this will not gel the liquid. Only plain gelatin should be used.
Nutrition Facts
Elderberry Jello Bites
Amount Per Serving (1 shot)
Calories 7
% Daily Value*
Carbohydrates 1.3g0%
Protein 0.2g0%
* Percent Daily Values are based on a 2000 calorie diet.