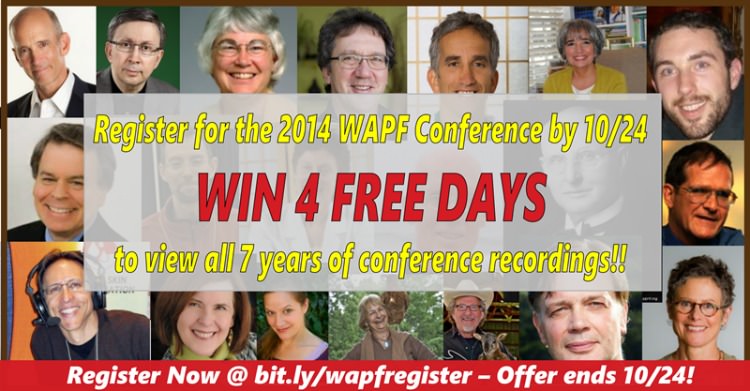 In a little over two weeks, Traditional Foodies from around the globe will converge on the JW Marriott Hotel and Conference Center in Indianapolis, Indiana for the 15th Annual International Wise Traditional Conference sponsored by the Weston A. Price Foundation.
Wise Traditions is America's premier nutritional conference featuring renowned speakers on a variety of health-related topics, a large vendor exhibit area, and whole foods based meals that are always from scratch, delicious, satisfying, sustainably produced, locally sourced (as much as possible), and traditionally prepared.
Are you tired of saying "no" to food all the time because everything seems to be either unhealthy or toxic? Let the Weston A. Price Foundation teach you how to say YES while still keeping it nutritious and delicious!
I am excited to be on the docket as a speaker for the Chapter Leader meeting on Thursday, November 6, and I will also be signing books at the Radiant Life table from 12:45-1:30 pm on Friday, Saturday, and Sunday afternoon if you want to stop by and say hello!
I would encourage you to check out the action packed schedule for this year's Conference with a variety of different learning tracks for both the novice and experienced attendee:
Nourishing Traditional Diets
Gut and Psychology Syndrome
Human Health and Soil Health
Farming and Gardening
Whole Organic Foods
Food and Nutrition
Testing
Native Ways
Dental
Making it Practical
I can't stress enough how this Conference will change your life, whether it is your first time to attend or your 15th. I always come away with life changing information every single year that continues to improve my family's overall wellness.
Note that the Conference hotel sells out every year, so don't delay to register and make your hotel reservations!
Special Gift: Access the Wise Traditions Conference Library
For those who register before October 24, the Weston A. Price Foundation is offering a Conference special gift: Free access to the Wise Traditions Conference Library including recordings from all of Wise Traditions conferences for the past seven years!
Be sure to register by October 24, so you can view any these talks for free for four days between November 19-22, 2014.
See you in Indy!
 Sarah, The Healthy Home Economist