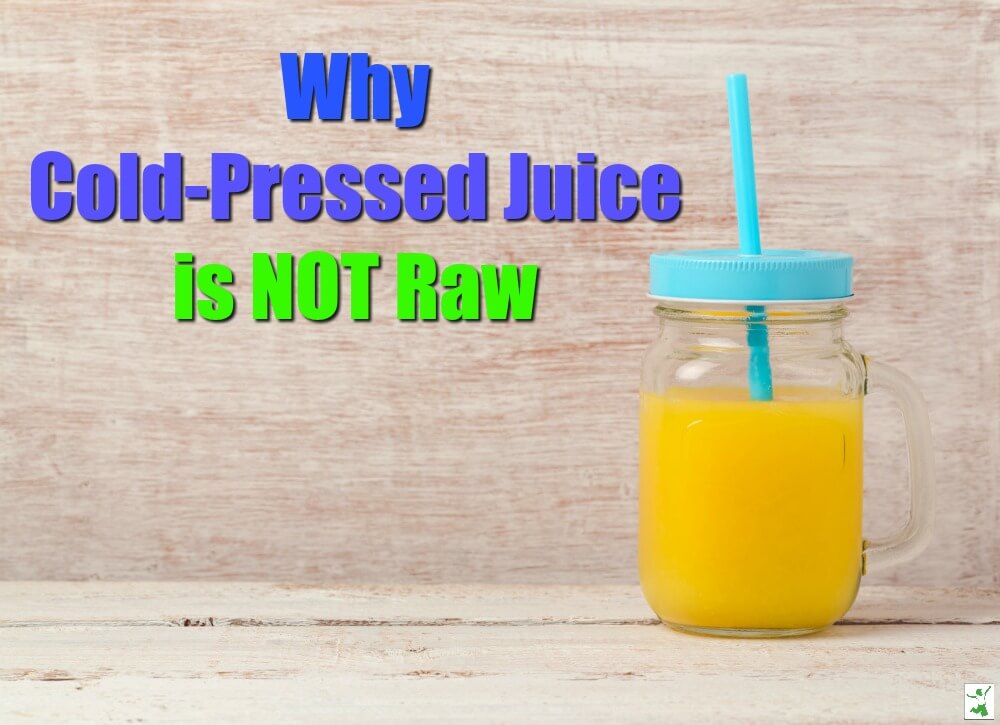 It seems that there is a huge myth going around about cold-pressed juice. Many people including those who work at juice bars or even own them believe that their product is raw. In other words, it is as good or even better than freshly pressed juice.
It is most definitely NOT and here's why.
Cold Pressed vs Fresh Pressed Juice
I first encountered the cold-pressed juice rage while on vacation near Chicago recently. I was trying to locate a freshly pressed juice bar and all I could find were establishments that cold-press their fruits and vegetables.
What I was looking for was a place where a countertop juice machine was used to juice fruits and veggies one at a time by customer order.
I wanted fresh-pressed juice, not a cooler full of bottles of cold-pressed juice that were prepared in large batches.
Despite the fact that I was in one of the largest metropolitan areas in the United States, my search proved futile.
There were no authentic juice bars anywhere in the area!
Why Cold-Pressed Juice is Not Raw
Advocates for cold pressing juice will enthusiastically tell you that no heat is used. This serves to preserve nutrients and enzymes, which would be mostly destroyed with pasteurization.
Unfortunately, at this point, some assume that because no heat is used, i.e., the juice is unpasteurized, rawness is maintained.
This is simply not the case!
Have you ever wondered why cold-pressed juice always comes in those standard looking PET plastic bottles? (1)
The reason is so that the bottles can be easily packed together in water once filled/sealed with juice so that immense pressure can be applied.
…a hydraulic press crushes and then presses the fruit and vegetables. Then the juice is bottled, sealed and put in a large chamber, which fills with water and applies a crushing amount of pressure to inactivate pathogens. (2)
Because the high-pressure processing or HPP, destroys any pathogens in the juice, shelf life is enhanced so that it can remain fresh while refrigerated for up to three days.
What is usually omitted from the conversation, however, is that any probiotics in the juice are also destroyed.
This means that while truly fresh-pressed juice can be used to make probiotic beverages like water kefir, cold-pressed juice generally cannot. Because the naturally occurring, highly beneficial microbes are completely and 100% eliminated (just like pasteurization), fermentation becomes much more difficult (prone to mold) if not impossible in some climates.
Newsflash!
Eliminating the probiotics from juice means that it is no longer raw.
If you doubt this, consider that cold-pressed milk does not clabber on the counter as raw milk does. Why? Because the probiotics necessary for the clabbering process to occur are missing!
Benefits of Cold-Pressed Juice
It is very important to be aware that the benefits of cold pressing juice apply to the manufacturer or juice bar owner, not the consumer.
One of the biggest benefits is that the process extracts the maximum amount of juice from the pulp and fiber of fruits and vegetables.
The hydraulic press used for extraction is much more highly efficient than even the industrial-strength countertop machines for making fresh-pressed juice.
This means fewer fruits and veggies are needed to produce a set amount of juice. This can reduce costs considerably even with the large upfront expense of the hydraulic press.
After extraction, the HPP then adds the additional benefit of a few days of shelf life. Freshly pressed juice only lasts a few hours. Ideally, it should be consumed within 20 minutes. Hence why it is made to order only.
In essence, then, cold-pressing juice transfers manual labor from a juice bar attendant to machines. Thus, cold-pressed juice is cheaper per ounce to make, and machines don't need health insurance.
Why then is cold-pressed juice more expensive than fresh-pressed?
That's a good question. Could marketing hype be part of the answer?
I believe that is at least part of the reason.
Fresh Pressed Juice is Still the Best Choice
To be clear, the above analysis does not mean to suggest that cold-pressed juice is somehow unsafe or unhealthy. On the contrary, cold-pressed juice is safe to drink and a fine choice if that's what you prefer. And, if that's all you have access to while traveling, drink up! That's what I ended up doing in Chicago.
However, don't be under the illusion that this type of beverage provides the same quality and health benefits as fresh-pressed.
An inexpensive juicer in your own kitchen is going to produce a far healthier beverage than the pricey cold-pressed juices with fancy names in the refrigerator at your local gym or health food store.
If you don't have time to juice yourself, find an old-fashioned juice bar in your community that fresh presses fruits and veggies to order. Fortunately, we still have many of those in my community!
Hopefully, by educating people about the differences, the trend toward cold-pressed juice with the gradual disappearance of businesses that freshly press juice will stop!
References
(1) Cold Pressed Juice bottles
(2) Cold Pressed Juice: 5 Facts You Need to Know