Many people do not consider the homeopathy for cavities, but there are two remedies that can be of assistance especially when other natural methods of treatment are not producing any results.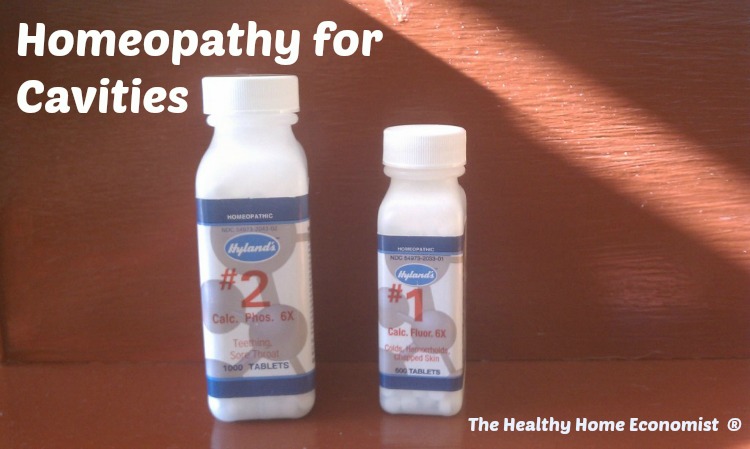 Editor's Note:  Prevention and cure of cavities are based on diet as discovered, researched, and documented by Dr. Weston A. Price, DDS. In certain instances, homeopathic treatment can provide valuable assistance to the healing journey but cannot be viewed as a substitute for a nourishing, Traditional Diet.

The quality of the teeth represents the status of the bone structure of the body. Therefore it's important that the teeth be sound. If they are, the bones will be sound, too. Sometimes, parents are concerned when their child's teeth show frequent and large cavities in spite of a decent diet. This is rare when children are raised on unprocessed, fresh from the farm grass-fed dairy, but it can occur in children who have certain predisposing genetics.
Free Weekly Newsletter + Report on Secrets of Strong Immunity
In this case, deep acting constitutional remedies would be in order; however, if the caries is not of a particularly worrisome level, much can be done to remedy the problem with homeopathic treatment at home.
It generally takes a good amount of time, however, Calc phos 6x and Calc fluor 12x homeopathic treatment taken three times daily, for many months has been shown to strengthen and aid in the growth of teeth in children.
These two remedies make a great homeopathic treatment in combination since Calc phos "is concerned with the formation of bone and teeth and is an important remedy for children"; Calc fluor "is found in the surface of bones and in the enamel of teeth." These remedies are specific for growth as well, and it's not uncommon to see children who have problems with their teeth display other growth issues, too.
When my children were growing, I had them take Calc phos and Calc fluor on a daily basis for years in spite of the fact that they were raised on raw milk. During these years, it appeared that two of our boys' teeth were growing in a crooked fashion. In fact, I'm sure that if we hadn't chosen our holistic dentist, we would have been pressured into putting braces on their teeth.
Instead, I believed that as they grew, their teeth would grow and straighten accordingly. And that's exactly what happened. Our boys have fine, strong and straight teeth without the "aid" of orthodontia. We saved ourselves not only thousands of dollars but allowed their bodies to complete the work of bone alignment on their own.
A simple technique for administering this homeopathic treatment is to add them directly to jugs of milk. In one gallon of milk, add 10 pills of each, stir and the job is complete. As your children ingest their milk throughout the day, they'll get these two remedies in each sip.
If despite your efforts, dental caries sneaks in, Philip Wander, founding member and chairman of the British Homeopathic Dental Association, recommends applying liberal amounts of Plantago tincture (sources) directly on the cavity using a cotton ball. This can be done temporarily until necessary and professional dental care is employed (2).
Need a Truly Holistic Dentist?
If you are seeking a truly biological dentist, contact Dr. Carlo Litano of Natural-Smiles.com – (727) 300-0044. He sees young children as well as adults. Be sure to tell Dr. Litano that The Healthy Home Economist sent you and get 10% off your first visit!
References

1. Chapman, J.B. The Biochemic Handbook. St. Louis, Missouri: Formur, Inc. Publishers. 1994.12-13
2 British Homeopathic Association
More Information
The article above is an excerpt from Joette Calabrese's book, "How to Raise a Drug-Free Family", which she uses to teach a webinar course for parents.
What Causes Crooked Teeth?
How I Healed My Child's Cavity Naturally