Examination of the various types of chicken feed for egg-laying hens and which is the best kind to rely upon for the healthiest and most productive birds possible.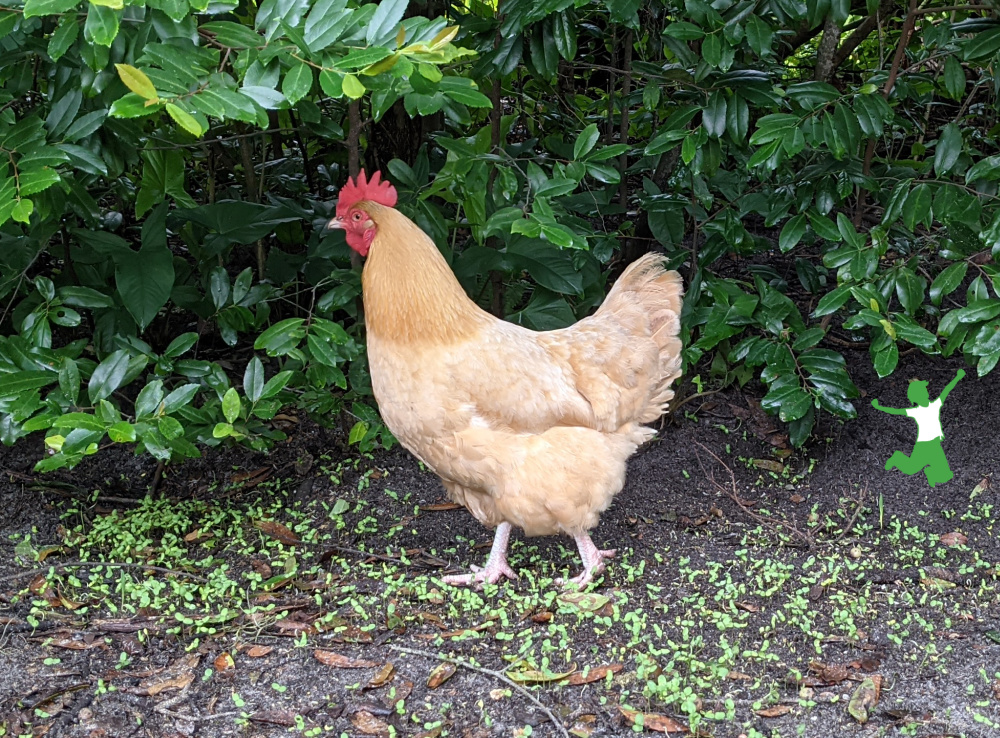 Choosing the best chicken feed for your hens is one of the most important decision you can make that impacts their health and egg laying productivity.
Like chicken coop bedding, feed choice will impact how much you spend nourishing and maintaining your backyard flock.
Ultimately, how you feed your hens will determine whether your out-of-pocket cost per egg is sustainable over the long term.
Thus, it pays (literally) to be discerning and examine all the options and brands of chicken feed before deciding on which one(s) you will feed your precious hens who provide such an essential, nutrient-dense food source for your family!
Buying versus Blending Chicken Feed Yourself
I've tried many types and brands of chicken feed over the years. I've even tried blending it myself using the nonGMO (but not organically certified) recipe suggested by Joel Salatin of Polyface Farm.
If you wish to learn more, chicken feed blending recipes are found in Joel Salatin's book Pastured Poultry Profits. If you are a visual learner, this video shows you the details of mixing your own layer ration.
My advice is not to go this route unless you absolutely have to.
While you do save money with self-blended feed, sourcing the individual ingredients is more trouble than it is worth (at least in my neck of the woods) unless you have dozens of birds and sell the eggs as a source of income.
For those of us with just a few backyard layer chickens to provide high-quality eggs for the family, buying feed is optimal in my experience.
Let's go over the various types of chicken feed, and which one I've observed is best for healthy hens over the long term…without breaking the bank.
Kitchen Scraps
Kitchen scraps are an essential part of a layer hen's diet because it keeps the cost of supplemental feed at a minimum.
My favorite scraps to feed my chickens are chopped-up veggies, bits of meat, and crusts of sprouted and sourdough loaves that are stale.
In my experience, it is difficult to rely on kitchen scraps alone to feed your birds even if they are free ranging 100% of the time.
Layer hens still require at least some feed to balance out their diet so they are as productive as possible.
Starter, Grower, and Layer Feed
Depending on the age of your hens, they will require either starter, grower, or layer feed.
Starter
Starter feed refers to a specially blended formula for baby chicks from day 1 through roughly 8 weeks of age. In a pinch, this feed can also be fed up to 18 weeks old which is the average age a hen will begin laying eggs.
Starter feed comes in a crumble or a whole grain blended feed … these options are explored more in depth below.
Grower
Grower feed refers to a specially blended formula for pullets…young hens who are no longer chicks (older than 8 weeks) but not yet laying eggs (less than 18 weeks old).
In a pinch, you can also use grower feed as a starter ration for baby chicks.
Grower feed comes as a crumble and whole blended feed. The pros and cons of each of these are discussed more in detail below.
Layer
The layer ration is a type of chicken feed for hens that have reached 18-20 weeks old or are laying eggs.
On average, a layer hen that is coop-bound will eat roughly 4 ounces (half a cup) of feed per day.
In my experience, free-ranging hens and/or those that are given kitchen scraps eat less than this amount.
Medicated vs Unmedicated Feed
Chicken feed comes in medicated and unmedicated varieties.
Contrary to common belief, medicated chicken feed does not contain antibiotics. It contains the anti-parasitic amprolium to prevent coccidiosis.
Coccidiosis is a serious condition that can kill a chicken. It is caused by microscopic protozoa that are intestinal parasites.
I have personally never used medicated feed. It is better, in my opinion, to let your birds naturally develop a tolerance to intestinal parasites rather than keep them on a low-dose medication as a preventative.
If you do get a bird every now and then who develops coccidiosis (pale comb and bloody droppings are the typical symptoms), you can quickly resolve it yourself in my experience. This is contrary to some websites that say coccidiosis is hard to heal.
In over a decade of keeping backyard chickens, I've only ever had one hen develop coccidiosis. I've never had a chick or pullet get it despite not ever using medicated feed.
I easily healed my hen who contracted this parasite by adding a bit of amprolium to her drinking water for a few days.
Crumble
Crumble refers to a type of chicken feed that is processed. To me, it looks similar to cooked pearl millet.
I do not recommend using crumble at any stage of a chicken's life, whether it be a chick, pullet, or full-grown laying hen.
The reasons for this are two-fold.
First, crumble is a highly processed feed much like boxed breakfast cereal for humans. If you wish to have the healthiest hens possible, you need to use feed that is whole and unprocessed.
Secondly, crumble disintegrates if it falls out of the feeding container onto the ground. This means that chickens cannot easily scratch and peck for it loose on the dirt or grass. Thus, it is not an economical choice as chickens are messy eaters and tend to fling bits of feed here and there onto the ground as they feed.
My advice is to skip the crumble 100% of the time.
Pellets
Pellets are another form of heavily processed chicken feed.
The one benefit of pellets over crumble is that pellets that fall on the ground can still be picked up and eaten by your chickens.
For this reason, it is a more economical choice than crumble. However, because it is highly processed, it is still best to skip it if you can.
If the budget is very tight for feeding your chickens, soy-free organic chicken feed pellets are a good choice (I recommend this brand), but be sure to let them free-range with supplemental kitchen scraps too!
Whole Blended Feed
The best type of chicken feed is a whole blended feed that provides all the trace nutrients they need to be healthy.
This brand and this brand are two that I've tried (soy-free and corn free) that my hens equally love.
My recommendation is to join a natural food co-op to get these types of feeds at the best price.
This is the food co-op I am a member of that has drop points all over the United States.
Although whole grain blended feed is the most expensive type, it does have a big bonus: bits that fall on the ground sprout into tender shoots that your chicken can eat!
The picture above shows one of my Buff Orpington hens in the middle of a patch of sprouts from pieces of whole feed that fell on the ground and started growing!
Hence, whole grain blended feeds serve a dual feeding purpose!
Supplementals
Giving your birds treats over and above their nourishing feed and free-ranging activities can be a fun part of the chicken-keeping experience.
Below are a few of the most popular to consider that you may wish to try.
Mealworms
Dried mealworms are the larvae of the darkling beetle. Chickens go crazy for them as a treat, but be sure not to overdo as they can cause diarrhea and a big mess to clean up if this ends up on your patio or porch!
Mealworms are predominantly sourced from China, so buyer beware.
Grubs
Grubs are whole, dried black soldier fly larvae. They look very similar to mealworms and your chickens will similarly go nuts for them.
Again, keep them as a treat only given in moderation!
If you choose to try grubs, I recommend this brand from the United States.
Oyster Shell
While a properly blended whole layer feed will contain sufficient calcium, I have found that my hens still prefer to have free-choice oyster shell available anyway.
Ground oyster shell is very inexpensive. I buy three-pound bags from my local feed store for a few dollars.
Attaching a small poultry feeding cup to the inside of the coop is an easy way to offer it to your birds.
While the hens that receive a quality blended feed don't eat it often, when they want some, it is very good for them to have available as it contributes to shell hardness.
Some breeds tend to prefer it more than others, in my experience.
Scratch Feed
Scratch feed is another type of supplemental food for your hens.
While it looks similar to whole blended feed, scratch does not contain trace nutrients, probiotics, and enzymes.
Thus, provide scratch only in smaller amounts than complete blended feeds due to the high carbohydrate content which can result in overweight birds.
I personally do not use scratch as I live in a temperate climate. The friends I know who use it live in colder environments where scratch offered during the winter helps keeps the girls warm.
Conclusion
In summary, I would suggest nonmedicated whole grain chicken feed that is commercially blended with age-appropriate trace nutrients, probiotics, and enzymes.
Offer kitchen scraps and allow your hens to free range as much as possible to keep feed costs low.
Free choice oyster shell is a good idea to offer all the time regardless of the feed you choose.
Occasionally offer treats like scratch and mealworms/grubs that are not produced in China.