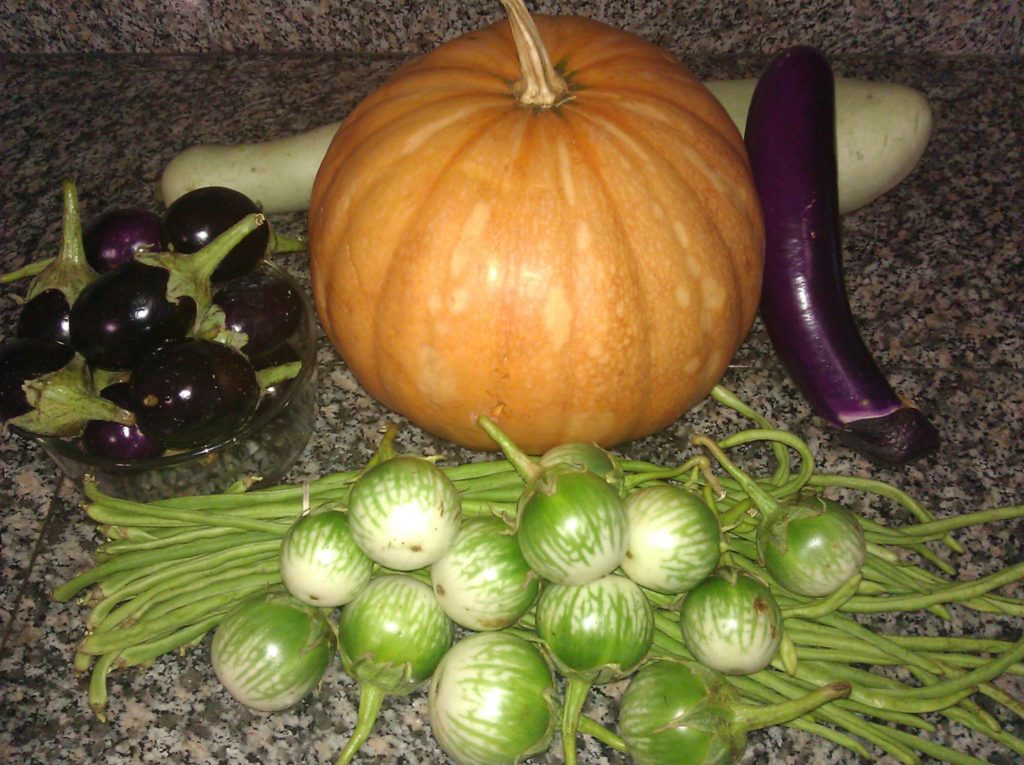 I've never had much luck growing a garden in Florida past mid to late June.  It just gets too hot and the bugs are so plentiful that anything that does grow gets scorched or eaten by pests.
Enter my fabulous local produce farmers Jon and Debbie Butts.
Jon and Debbie are homesteaders. They own and operate EcoFarm, a sustainable, organic, biodynamic farm in the Tampa Bay area.  I am fortunate enough to have access to the bounty of their produce on a weekly basis.
Jon and Debbie really have a knack for growing produce even under the extreme conditions of a Florida summer.
Yesterday, I got some figs, grapes (yes, they grow in Florida in the summer!) and sand (pineapple) pears from them.
The picture above showcases the vegetables I purchased last week. As I type this, I have the calabaza (tropical) pumpkin in the oven.  My kids cannot wait until I bake some pumpkin bread and pumpkin pie with the 4-5 cups of delectable homemade pumpkin puree I will get from baking this gorgeous speciman.
Who says pumpkins are to be enjoyed just in the Fall?
I also have 3 different kinds of eggplant which make for an amazing eggplant parmesan casserole consisting of all the varieties baked together.
The long white thing at the back of the picture is a cucuzza  squash. They are divine sauted in butter and cloves of garlic. It tastes a bit like a cross between cucumber and zucchini.
Hopefully, next week I can get some okra so I can make a nice, spicy pot of gumbo!
Are you particularly adept like Jon and Debbie at growing seasonal produce under extreme weather conditions?  Let us know about it in the comments section!
Sarah, The Healthy Home Economist