Kitchari Healing and Nourishing Ayurvedic Porridge
Updated: March 13, 2017
Main Course, Recipes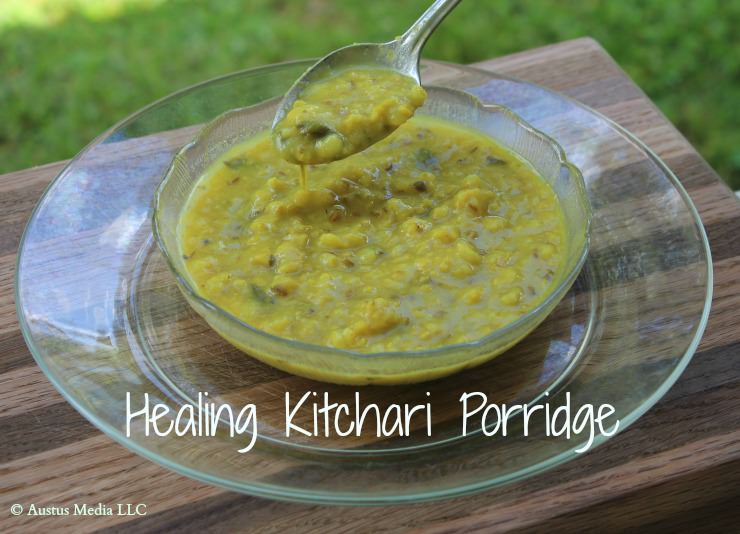 The small, locally owned health food store where I have shopped for nearly 20 years has a wonderful deli and juice bar that is a favorite of the locals. I frequently drop in to see what homemade soups are available on the hot bar as my family consumes so much soup and broth that I sometimes find it difficult to keep up on busy weeks.
Recently, I've noticed that the hot bar has featured a pot of kitchari every single day I've dropped in (which is several times a week) without fail. This was exciting to me, as kitchari is one of the very first traditional dishes I learned about when I began cooking at home and stopped eating out so much at the urging of my amazing doctor at the time, who was both an Ayurvedic physician and an MD.
It's so neat when something a bit obscure that you've enjoyed for a long time starts to mainstream!
Kitchari is a nutritious, tasty and very digestible dish that Indian mothers frequently make for their children when they are feeling under the weather. The soothing nature of this healing and nourishing porridge makes it perfect for a light supper, a brief kitchari fast to rest the digestion, or to take to convalescents and mothers who have recently given birth.
Vata Churna Spices Used in Kitchari
The spices are what really make kitchari so special. The spice blend used is called Vata Churna which represents all six tastes – sweet, salty, sour, bitter, astringent, and pungent – in a single dish. This is what accounts for the balanced satisfaction a meal of kitchari bestows upon the tastebuds and the digestion with nothing more required. Salted lassi is another common food in the Ayurvedic tradition that uses similar warmth inducing herbs.
High quality Vata Churna can be purchased here or you can easily make it yourself. Here's how:
To make a batch of Vata Churna that will make several small pots of kitchari, lightly roast 2 tablespoons each of cumin and coriander seeds in a dry skillet until you smell the nutty fragrance. Remove from heat and cool. Process 1/2 teaspoon of cardamom seeds with the roasted cumin and coriander in a spice grinder until a fine powder. Mix in 1 teaspoon of ground licorice, 1/2 teaspoon of ginger powder, 1/4 teaspoon of hing powder, and 1/4 teaspoon of sea salt. The hing powder is a very important spice to be sure not to exclude as it helps digest the mung beans.
Once you have the Vata Churna spice blend ready either by purchase or making it yourself, you are ready to make a pot of kitchari.
Kitchari Ayurvedic Porridge
Serves 3.  Total cooking time: 1 1/2 hours
Ingredients
1/4 cup sprouted mung beans (brand I use). Sprouted or soaked lentils may be substituted if desired.
1 teaspoon Vata Churna spice blend (where to find)
1/4 cup dry basmati white rice (brand I use) or sprouted brown rice (where to find)
2 3/4 cups filtered water
3 tablespoons ghee (substitute expeller pressed coconut oil if a dairy allergy)
1 teaspoon ground cumin
1 teaspoon mustard seeds
1 teaspoon sea salt
Instructions
In a large saucepan, bring 1 1/2 cups of filtered water to a boil. Add the sprouted mung beans, salt, and Vata Churna spices. Bring back to a boil, then cover and reduce heat to a very low simmer.
After cooking for one hour, add the rice, 2 tablespoons of ghee, and the remaining 1 1/4 cups water. Bring mixture to a boil again. Stir, and reduce heat to a simmer and cook for an additional 30 minutes. Stir as often as necessary to avoid sticking. Add more water as necessary if the kitchari becomes too thick noting that the proper consistency is of thick gravy.
When the kitchari is finished cooking, heat the remaining 1 tablespoon of ghee in a small pan with the mustard seeds and cumin. When the mustard seeds pop, stir the mixture into the kitchari and serve.
Refrigerate unused portions and reheat on the stovetop to serve (don't microwave).
Sarah, The Healthy Home Economist
Sources and More Information
Cooking for Life: Ayurvedic Recipes for Good Food and Good Health
Potassium Broth for Rapid Recovery and Rejuvenation
Subscribe for Updates
Subscribe today and gain access to my exclusive & FREE weekly newsletter packed with the latest health news, Real Food recipes, video how-to's, special discounts and much more!