Consumers to Whole Foods:  Be afraid.
Be very, very afraid.
The Lapka, an intriguing new iPhone appcessory, is currently ramping up for mass production from the prototype phase and should be available for purchase this December for about 220 US$, just in time for the holidays.
Marketed as a "personal environment monitor", this little contraption could likely prove an excellent tool at farmer's markets or while shopping at Whole Foods (you know, "organic" food from China?) where produce is sometimes marked organic when, ahem, it is really not.
One of the four Lapka sensors is an organicity device, which provides the user with a steel probe to check the organic-ness of a particular food.
How?
By measuring the concentration of nitrates which are commonly used in non-organic fertilizers.
Brilliant!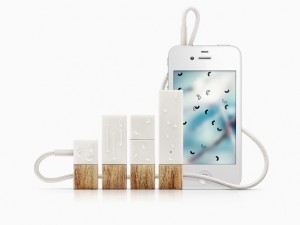 The other 3 Lapka sensors test for humidity/temperature, radiation, and electromagnetic frequencies (EMF).
Environmental readings are presented on the screen in a manner which is easy to understand. For example, instead of presenting radiation readings as parts per million which would not make sense to most people, the reading is instead identified as acceptable or not with gradual color changes to red as the environment becomes less safe.
Environmental snapshots can then be sent to friends who don't need to have a Lapka themselves to view the information.
After the launch of the personal environment monitor, Lapka's team plans to potentially expand into other peripherals with medical applications for glucose screening and blood pressure monitoring.   A device for vehicle diagnostics and even a fitness tracker are also possible.
This further empowerment of the consumer is sure to give food companies fits as they will have fewer ways in which to deceive people about the so called quality of their products.
Now all we need is a GMO sensor!
Sarah, The Healthy Home Economist
Source:  iPhone Sensors Test If Your Food Really Is Organic