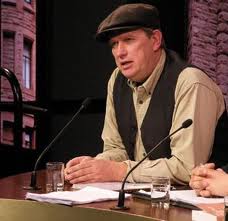 Michael Schmidt, Canadian farmer and longtime raw milk activist, received a sentence of one year probation and a fine of $9,150 from Ontario Judge Peter Tetley during formal sentencing today.
The sentence follows a September 2011 ruling which convicted Michael on 13 of 19 charges and reversed a lower court's decision to acquit him and that he did indeed have a legal right to provide cowshare owners with raw milk.
There has been an avalanche of public requests for leniency to Judge Tetley in recent days with hundreds of emails and faxes to his office. The flood of support was so large that a post on this blog requesting such supportive emails, faxes, and letters was taken down to spare Judge Tetley's secretary any further difficulties.

Judge Tetley acknowledged that the public support which packed the courtroom was a testament to his character.
"(Mr. Schmidt) is a man of principle," Tetley told the court. "He's willing to fight for his principles. There's a lot to admire about Mr. Schmidt."
Judge Tetley continued by saying, "The present legislation (on raw milk) is inconsistent, at best," said Tetley, explaining that it is not up to the courts but the government to change current laws.
Schmidt's lawyer says she plans to appeal the sentence.
Michael has assumed nothing short of folk hero status in Canada in recent years due to his courageous fight for the fundamental right to provide raw milk to consumers in his local area since 1994 when his farm was first raided by government officials.  Michael recently ended a 37 day hunger strike when an overwhelming outpouring of public support persuaded Ontario Premier Dalton McGuinty to meet with him and discuss furthering the issue of food choice in Canada.
Michael's next hurdle is a contempt of court charge on December 5, 2011 in Vancouver with regard to a British Columbia cow share operation.
* Michael's legal defense fund could use your support. Please click here to donate to this worthwhile cause.
Sarah, The Healthy Home Economist
Source: Raw Milk Farmer Fined, Placed on Probation, Montreal Gazette