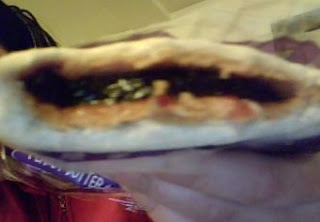 Last Friday, all the kids were off school, so we packed up the car and went over to our local YMCA Youth Center to spend the afternoon.  That particular afternoon, the Youth Center was hosting an Easter egg hunt with food and treats for the kids (I didn't know this before we arrived, else I would have brought my own snacks!!).    After swimming for awhile, the kids got hungry, so we decided to take a quick look at the food that was offered.    I immediately decided to wait until I got home to eat!    The salad looked ok, but the dressings were the typical highly processed soy oil/chemical concoctions from the grocery store – definitely a headache waiting to happen.   The kids' food consisted of a giant bowl of Planter's cheese balls and PB&J Uncrustables in sealed bags.   How a facility that works to promote healthy and fit kids could serve fare like this is beyond me!   I noticed that many of the children at the event simply filled a plate with cheese balls for their dinner.    How very sad.    As long as this type of dinner is placed before our children in a community setting, the childhood obesity epidemic with its host of chronic diseases will continue to grow.   Of that much, I am sure!
I picked up one of the bags of PB&J Uncrustables and had quick look at the ingredients.    One unpronounceable word after another took up nearly 1/2 of the back side of the bag!    I am a firm believer that kids need to internalize for themselves the downsides of consuming highly processed foods.   As a result, I try to allow them to experiment and make their own decisions where possible and feasible.    This seemed like a teachable moment and the kids all wanted to try one of the sandwiches (I'm quite sure they had never had one before – I certainly had never given them one!).   I braced myself, took a deep breath to remain calm, and said, "Sure, go ahead."    The kids could tell I was less than enthusiastic about the food choices and asked why I wasn't eating anything.   I told them that the food would make me feel less than my usual perky self (ok, I really used the word "sick"), so I preferred to wait until I got home to eat something else.
Unfortunately, the kids were rather hungry, so it took one whole sandwich and part of another before, one by one, they each said that they didn't really like the taste or smell of the sandwiches at all!  We took the remainder of one of the uneaten sandwiches home with us to experiment with it firsthand.      We placed the sandwich on a plate on our picnic table outside, waiting to see if ants, flies, or any animals would be interested.
That poor lonely sandwich sat out on that picnic table for hours and hours with no takers.    Could it be that ants and other insects know more about REAL food than we do?    Ants, squirrels, and even ducks (which seem to eat most anything) don't want PB&J Uncrustables!   Finally, during the night, a desperate raccoon had pity and ate the sandwich.     I had hoped that nothing would have touched it for days, but the kids reminded me that raccoons regularly eat garbage, so eating that sandwich made sense for them.     Hmmm.   The kids equated the Uncrustable with garbage!    Maybe all was not lost with our little experiment after all!
Sarah, The Healthy Home Economist