The shocking list of chemicals allowed in USDA organic egg washing and processing, which leaves the potential for toxic residues given the porous nature of egg shells.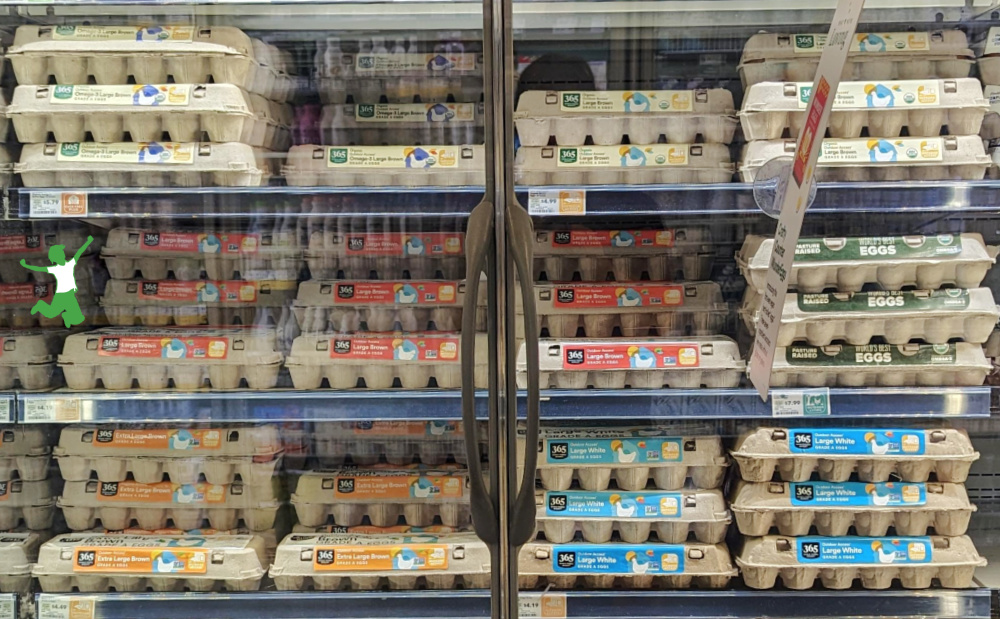 One of the goals of this blog for the past 15 years is to encourage people to take their food sourcing locally.
In other words, redirect as much of the food budget as possible to local producers or artisans.
What this means, in practice, is the elimination of the "food middleman" that is the Industrialized Food System.
The Industrialized Food System is where nearly all of the unhealthy things happen to your food.
This includes nourishing, whole foods like organic eggs. Even pastured and free-range varieties from small farms can fall victim to its regulatory dangers.
You see, when you take a quality product from a small farm and pass it through the Industrialized Food System, toxic practices and food adulteration usually occur.
It's not the same product when it emerges from the Industrialized Food System as when it first entered!
Let's take a look at how organic eggs are washed as an easy example.
USDA Organic Egg Wash Standards
While many people avoid conventional eggs as they know about the toxic chlorine washes that are standard practice, as it turns out, egg (and carcass) washes for USDA organic brands actually aren't much better!
Egg shells are highly porous and any chemical used to clean the shell and coat it afterward can end up in the egg itself.
According to Section 205.605 of USDA Poultry Guidelines, the following chemicals are approved for use as organic egg washes. (1)
Sodium hypochlorite
Potassium hydroxide, sodium hydroxide
Hydrogen peroxide (H2O2)
Sodium carbonate (washing soda)
Peracetic acid (Peroxyacetic acid)
While two of these chemicals (H2O2 and sodium carbonate) are safe, the others are most definitely not!
For example, sodium hypochlorite is corrosive and an environmental hazard. (2)
Potassium hydroxide is corrosive and an irritant. (3)
Peracetic acid is flammable and corrosive as well as an irritant and environmental hazard. (4)
How these chemicals are somehow allowed in "organic" egg production is beyond me.
Why doesn't the USDA only allow safe substances such as hydrogen peroxide and sodium carbonate? Why the other toxic trio as well?
Toxic Vegetable Oil Coating after Washing
Another common practice is for organic eggs to be coated with vegetable oil after washing.
This "seals" the porous egg shells "for safety".
Section 205.605 of USDA Poultry Guidelines allows for this toxic practice as well. (1)
What oils are used? Your guess is as good as mine, but it doesn't need to be listed because it is an "industry standard". 🙄
My guess is that the cheapest seed oils are used such as refined canola or sunflower oil.
How to Find Safe, Unwashed Eggs
The sad truth is that it is imperative for consumers to educate themselves and take evasive action when it comes to sourcing eggs. They cannot rely on the USDA or organic standards to protect them.
In my view, the best solution is to keep backyard chickens yourself. Our family has kept a small flock for over 10 years now, and I highly recommend it!
The next best thing is to obtain fresh, unwashed eggs from a neighbor or farmer's market. Avoid organic eggs from the store as much as possible.
If you think unwashed eggs are dangerous, they are not!
The "bloom" or natural coating on an egg is highly protective, even allowing for the eggs to remain unrefrigerated for many days.
In Europe and other parts of the world, unwashed (and unrefrigerated) eggs can be found at stores and even out in the street!
The picture below is a photo I took myself of unwashed eggs sitting out unrefrigerated in a healthfood store in the Netherlands in 2018.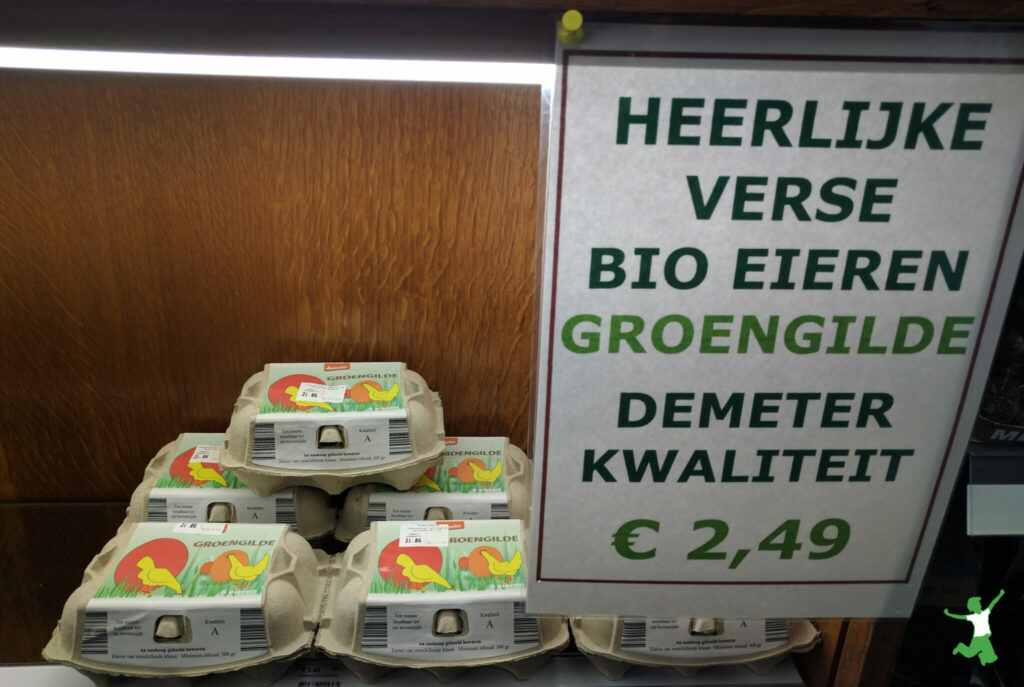 The next picture below is a photo I took on the streets of Venice, Italy in 2015.
Completely unrefrigerated, unwashed fresh eggs out in the open air next to vegetables and fruit!
The scare tactics of the USDA against unwashed eggs are completely unwarranted!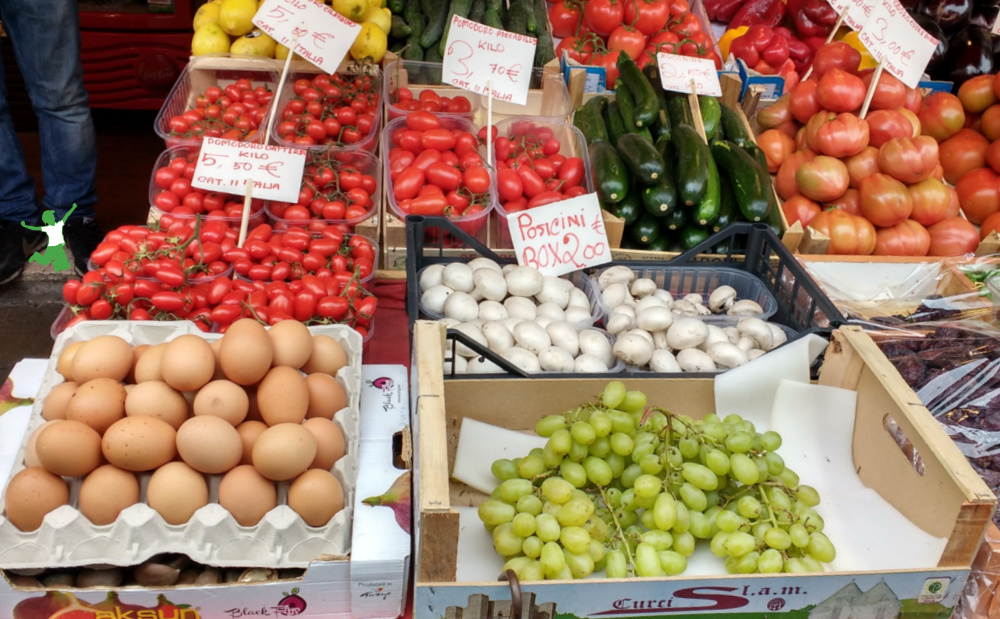 Best Organic Egg Brands
If you find yourself in a food desert where fresh, unwashed eggs are not available and keeping a few hens yourself is not an option, then you will need to do some investigation of the available egg brands in your area.
The best organic egg brand ranking system I have seen is from the Cornucopia Institute. (5, 6)
While this in-depth egg scorecard investigates an exhaustive list of criteria about dozens of organic egg brands, unfortunately, the egg-washing process is not among them!
Thus, I would suggest using this scorecard to winnow down the list of egg brands that are best and available in your area.
Then, contact each farm directly (by phone is best in my experience), to obtain information on the chemicals used to wash the eggs and the vegetable oil used to coat them before they are placed in cartons and shipped to your store shelf.
In a worst-case scenario, if you do not have a "best" organic brand available in your area that uses nontoxic hydrogen peroxide or sodium carbonate as an egg wash, then at least be sure to re-wash the eggs yourself thoroughly in warm, soapy water before using.
While this isn't a failsafe method given the porous nature of egg shells, it would at least reduce the chance that chemical or rancid vegetable oil residues get into the eggs when you crack them.
(1) USDA Poultry Guidelines
(2) Sodium hypochlorite
(3) Potassium hydroxide
(4) Peracetic acid
(5) Egg Scorecard Criteria, Cornucopia Institute
(6) Best Organic Egg Brands