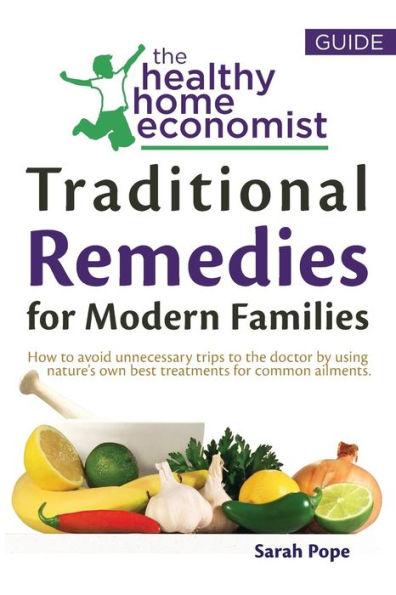 Today is the day!  Yippie! 
My new book, Traditional Remedies for Modern Families, is now available to the public for the very first time!  Here's a quickie synopsis:
Traditional Remedies for Modern Families is a 120+ page compendium of simple solutions to everyday wellness challenges without the use of drugs or toxic therapies. From coughs and colds to digestion, skin, cuts, bruises and allergies, Traditional Remedies for Modern Families covers the gamut of conditions that can effectively and safely be handled at home in the vast majority of cases saving time and money at the doctor's office as well as immune system damage and other dangerous side effects from the overuse of drug based solutions.
With this book, I decided to launch as part of a book bundle – the best and most quality bundle I could find. This way, my reader friends could get a copy with so many bonuses ($200 worth) and other goodies that the book would be essentially free, making the investment the best possible value for them.
From September 10-15, 2014 at midnight, Traditional Remedies for Modern Families will be exclusively available as part of the Ultimate Healthy Living Bundle.
Um, can I go so far as to suggest that this bundle is so awesome that you can conceivably get a good portion of your holiday shopping done with a single $29.97 purchase? That's right … the many eBooks, eCourses, and of course $200 in FREEBIES can be given to those you know would enjoy and use them if you can't use them all yourself.
If you're anything like me, the $200 in bonuses is very exciting.  Here are a few of my freebie faves and yes, you will actually use them!
FREE Sourdough or heirloom yogurt starter culture from Cultures for Health ($13.95 value. This is where I buy my starter cultures.)

FREE 15 ml Bottle of Healthy Mouth Blend from OraWellness, ($22.97 value. My family uses this – it's awesome!)

FREE Variety Gift pack from Hard Lotion ($16.50 value. Includes 1 Free Pocket Size Beesilk Bar, 1 Peppermint Lip Balm, and 1 Vanilla Dust Glitter Lip Balm)
and 7 more amazing bonuses worth over $145
With a total value of more than $200, these bonuses alone are worth over five times the price of the Ultimate Healthy Living Bundle. 
Only 30,000 bundles are available, however, so if this is of interest, don't delay.  When they run out, they run out.  For good.  In other words, it won't be offered again.
I hope you take advantage of this top quality bundle which is available just for the next few days! After this special sale ends, my book will only be available via Amazon.
Enjoy browsing the bundle page.  It is very exciting and colorful, and I think you will enjoy what a quality product this bundle truly is.
Sarah, The Healthy Home Economist