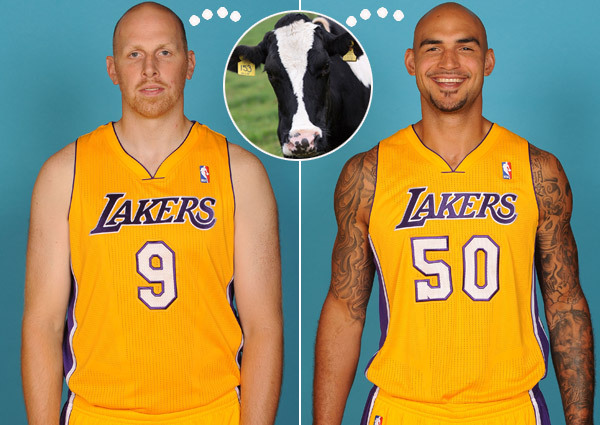 When it comes to professional athletes, conventional thinking only applies when and if it suits them.
Whether it be a hot red Ferrari, tattoos where most tat fans dare not go or a hardcore diet that produces the competitive results they seek, pro athletes pretty much play by their own set of rules.
Such is definitely the case with LA Lakers stars Chris Kaman and Robert Sacre who recently decided to buy an entire grassfed cow with Lakers strength and conditioning coach Tim DiFrancesco, also known by the team nickname "Grassfed Tim".
DiFrancesco, a big believer in the health benefits of grassfed beef, organized the purchase from a grassbased farm near San Diego. Kaman is getting half the 400 pound cow with Sacre and DiFrancesco splitting the rest. The three grassfed beef lovers will take delivery of their freshly butchered beef after they get home from China where they are scheduled to play two preseason games.
Lakers Guard Kobe Bryant is also a big grassfed meat fan, although he didn't participate in this bulk buy with his teammates. Lakers trainer Gary Vitti says that the staples of Kobe's diet include pasture based foods like grassfed beef and eggs from free-range chickens including butter from dairy cows grazing on grass.
Vitti was originally part of the cowsharing deal, but he backed out due to lack of sufficient freezer space.
Sacre had issues with freezer space too, but solved the problem at Best Buy.  "I had to go to a Best Buy to go buy me a 15 cubic foot freezer. It's, uh, it's intense," he said.
Sacre confessed that the new freezer and 100 lbs of grassfed beef set him back about $1300.
Buying an entire cow at one time may seem over the top expensive, but the fact is that it is the most economical way to consume healthy and nutritious grassfed beef bringing the cost per pound shockingly close to cheaply produced, antibiotic and steroid laced conventional red meat. Not to mention the benefits of obtaining the bones and organ meats along with the beef. Bones and organ meats can be difficult to find which is one of the big pluses of buying the entire cow and splitting with friends.
When bones, organs and muscle meats are all consumed in the diet such as practiced by Traditional Cultures, a much higher level of health is attained and the toxic by-products and chronic disease that can likely result from consuming muscle meats alone is avoided.
Besides the steaks, Sacre is looking forward to the cow tongue. Kaman is seeking the benefits from using the bones:
I'm going to get a bunch of the bones, too, and boil them down and make some beef stock. It's good for your joints and ligaments and tendons.
Sacre says that he has observed beneficial physical results from consuming grassfed beef:
I dropped from six [percent body fat] to three. I really find myself having more energy and really always feel healthier and haven't been sick that much.
Conjugated Linoleic Acid (CLA) is likely the reason for Sacre's astounding 3 percent body fat. Grassfed beef contains 2-3 times as much of this special fatty acid as conventional beef. CLA is highly beneficial for losing weight and building muscle mass.
Surprisingly, Kaman had not eaten any beef for six years before joining the Lakers and changing his ways based on DiFrancesco's suggestions.  His reason for abstaining?
"I don't like all the hormones and steroids," he said of conventional red meat, which explains why he did eat venison from deer that he hunted himself while on his beef sabbatical.
As for cooking their grassfed spoils, Sacre prefers grilling to medium-rare perfection. Kaman is a pan fry man all the way.
Just in the pan. Very rare. Closer to rare than anything else, because then you're getting a lot of the nutrients and the proteins and the fats that you want. When you cook it for a long time, you lose a lot of that.
It seems Grassfed Tim has also clued these NBA stars in on the best way to cook grassfed meat as well as its numerous health benefits.
Sarah, The Healthy Home Economist
Sources:
Why Kaman and Sacre Bought a Cow
Chris Kaman and Robert Sacre Buy a Cow
A review of fatty acid profiles and antioxidant content in grass-fed and grain-fed beef
Kobe Bryant Defies Father Time Using Traditional Diet (While Ashton Kutcher Ends Up in the Hospital Ignoring It)