Without a doubt, KoMo grain mills are among the most exquisite, elegantly designed pieces of kitchen equipment I have ever laid eyes upon. As I've been examining all the grain mills on the market of late to replace the nearly worn out mill I currently use, the KoMo grain mills stood out to me as some of the best and most beautiful available.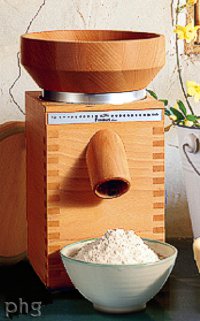 Most grain mills on the market today are constructed using a combination of stainless steel and plastic, but not the KoMo grain mills!
Designed by Wolfgang Mock of Germany, KoMo grain mills are constructed of sustainably sourced, solid native beechwood and finished with organic oils to add not only stylish simplicity to your kitchen counter, but warmth and sophistication as well.
For the traditional cook, KoMo grain mills indeed represent the perfect blend of classic, ancestral function with modern design and convenience.
KoMo: Grain Mills for a Lifetime
The modern trend with appliances is for them to last approximately 5 years which is the average time a family remains in a particular residence.
KoMo grain mills represent a refreshingly different approach to this throw away mentality.  The excellence and precision of German engineering and construction with only the finest materials means that your personal KoMo grain mill can be expected to last a lifetime with normal use.
You can even plan to bequeath it to one of your children or grandchildren one day as a treasured family heirloom!
KoMo Millstones Provide Durability with Quiet Performance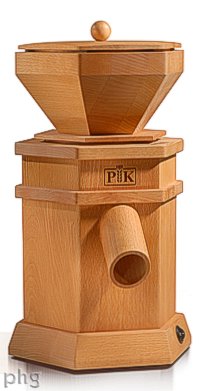 25 years ago, German inventor Wolfgang Mock began experimenting with various combinations of crystal and ceramic to develop an extremely robust new millstone.  The resulting stone he created combines corundum and ceramic for an extremely rough surface that barely wears down at all after many years of use. These superior millstones used in all KoMo grain mills not only grind grain quickly but are  virtually indestructible.
A patented milling mechanism that features noise dampening suspensions eliminates the loud grinding noise of most other grain mills so that you can grind virtually anything without irritating your ears or your nerves!
Wheat – both hard and soft
Oat groats (rolled, steel cut and stone ground)
Rice, including wild rice
Kamut, spelt, einkorn
Barley and rye
Quinoa and amaranth
Sorghum
Dent (field corn)
Dry beans and lentils
Spices
KoMo Grain Mills Feature a Flour Sifting Attachment
One of the most time consuming aspects of grain grinding is sifting the fresh flour either to remove the bran for easier digestion or simply to produce a lighter baking result.  The bran that is removed can be fed to your chickens or added to soups, smoothies, and other kitchen creations as desired.
KoMo grain mills eliminate this tiresome and frequently messy task by providing an attachable sifting mechanism which includes interchangeable stainless steel screens in medium, fine and extra fine mesh sizes.
KoMo Grain Mills:  Socially Responsible Manufacturing
The most surprising and appealing aspect of KoMo grain mills to me besides the quality craftmanship is the focus of the company on a socially responsible manufacturing process.
For many years, KoMo has partnered with a non-profit workshop program located in western Austria which provides employment to able bodied individuals as well as those with disabilities.  An enormous pride of workmanship is present in this organization which employs modern management techniques and the latest precision machinery to manufacture the hardwood housings of all KoMo grain mills.
Where to Find KoMo Grain Mills
As you can imagine, not just any retailer would carry KoMo grain mills which I have dubbed "the Mercedes of grain grinders!"
The best and most comprehensive selection of these gorgeous appliances that I've discovered is Pleasant Hill Grain.   With loads of detail and pictures about every aspect of the premier grain mills they offer, this is the site to send your sweetie if you have a classic grain mill on your holiday or birthday wish list!
If you are just beginning your research on which grain mill to buy, be sure to like Pleasant Hill Grain on Facebook so that you receive timely updates on any KoMo specials and news that might impact your purchase decision.
I hope you've enjoyed my analysis and review of the KoMo line of grain mills as I go on the hunt for one myself. Purchasing a grain mill is a big investment in your health and gathering all relevant information to make the best possible decision is of paramount importance!
The above is a sponsored post, paid for by Pleasant Hill Grain, however, it is clear that I really believe the KoMo grain mills are a cut above and represent some of the most quality mills on the market today!