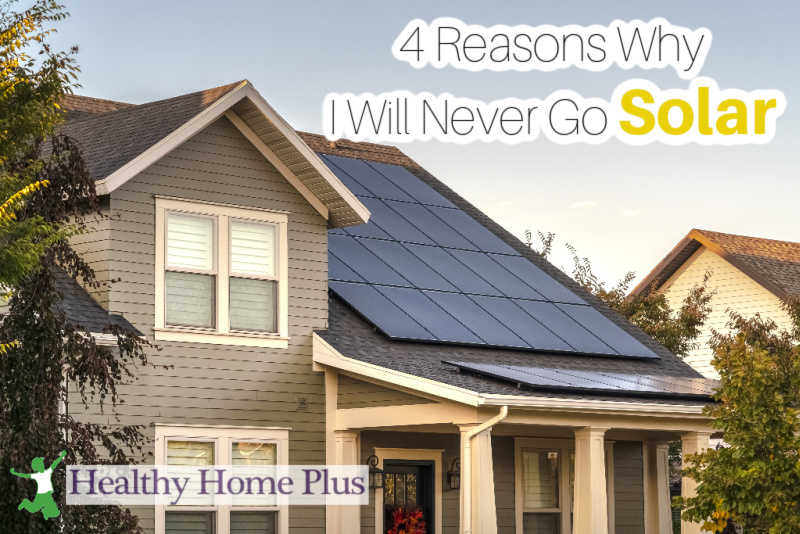 Since I live in sunny Florida, I frequently get asked if I have solar panels installed on my home.
Our house is a perfect candidate for solar, in fact. The home faces east-west with little to no tree obstruction of the west-facing roofline. There are tempting tax credits available for getting solar installed too.
Free Weekly Newsletter + Report on Secrets of Strong Immunity
People are typically surprised when I answer with a resounding "NO".
Not only don't I have solar panels currently, but I will probably never get them installed no matter how tempting the tax breaks.
Why on earth don't I consider solar panels as a green energy alternative? I am all about sustainability and preserving the environment, right?
Let me share with you a few very dark truths about solar panels that conventional greenwashers would prefer you not know about!
Solar Panels Destroy Your Roof
Most people realize far too late that solar panels will absolutely destroy your roof over time.
This is true for both tile and shingles. If you have a metal roof (the healthiest home roofing material), you are in the clear, but few people have this type of roof, at least in my community.
Leaves, moss, branches, and other organic debris easily get caught in the few inches of clearance between the solar panels and the roof shingles/tiles. As this stuff slowly decomposes, it destroys the roof underneath into a leaking, rotting mess.
Whatever money you saved in your electricity bill from having solar is pennies compared to getting your roof repaired or replaced.
There are actually businesses in our area that specialize in repairing roof damage from solar panels.
If you don't have a metal roof, take a hard pass on solar.
China Dominates Solar Industry

The truth is that most solar equipment is manufactured in China. (1)
I am actively working to reduce the number of products I buy that require a belching, ocean destroying tanker to get to me. (2)
In addition, Chinese products are not known for their quality. I am also concerned about the potential from data mining or other types of covert spying equipment installed along with the panels.
One final reason I avoid Chinese made products…the very real potential slave labor is being used during the manufacturing process.
Toxic Chemicals Destroy Environment

I am not at all convinced that solar is the ideal green energy solution to fossil fuels that it is made out to be.
Manufacturing solar panels require the use of numerous noxious chemicals and metals. In addition, solar panels have a lifespan of around 20-30 years, with millions coming to the end of their useful life right now.
But, it's expensive and difficult to properly dispose of the toxic metals inside the solar cells. Worse, there is a lack of oversight on the process, meaning that illegal dumping in landfills is an attractive, cheap alternative.
Solar panels in landfills leach toxic metals into the soil and water. This creates a public health hazard for surrounding communities a la Erin Brockovich. (3)
Another terrible trend is sending these expired solar panels to developing countries, which are least able to deal with them properly harming the poor and most vulnerable worldwide.
No thanks. I personally have no desire to participate in this type of solar clown show.
Solar on Your Roof Creates Powerful, Health-Robbing EMF Field
The final nail in the coffin against ever getting solar installed on our roof is the health-robbing EMF field the panels create in and around your home. (4)
Most people have no idea about this!!
What's more, the EMFs from solar panels on your roof are extremely difficult to mitigate.
I encourage you to read this article about solar energy and EMFs.
Oram Miller, BBEC, EMRS, Certified Building BiologyTM Environmental Consultant and Electromagnetic Radiation Specialist has this to say about solar:
My advice to my electrically sensitive clients is that if they don't already have solar panels and are thinking of installing them, they should reconsider and decide not to do so. I have seen too many people make that decision and then regret it. You can't easily take a system out once it is installed, especially if you have signed a twenty year lease.

In my opinion, if you are electrically sensitive, don't take a chance with your health. Avoid solar panels altogether to prevent possibly reacting to them once installed. Save energy and electricity bills other ways.
I would take Mr. Miller's advice one step further….
Even if you are not currently electrically sensitive, I would suggest avoiding solar anyway. As you get older, have more children, etc., the chances of you developing or having at least one EMF sensitive person in your household is quite high.
It's just not worth the risk especially since solar typically involves a long term contract.
Why I Say No to Solar
In summary, getting solar to save money and "help the environment" is hype.
In the final analysis, your health can be harmed over the long-term and you will very likely end up paying more from the roof damage than you will ever save in electricity bills.
There are other, safer, more environmentally smart ways to reduce fossil fuel use and help preserve the environment with personal choices.
Here's the easiest and most effective strategy of all: Buy from locally owned, independent businesses!
References
(1) Why China is Dominating the Solar Industry
(2) Big Polluters. One Massive Container Ship Equals 50 Million Cars
(3) Solar Panel Waste: The Dark Side of Clean Energy
(4) Solar Panels and EMFs