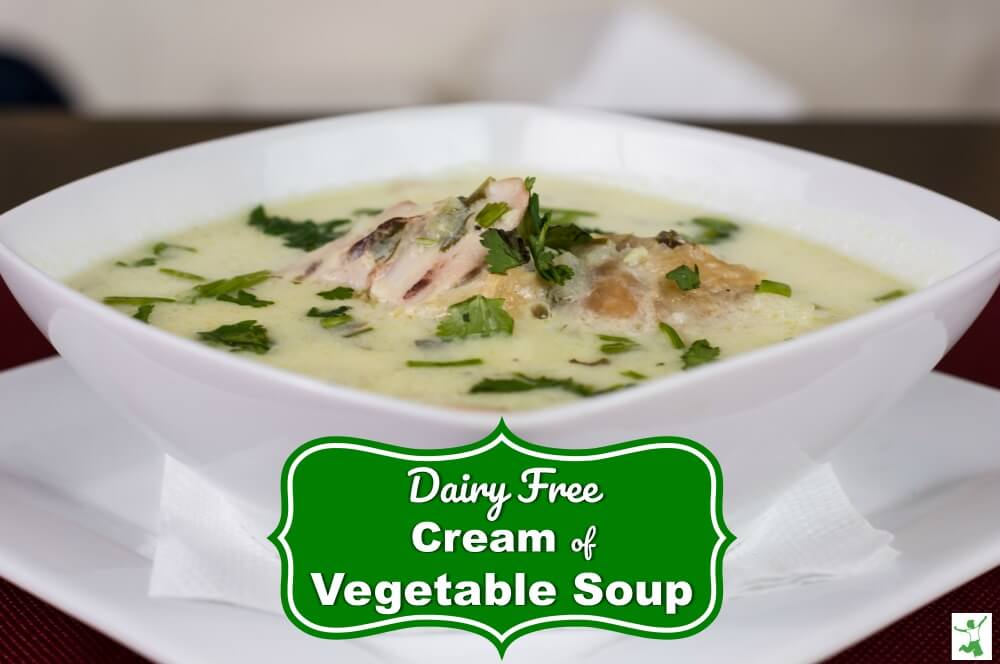 Have any of you tried the coconut chicken soup from Nourishing Traditions Cookbook? It's quite spicy, isn't it? When my children were little, they found this soup too strong tasting. So, even though my husband and I enjoyed it, I ended up never making it!
To please the kids' taste buds, I developed this dairy-free cream of vegetable soup instead. It works well for those who find the taste of fresh ginger in soup too overpowering or who are less adventurous with food in general. 
Cream of Vegetable Soup Serving Suggestions
Need a heartier or chunky style soup that can serve as the main meal? Simply add pastured roast chicken once the soup is blended and ready to serve.
For young ones transitioning to solid foods, you may wish to blend the chicken into the soup along with the vegetables so that little to no chewing is needed.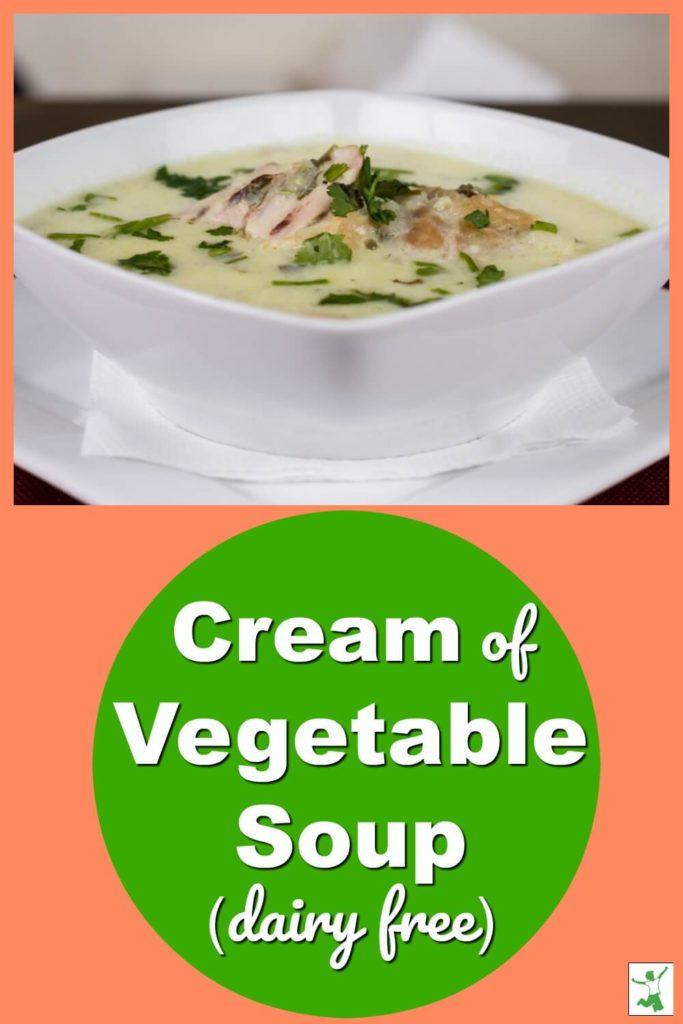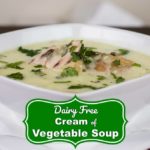 Dairy Free Cream of Vegetable Soup
Classic recipe for cream of vegetable soup with dairy free ingredients and suggestions for serving as an appetizer or chunky style for a heartier main meal.
Instructions
Soak rice overnight. (Rinse 1 cup basmati rice for a minute or two in clean filtered water. Place rice in a bowl and cover them with 6 cups fresh filtered water. Secure the lid and leave for 4 hours or overnight) Drain soaking water and cook soaked rice per linked article's instructions.

Chop organic celery, carrots, and onions and sauté in butter until soft.

Add chicken stock and coconut milk. Bring to a boil and skim off foam.


Turn down the heat and simmer for 10 minutes to blend the flavors.

Remove pot from heat and let cool for 10 minutes.

Blend with a handheld blender until smooth.

Add sea salt and pepper to taste.

Stir in a handful of soaked/cooked basmati rice per cup of soup as needed. Top with a few bits of shredded parsley and serve.
Recipe Notes
Substitute 2 cups filtered water and 2 cups chicken stock if you are low on chicken stock!
Substitute unrefined avocado oil for the olive oil if desired.
Add chunks of pastured roast chicken to make the soup more hearty and to serve as the main meal rather than just an appetizer.
Note that the nutritional information does not include optional basmati rice and chicken.
Nutrition Facts
Dairy Free Cream of Vegetable Soup
Amount Per Serving
Calories 203
Calories from Fat 135
% Daily Value*
Fat 15g23%
Sodium 249mg10%
Potassium 192mg5%
Carbohydrates 10g3%
Protein 7g14%
Vitamin A 3350IU67%
Vitamin C 5mg6%
Calcium 20mg2%
Iron 0.4mg2%
* Percent Daily Values are based on a 2000 calorie diet.