by Fitness Editor Paula Jager, CSCS Owner of Crossfit Jaguar
March 3, 2014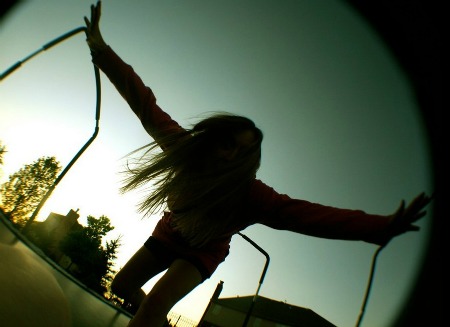 Editor's Note: I was excited to see that Paula's fitness post this week is about how to start and succeed with a rebounding exercise program because this is one of my most favorite ways to exercise – outside in the fresh air oftentimes with my family having a great time. Even if a large trampoline (we love this one) isn't an option, smaller models are available for indoor use too.
Do you want the body of a Greek god or goddess? Is your ultimate fitness goal to look rock hard in your bikini or board shorts turning heads and making a splash at your local pool or beach?  Then lift heavy weights, sprint and eat a clean traditional/primal diet.  You will need to consistently work very hard and be relentless in your pursuit.  It ain't easy being a fitness rock star.
"Uh, yea, ok.  Let me get right on that"—not your goal huh? 
Perhaps you haven't exercised for a few years, have gained quite a bit of weight and/or are working on overcoming health challenges. 
Your goals are different. 
You just want to feel better, sleep better, lose a little weight and be healthier!
60 Comments