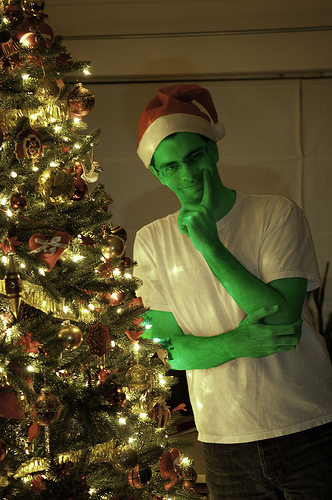 You're a mean one Mr. Grinch …
Christmas tree farmer Christian Critzer of Wayneboro,Virginia certainly never suspected that his charitable fundraising drive for cancer victims would draw the wrath of local government officials during what is supposed to be the most giving and kind hearted time of the year.
Mr. Critzer, a married father of two, devised a simple plan to give back to his community by raising money for cancer patients. His wife was in remission from breast cancer and in his relief and joy, decided to use his skills as a Christmas tree farmer to raise money in order to purchase custom wigs for cancer patients from a local hospital.
The Waynesboro zoning board didn't see it that way.
A local zoning official showed up on Mr. Critzer's doorstep on November 26, 2012 and told him that the Christmas tree drive he was running out of his home violated the city's zoning ordinances because it was a "retail activity" not suitable for the single family homes of his neighborhood.
Mr. Critzer protested and told the official that the Christmas tree drive was in fact a charitable fundraiser for cancer victims from a local hospital.
The official persisted in his arbitrary enforcement of local zoning ordinances by issuing Mr. Critzer a notice of violation for his benevolent activities the following day.
In response, Mr. Critzer began to give his Christmas trees away and accepted only voluntary, unspecified donations for the cancer victims thinking that this would bring his fundraising activities into compliance with zoning requirements.  Those in this low income community who could not afford a tree were even given one without a donation!
The zoning board filled with Scrooges then demanded that Mr. Critzer's Christmas tree giveaway stop immediately or else legal action would be pursued against his landlord for the apparent "zoning violation".   The city's threats had the desired effect.  Mr. Critzer ended his fundraiser for fear of losing his home and causing his family and his landlord hardship.
Why would the Waynesboro zoning board insist on its erroneous and improperly applied interpretation of local zoning ordinances despite Mr. Critzer's efforts to communicate that his activities were for charitable and not commercial purposes?
Only the Grinch knows for sure, but the issue will hopefully be resolved in the positive Spirit of the Season as the Rutherford Institute has sent a letter to Todd Patrick, City Attorney for Waynesboro demanding that it rectify its grievous holiday mistake and allow Mr. Critzer to resume his charitable activities.
For those living in the Waynesboro, Virginia area, any expression of public outrage over this appalling overstep by city officials would likely benefit the situation as well.
Sarah, The Healthy Home Economist
Source:  Rutherford Institute Defends Tree Farmer Cited for Giving Away Christmas Trees in His Front Yard in Exchange for Donations to Raise Money for Cancer Victims