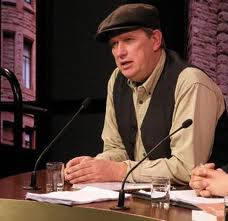 Today, many hundreds of people including myself are on a raw milk fast in support of, and solidarity with, Michael Schmidt, raw milk farmer and activist from Ontario Canada.
I posted last week about Michael's character and courage as compared with others such as Judge Patrick Fiedler who would prefer to sell his soul to Monsanto instead of uphold the basic freedoms guaranteed in the US Constitution.
I was relieved to see this video today which shows Michael still strong and sharp in mind though is body is clearly weakened by his 25 day hunger strike.
If you have not done so already, please contact Dalton McGuinty, Premier of Ontario Canada immediately either by email, tweet,  fax (416-325-3745)  or all of the above to express your strong desire to have him arrange a meeting with Michael Schmidt.
Michael Schmidt will end his hunger strike should Premier McGuinty agree to meet with him.
Wise leaders are also compassionate – will Dalton McGuinty prove himself so by agreeing to meet Michael Schmidt – someone who represents the views of a substantial number of Ontario citizens?   Only time will tell.
Sarah, TheHealthyHomeEconomist.com