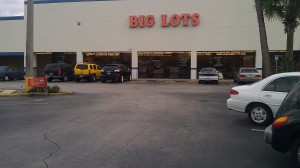 I got a big shock this afternoon while shopping at our neighborhood Big Lots store.
For those of you who aren't familiar with Big Lots, it's like a dollar store only bigger with a much wider selection of consumer goods.
As I walked quickly up and down the aisles trying to find a cheap, medium sized cooler, I suddenly came to a screeching halt when I spied out of the corner of my eye…
No it can't be!
There in plain view on one of the main aisle end caps …
A prominent and very wide selection of Bob's Red Mill Baking Supply Products!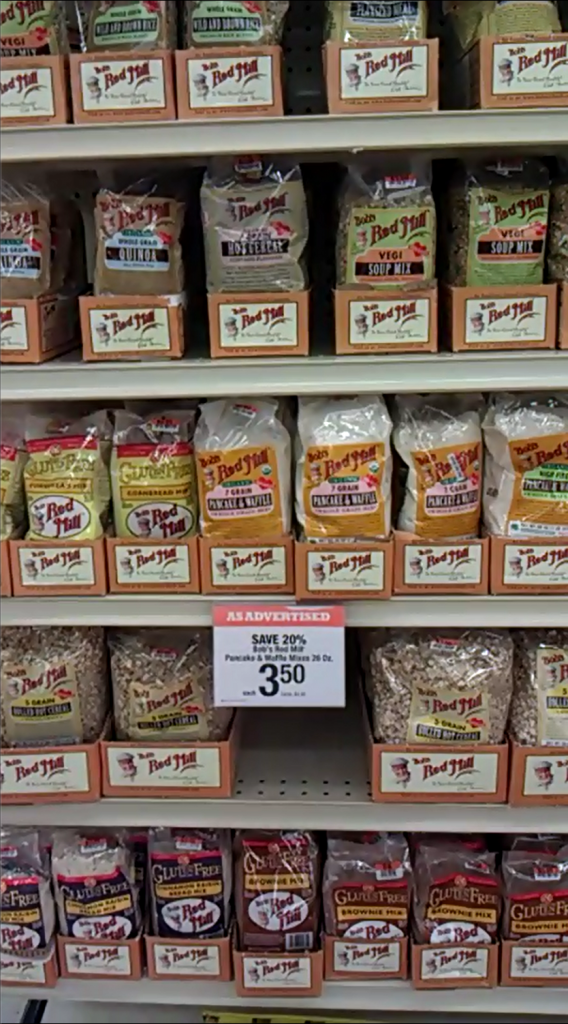 I stopped and took this picture because it still hasn't actually registered in my brain that this is indeed what I saw with my own two eyes.
Talk about out of place!
Nestled in amongst the cases of  jumbo bags, boxes, and cans of ultra cheap, junky, no redeeming quality whatsoever, processed foods is this healthy selection of whole, grain based foods that appeals to Real Food Snobs like me!
Organic quinoa, old fashioned rolled oats, flaxseed meal, 7 grain hot cereal, even some gluten free pancake mix … bag after bag of stuff you would expect to find on an endcap at the healthfood store.   Such products are not typically found even at a grocery store (unless in the very small "healthfood section") let alone a Big Lots (I consider Big Lots a step down even from the supermarket).
Granted, few of the products were organic and there was no arrowroot powder to be found (that really would have wigged me out as I had just picked up a bag of Bob's RedMill Arrowroot powder earlier in the day at the healthfood store to whip up some grain free ginger snaps for the kids' lunches).
From what I can surmise, this aberration at the neighborhood Big Lots means one of two things:
The Southeast Regional buyer for Big Lots is a major health nut.
Real Food is indeed making some serious inroads into mainstream America.
I tend to think the latter reason is most plausible.  There is no way a buyer for Big Lots would put his/her career on the line ordering  a bunch of healthfood type products to be displayed so prominently on the endcap of a main aisle unless a profit could reliably be made – no matter what his/her culinary predilections.
So, here I am, still in shock at seeing Real Food products in a budget conscious, stripped down, bare bones retail establishment.
Have you had a Twilight Zone moment with Real Food in an unconventional setting?  Tell us about it!
Sarah, TheHealthyHomeEconomist.com