Why online reviews are basically worthless. This is especially the case for health-related products from small companies that are competing with inferior alternatives from mega-corporations.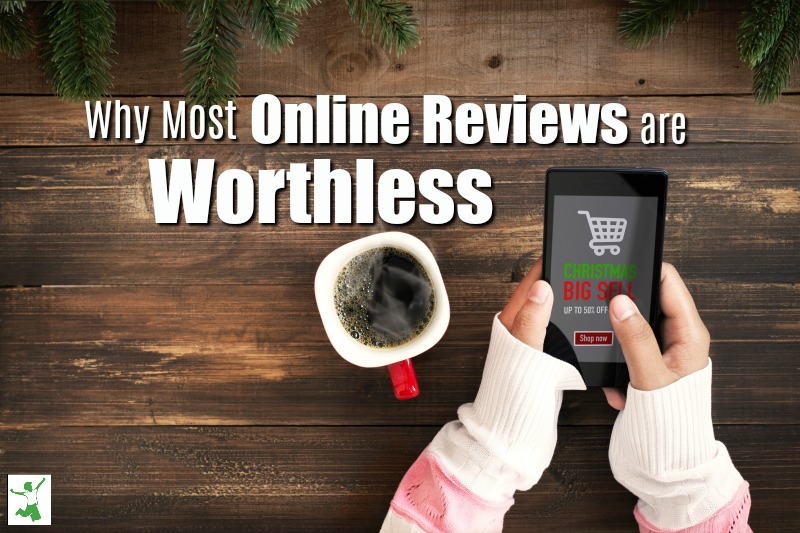 A common request by members of the recently launched Healthy Home Plus is assistance with vetting food and supplement brands they are considering for purchase. Sometimes the product was recommended by a doctor, other times it is being heavily promoted online.
There are a number of ways I use to investigate whether a brand is on the up and up with its products. Consideration of online reviews, however, is one method I rarely use.
Why is this?
Online Reviews are Usually Astroturfed
The reason is that online reviews are basically worthless for one of two reasons:
Positive reviews are frequently astroturfed by employees/paid contractors/friends of the company that actually makes the product.
Negative reviews are frequently astroturfed by employees/paid contractors/friends of a competitive product.
In other words, companies carefully stage online reviews to benefit their bottom line in many cases. This is known as astroturfing. Other examples include paying for a positive media story in a newspaper, magazine or popular "health" TV show.
These types of reviews disguised to look real are, for lack of a better term, another form of fake news.
What's more…it's very difficult to tell accurate reviews from those specifically designed to manipulate your purchase decision.
Amazon reviews are by far the worst! But, any online site is susceptible to abuse.
And the problem is getting worse by the day…
Review "Bombing"
Review-bombing is the term used to describe when online trolls descend upon a product that has a message they don't like, flooding it with negative reviews.
Books that contain a politically incorrect message are frequently targets of such attacks.
Foods, supplements and even restaurants that contain or serve ingredients that infuriate PETA activists can also find themselves targeted as well.
Natalie Hitchens, head of home products for Which?, a company that promotes informed consumer choice, had this to say:
Our research suggests that Amazon is losing the battle against fake reviews – with shoppers bombarded by dubious comments aimed at artificially boosting products from unknown brands.

Amazon must do more to purge its websites of unreliable and fake reviews if it is to maintain the trust of its millions of customers.
Tommy Noonan, chief technology officer of review analysis firm ReviewMeta, reports that of the 1.8 million unverified Amazon reviews posted in March 2019, 99.6% were five-star. By comparison, during 2017-2018, the number of unverified reviews averaged fewer than 300,000 per month, only 75% of which were five-star.
This problem isn't just concerning for major online retailers. It's happening on smaller websites as well.
Efforts to Weed Out Fake Reviews are Failing
Noonan goes on to say that the phenomenon of fake online reviews really started to take off in late 2017.
What's more, companies with massive resources like Amazon are failing big time to stop it. This despite investing heavily in both manual and automated systems to weed out the fakes.
Can you imagine smaller companies that put out a great product (that competes with low-quality alternatives from mega-corporations) trying to fix the problem with little to no resources?
Thus, the smaller the company and the more "politically incorrect" the product, the more you should be suspicious of any online reviews…either positive or negative.
In short, alternative methods are necessary to figure out if it's worth your money to buy it. Here are some examples. All take time, but there are no shortcuts, unfortunately!
Search the medical literature to assess whether marketing claims are true.
Fully vet processing methods and ingredient lists (this includes "inactive" ingredients).
Calling the company to ask probing questions.
Which Reviews are Valid?
The only online reviews that are valid, in my opinion, are those where you know the person either via a trustworthy online relationship or IRL (in real life) and you have verified that they actually use the product themselves.
Old reviews prior to about 2016 when the fake review trend started to take off would probably be legit as well.
Note that even "verified purchaser" reviews on Amazon are suspect. This is because competitors can easily purchase a product and then do a negative review posing as an average Joe consumer.
Do you use online reviews as part of your product vetting process? Do you trust them or feel that most are manipulative in nature?
References
(1) Amazon's Fake Review Problem is Getting Worse
(2) Can you trust Online Reviews?