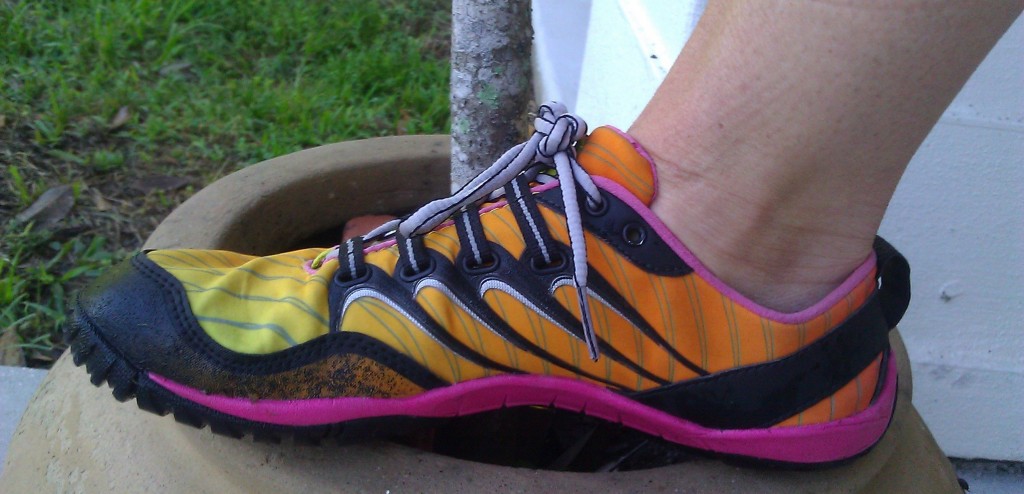 It's been almost three months since I purchased my first pair of barefoot running shoes.  I wrote about my 2 year search for a the perfect pair that weren't over the top expensive and weird looking in my post from June titled Are Barefoot Running Shoes Hype?
I promised to update you all about how I liked my new shoes in the upcoming weeks, and since this is the last official summer weekend of 2012, I thought it appropriate to give you the scoop right about now.
The bottom line?  I love my barefoot runners!  These shoes really do give you a connection with the ground that is sorely missing from typical athletic shoes.
I took them with me on our summer trip to Alaska and Canada and found them nothing short of awesome for all sorts of activities:  long distance walking, hiking, rock climbing, and even zip lining from the treetops as you really do feel balanced and secure wearing them.
I wore my barefoot shoes as much as possible for the two weeks before I left for vacation to get used to them as recommended by the manufacturer.
I did not experience much if any soreness or problems adjusting.  While wearing barefoot shoes for athletic activities definitely felt strange at first, it certainly wasn't uncomfortable and during those early days of adjustment, I always stopped right away if I felt like I was going to overdo it and injure myself.
We go barefoot year round at my house as do many people in Florida, so it really did surprise me how long it took me to adjust to these shoes despite being used to barefoot living for most of my life.
Observation: walking around your house all day long barefoot is quite a different thing from doing something athletic wearing barefoot shoes!
The Downside to Barefoot Shoes
Now, for the nitty gritty.
Despite the fact that I really enjoy my barefoot shoes and find them very comfortable and even pleasurable for all sorts of athletic activities, I have just one beef to share with you:
I still can't run in them!
I have tried and tried to get used to running in my barefoots, but I can only get to about the 1/4 mile mark before my calves and Achilles feel like they have had quite enough.  I always stop and don't push it at that point because I have no desire to injure myself as that would accomplish nothing in the long run.   Any athlete knows that an Achilles injury is nothing to mess around with as it takes you out of commission for an extended period of time!
I shared my frustrations with Paula Jager, the Fitness Editor for this blog, at our local food pickup this past week.
What she said shocked me.
Paula shared that it took her a full year to get to the point where she could run any appreciable distance in her barefoot shoes!
Ah ha!
So that's the secret!
I just haven't given the whole thing enough time.
I guess this makes sense.  Having been active my whole life and participated in a wide variety of sports and outdoor activities, my leg muscles have good muscle tone and getting them to stretch to the point where the muscle tone is equivalent in barefoot mode is going to take quite a bit of effort and time.
I think if I wasn't a very active person, I ironically would have had an easier time adjusting to running in barefoot shoes as my calves and Achilles would not have good tone in the unnatural shortened position which occurs over time when you wear typical athletic shoes.
So those of you who are just starting out with running and haven't really done much in the past, I think you will have an easier time with barefoot shoes than I have.   Don't be discouraged by what I've experienced!
Based on Paula's advice, I am back to wearing my barefoots for running again after nearly giving up on the idea some weeks ago.  I am alternating my barefoots with my conventional runners and am giving it until next summer to fully convert over.
Sarah, The Healthy Home Economist