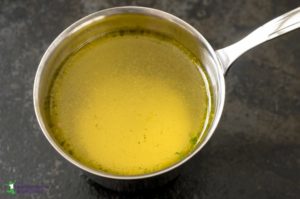 21 Recipes
The words "stock" and "broth" are used interchangeably in many cooking circles today.  The truth is that they are different, and the traditional stock and broth recipes in this section distinguish them as such.
A stock tends to be quicker cooking and/or clarified meaning the fat is skimmed off at the end. A broth takes longer to prepare and is higher in glutamate, hence the common term "bone broth".
You can make proper stock or broth from virtually any type of bones whether from land or sea. The slight differences in preparation are noted in each of the recipes below so that you can enjoy maximum flavor and nutrition for the time (well) spent to make them.
There is no need to feel like you have to transform your homemade stocks and broths into sauces and soups if you don't have the time. Add sea salt and a few seasoning herbs and enjoy as sippin' broth if necessary. The crucial point is to make and consume it frequently. This task really should be a weekly endeavor in your kitchen.